Board Features
With the mITX platform, we expect 'less' of pretty much everything, mostly due to the size compared to ATX or mATX. Nevertheless, U.2 support is front and center, with USB 3.1-A plus USB 3.1-C, Intel networking, 802.11ac 2x2 WiFi, and then extra daughterboards for fan controls, two-digit debug, power and audio.
ASUS Maximus VIII Impact
Warranty Period
3 Years
Product Page
Link
Price
Amazon US
Size
mini-ITX
CPU Interface
LGA1151
Chipset
Intel Z170
Memory Slots (DDR4)
Two DDR4
Supporting 32GB
Dual Channel
Up to 4133 MHz
Memory Slots (DDR3L)
None
Video Outputs
HDMI
Wired Network Connectivity
Intel I219-V
Wireless Network Connectivity
Qualcomm Atheros QCA61x4A
802.11ac 2x2
Dual Band, 2.4 / 5 GHz
MU-MIMO Supported
Onboard Audio
Realtek ALC1150 via SupremeFX
PCIe Slots for Graphics (from CPU)
1 x PCIe 3.0 (x16)
PCIe Slots for Other (from PCH)
None
Onboard SATA
Four, RAID 0/1/5/10
Onboard SATA Express
None
Onboard M.2
None
Onboard U.2
One, PCIe 3.0 x4, RAID Capable
USB 3.1
1 x Type-A
1 x Type-C
Intel Alpine Ridge Controller
USB 3.0
4 x Rear Panel
2 via headers
USB 2.0
None
Power Connectors
1 x 24-pin ATX
1 x 8-pin CPU
Fan Headers
1 x CPU (4-pin)
1 x SYS (4-pin)
1 x Fan_EXT for three more 4-pin
IO Panel
HDMI
4 x USB 3.0
1 x USB 3.1 Type-A
1 x USB 3.1 Type-C
1 x Network RJ-45 (Intel I219-V)
Wireless Antennas
Impact Control Board with
- Power On/Off
- Reset
- Two Digit Debug
- Clear CMOS
Audio Jacks
Other Features
U.2 Port
Fan Extension Header
Front Panel Header
Front Audio Header
Voltage Measurement Points
Thermal Sensor Connector
LN2 Mode Jumper
Slow Mode Jumper
One point of contention we could drag out here is the lack of a USB 2.0 header for older cases – we only get one USB 3.0 header. Personally I prefer my mouse/keyboard to use USB 2.0, just because there's no danger of being stung by USB 3.0 drivers if a system by chance uses extra controllers or hub that need extra software to run under older versions of Windows. For the rare situations that need it, a USB 3.0 to USB 2.0 header might be a nice add-on.
In The Box
The top brands all revolve around giving the consumer a sense of superiority, exclusivity, or actually executing the product idea the best way possible. One of the ways to get that extra push for motherboards is through the box contents, even though some might argue that they can offer very little. With a gaming-focused product however, there are usually some trinkets worth mentioning beyond SATA cables. With the Impact we get the following:
Driver CD
Manuals
Rear IO Shield
ROG Stickers
CPU Guide
Four SATA Cables
ROG Fan Extension Board
Thermal Probe
Front Panel Assist
Wi-Fi Antenna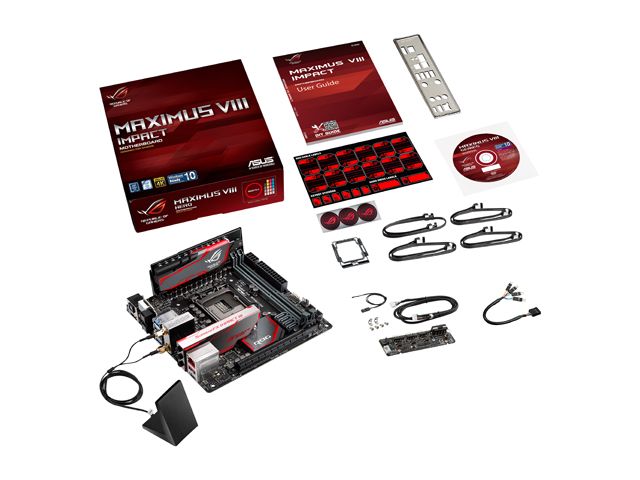 The Impact is between a rock and a hard place. Because it showcases how a Mini-ITX motherboard could be when competing against ATX counterparts, it does sit as a $250 board that focuses on engineering. That money would typically go on the pure product more than the box, but we get a fan controller breakout board as well as the Wi-Fi Antenna and additional thermistor for temperature probing which is good to see.
Visual Inspection
At first glance, the Impact follows the trend of the previous interactions of the design - a red and black livery with a few daughterboard add-ins. There are some subtle differences, and we start with the power delivery. In previous designs we had a fixed rear heatsink on the power delivery that was also screwed into another on the bottom of the board. This made case placement a bit of a juggling act, ensuring that everything was in the right place. This time however the rear heatsink is more firmly stuck onto the back of the daughterboard, opening up the case mounting points in the usual fashion.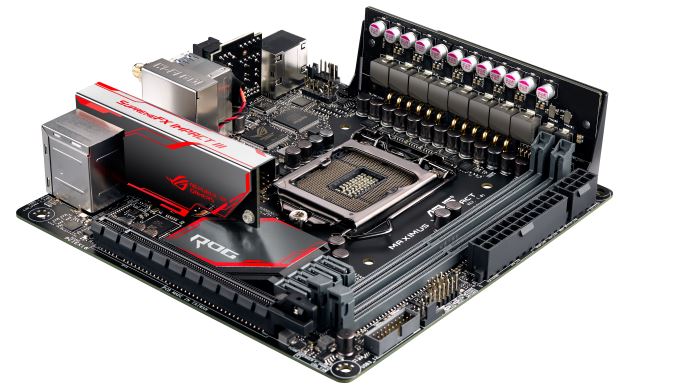 The image above shows the front heatsink removed, indicating the rear element which is also fixed through motherboard mounting screws.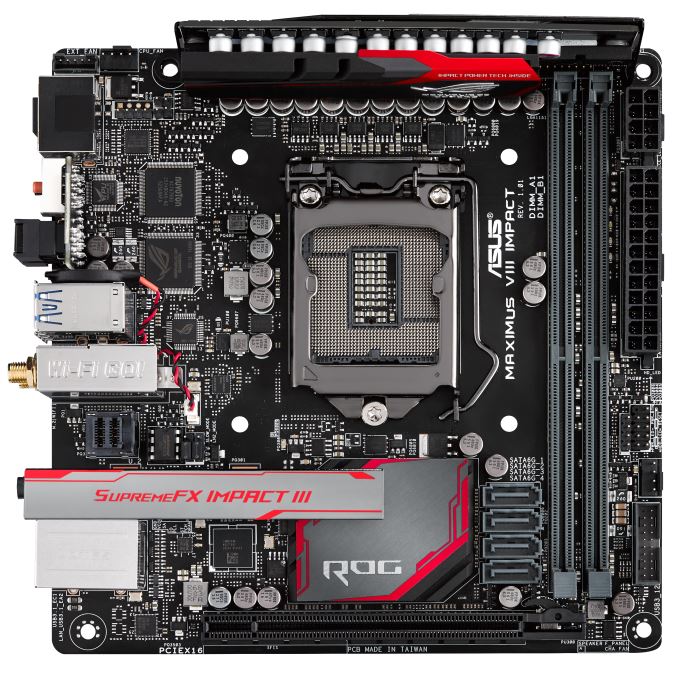 The socket area emulates previous Impact designs, and this time we get two DDR4 memory slots on the right. The power connector ports are on the other side of the DRAM slots, up against the edge of the board which makes them easier to use when building in a case. Below this are the front panel headers as well as a USB 3.0 header and one of the on-board fan headers. The other fan header is at the top left, next to the fan extension header for the fan header breakout board. It is worth noting that the socket area is actually very cramped, with three sides of it being up against some form of vertical barrier (DRAM, Power, Audio). In this case, the Impact ultimately works best with liquid cooling or something that conforms to Intel's X/Y dimensions through its full z-height, such as specific mini-ITX coolers.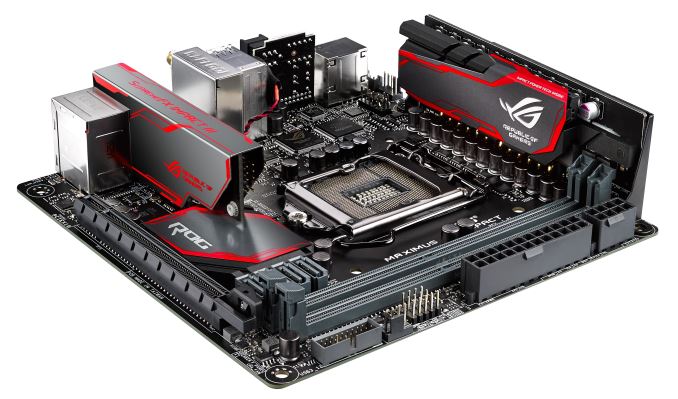 The SATA ports are just inside the DRAM slots, and are arranged such that makes it extremely difficult to remove the bottom drive when locking cables are used. I have approached motherboard manufacturers on this before, and the usual response is that there is precious little space to put them in the first place without increasing cost.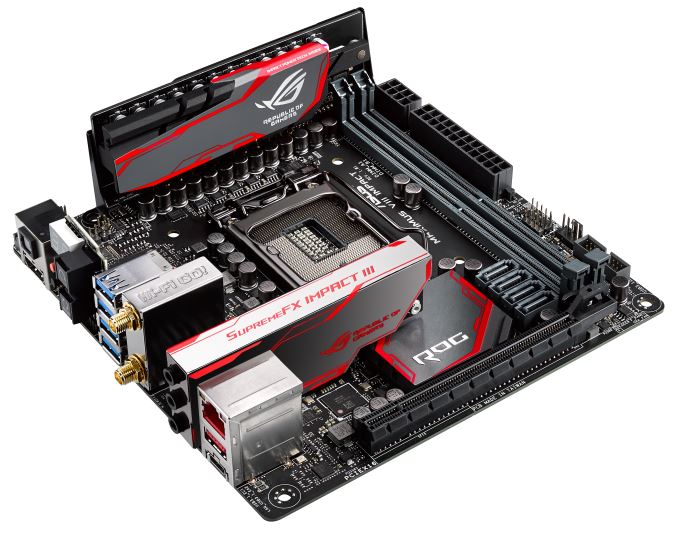 As with other consumer mini-ITX motherboards, we get a single PCIe slot and this one takes all of the sixteen PCIe 3.0 lanes from the processor. With the Z170 chipset now offering 20 lanes in a switch format, it becomes less likely that lanes will be taken away for things like PCIe storage.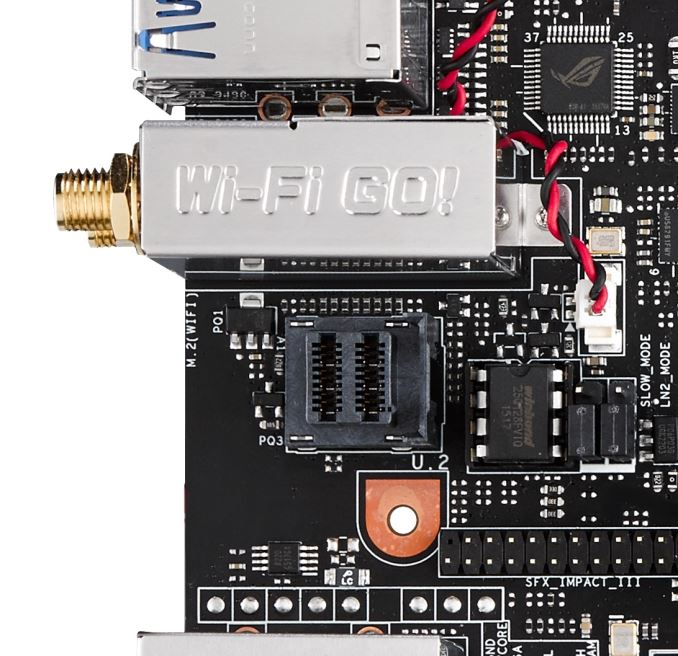 On that note, ASUS has done something interesting here. Rather than attempt some M.2 hybrid sticking out of the board similar to the X99 Deluxe, a U.2 port is placed near the rear IO instead. This is for a new wave of SSDs, such as the Intel SSD 750, that can take advantage of four PCIe 3.0 lanes of bandwidth. ASUS has equipped the Extreme and WS models with it as well, and it makes a mountain more sense than any SATA Express port anywhere, which has for all but died. It is worth noting that the reason the U.2 port is here near the rear of the board, rather than by the power connectors and USB 3.0 header, is apparently to do with signaling noise with other controllers.
Underneath the U.2 port is another of ASUS' add-ins, the SupremeFX audio solution that uses a fully separate PCB to help improve audio clarity, typically because mini-ITX motherboards due to their size are historically electrically noisy. With this iteration of SupremeFX we get a full surround electromagnetic shield which also aids with any cooling, but also the ports on the rear are LED enabled making it easier to see which port is which in the dark.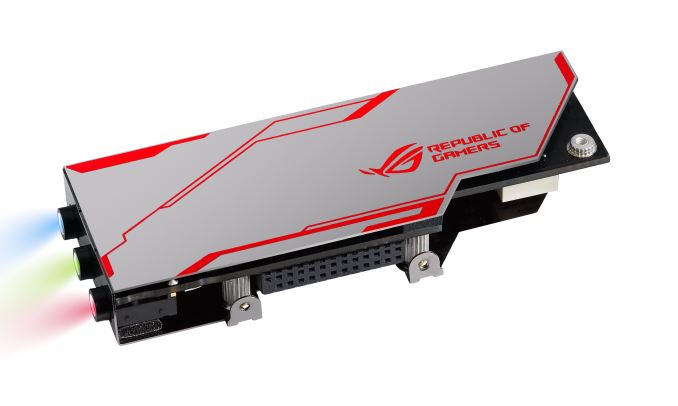 Underneath the audio solution is another interesting addition - an Intel Alpine Ridge controller. This is one of the two main controllers for USB 3.1 functionality on 100-series motherboards, and here it gives a single type-A and a single type-C on the rear of the motherboard. Nominally the Alpine Ridge controller can be verified for HDMI 2.0 and Thunderbolt 3 through USB Type-C, but I am told that the Impact will not be validated in this manner.

On the rear panel, aside from the USB 3.1, the audio jacks and the space for the U.2 port we also have the Intel I219-V network port, a HDMI port, USB 3.0 ports, and the 2x2 dual band 802.11ac wireless module, which is actually a Qualcomm implementation that supports MU-MIMO. We also get Impact Control, another PCH which holds the power/reset buttons alongside a two-digit debug display, an ROG Connect button and the USB Flashback button.
Test Setup
Readers of our motherboard review section will have noted the trend in modern motherboards to implement a form of MultiCore Enhancement / Acceleration / Turbo (read our report here) on their motherboards. This does several things, including better benchmark results at stock settings (not entirely needed if overclocking is an end-user goal) at the expense of heat and temperature. It also gives in essence an automatic overclock which may be against what the user wants. Our testing methodology is 'out-of-the-box', with the latest public BIOS installed and XMP enabled, and thus subject to the whims of this feature. It is ultimately up to the motherboard manufacturer to take this risk – and manufacturers taking risks in the setup is something they do on every product (think C-state settings, USB priority, DPC Latency / monitoring priority, overriding memory sub-timings at JEDEC). Processor speed change is part of that risk, and ultimately if no overclocking is planned, some motherboards will affect how fast that shiny new processor goes and can be an important factor in the system build.
For reference, the ASUS Maximus VIII Impact Z170 ROG, on our testing BIOS 1101, MCT was enabled by default. Also, the FCLK 10x ratio was present in the BIOS tested at the time of testing.
Many thanks to...
We must thank the following companies for kindly providing hardware for our test bed:
Thank you to AMD for providing us with the R9 290X 4GB GPUs.
Thank you to ASUS for providing us with GTX 980 Strix GPUs and the R7 240 DDR3 GPU.
Thank you to ASRock and ASUS for providing us with some IO testing kit.
Thank you to Cooler Master for providing us with Nepton 140XL CLCs.
Thank you to Corsair for providing us with an AX1200i PSU.
Thank you to Crucial for providing us with MX200 SSDs.
Thank you to G.Skill and Corsair for providing us with memory.
Thank you to MSI for providing us with the GTX 770 Lightning GPUs.
Thank you to OCZ for providing us with PSUs.
Thank you to Rosewill for providing us with PSUs and RK-9100 keyboards.