Skylake's Launch Chipset: Z170
Parts of this section are mirrored in our separate motherboard overview.
For our discussion of the chipset, I want to refer back to the block diagram for the platform: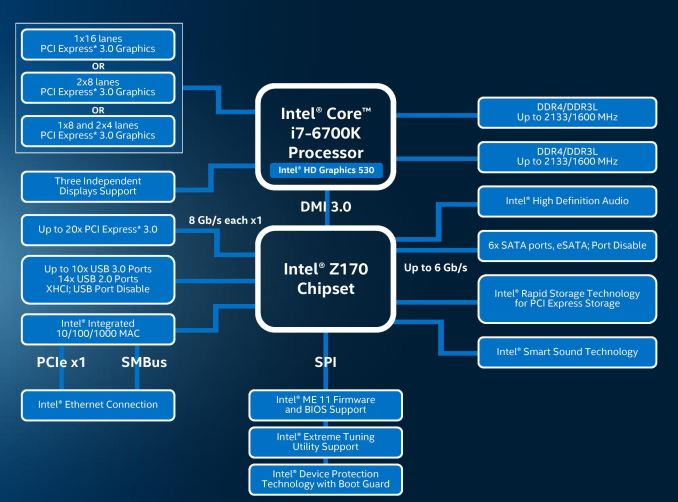 26 High Speed IO Lanes (20x PCIe 3.0)
The Z170 chipset features a massive Flex-IO hub, known as HSIO. In the previous Z97 chipset, there are a total of 18 Flex-IO ports that can flip between PCIe lanes, USB 3.0 ports or SATA 6 Gbps ports. For Z170, this moves up to 26 and can be used in a variety of configurations: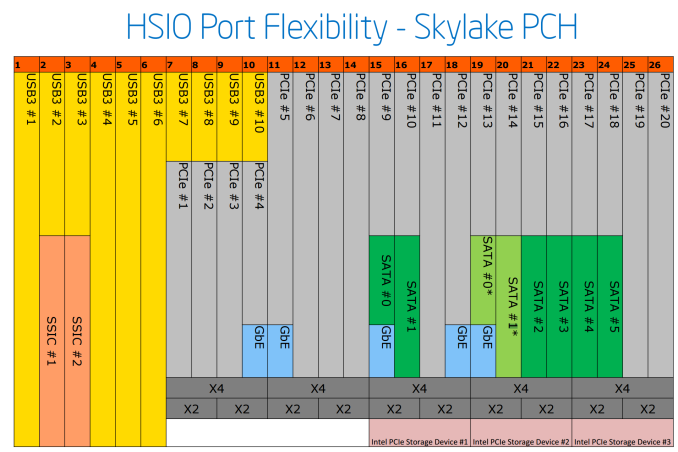 For each of the 26 high-speed input/output ports (HSIO, or the Flex-IO), there can be a variety of combinations available. Each manufacturer can run down the list and apply what they may or may not need – some of the extra functionality (e.g. GbE / Ethernet) will require extra controllers. By default, the first six HSIO ports are USB 3.0, with two able for super-speed interconnects where warranted. The next 20 HSIO ports are split into groups of four PCIe 3.0 lanes, such that each group is part of one of the internal controllers on the chipset.
The HSIO allows a smörgåsbord of options, a variable pick-and-mix. The last three sets of four are also labelled Intel PCIe storage device – this is important because the new Z170 chipset now supports more PCIe devices as part of its Rapid Storage Technology (RST). This allows M.2 and SATA Express devices to be in RAID arrays as long as they are connected through these HSIO lanes. The new version of RST is given the number 14, and RST 14 supports three PCIe devices at one time. As a result, we will probably see motherboards with three M.2 slots all in PCIe 3.0 x4 mode, available for RAID. With that being said, we lose any extra SATA ports and have to rely on controllers elsewhere to do everything else. It is worth noting that the constant SATA ports on Z170 support DEVSLP modes.
Companion Controllers For Z170 – Alpine Ridge, ASM1142, I219 for Network
There will be several companion controllers to look out for on the Z170 motherboards. The most common we expect to see is the ASMedia ASM1142 controller, which is used to provide USB 3.1 Gen 2 ports. This controller uses two PCIe lanes to provide up to two USB 3.1 ports, typically on the rear panel. We have reviewed this implementation on previous chipsets here and here. Typically the presence of the ASM1142 controller will increase the price of the motherboard by a small number of dollars – I suspect motherboard manufacturers are buying this in bulk for a number of future devices.
The other way to place USB 3.1 on the motherboard is through Intel's Alpine Ridge Thunderbolt controller.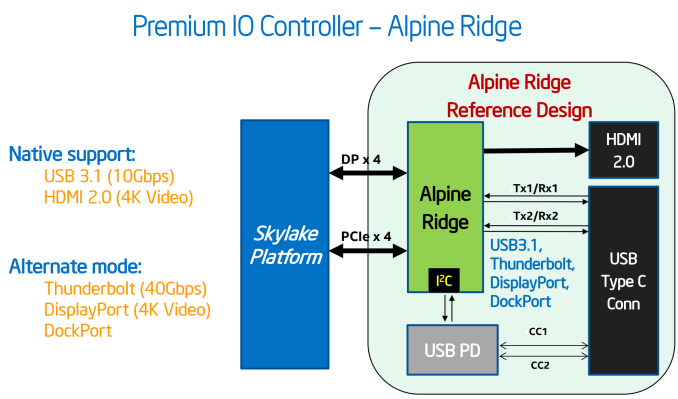 Using four PCIe lanes (and the DisplayPort lanes), the Alpine Ridge controller can support USB 3.1 Gen 2, Thunderbolt 3, and DisplayPort, and all over the USB Type-C connector as necessary. Alpine Ridge can also act as a LS-Pcon and convert the DP signal into a HDMI 2.0 signal with HDCP 2.2 support.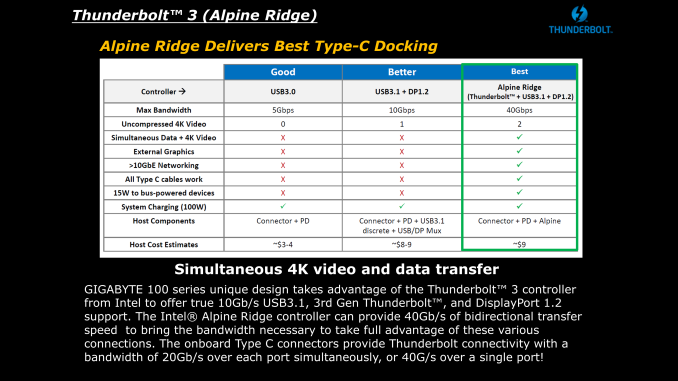 As mentioned in GIGABYTE's details above, the Alpine Ridge solution will add around $10 to the cost of the board, which probably translates near $20 to the end-user cost. It is our understanding that the increased speed of the Z170 launch means that there has been supply issues with Alpine Ridge controllers and that there will be more products coming out next month (September) from various manufacturers that will use the controller.
The final companion controller we will see a lot of is Intel's own gigabit Ethernet family, the I219 controller, named Jacksonville.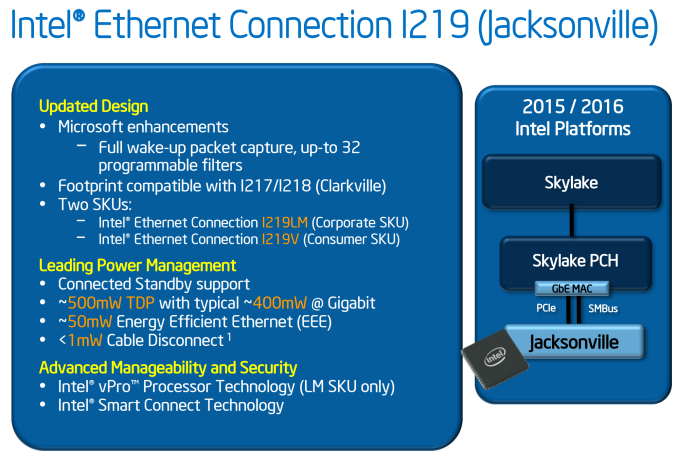 As mentioned above, the I219-V is aimed at consumers while the I219-LM is for corporate/business although I imagine we will see a mix of both on a number of motherboards, especially at the high end. The I219 series comes with better power management, so when Skylake comes to more power-conscious platforms we should see some uptake there.
I will also add that Realtek Ethernet solutions will also be seen on Z170 motherboards, typically as the cost effective solution. Back at Computex we also saw Realtek's gaming network solution, the Dragon, with the codename 8118AS on some ECS models. Opposite that will be the Rivet Network's Killer Ethernet controllers, specifically the E2400, as a gaming optimized model along with the marketing points that go along with it.
Audio
There are some more esoteric properties worth mentioning - the chipset now supports DMIC, digital microphone direct attach, allowing microphones to be plugged directly into the chipset without the need for an external codec. This has benefits in power saving (no need to activate an external codec) and potential cost savings (don't buy an audio codec), specifically for features such as Wake-On-Voice.
Chipset Power and Installing Windows 7
The power into the chipset is now provided by a single power rail, rather than separate core/suspend rails, which should simplify design. Some other restrictions are also placed on PCIe routing signals, bringing the maximum length down from 10-inches to 9-inches, and also M.2 routing in PCIe 3.0 mode is also reduced. We are also informed that PCIe flex cable/daughter card arrangements are limited to PCIe 2.0 mode.
One big shock will be for Windows 7 users. By default, the Z170 chipset and BIOS will not support full USB 2.0 Enhanced Host Controller (EHCI) mode. This means that for a number of circumstances, USB devices will not work unless an XHCI environment in play.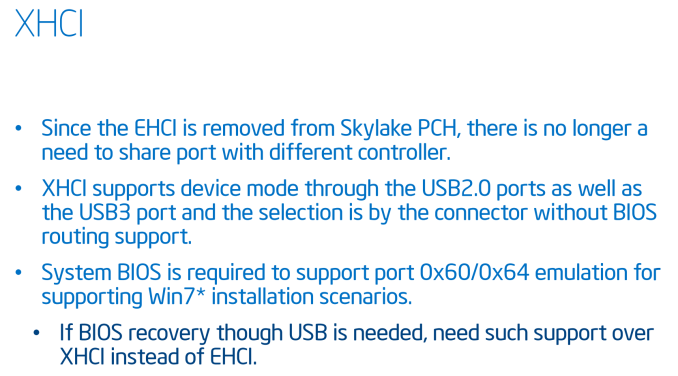 In our testing, this means that in order to install Windows 7 you need to do the following:
Navigate to BIOS
Enable 'Windows 7 Installation' or 'EHCI mode', Save and Exit.
Have your Windows 7 image on an optical disk. USB sticks will not work!
Install the OS as normal via the optical media. Install OS drivers/USB 3.0 drivers.
Disable the BIOS option.
This is done for a couple of reasons. Firstly, it helps reduce the size of the BIOS for more customization. It also aids moving users to AHCI capable operating system installations. For everyone else, it is a bit of a headache. As far as we can tell, almost all motherboard manufacturers (at least the Tier-1s) will have this option in the BIOS to enable Windows 7 installation.
What To Expect
Z170 and the Skylake platform make a large number of fundamental changes when it comes to functionality, design and cost. By opening up the chipset HSIO/Flex-IO ports to twenty PCIe 3.0 lanes, even with specific limitations on a number of them, we should avoid the situation we had in Z97 where users might have three features but only two of them would work at once. Now we have enough lanes to enable them all.
From a personal perspective, this allows for several esoteric designs. Because the chipset is limited as a maximum to PCIe 3.0 x4 per port, imagine the system having several quad-lane SATA controllers, each giving out eight SATA 6 Gbps ports. Combining those with port multipliers might allow each controller to double its ports. That means five controllers, each with eight SATA 6 Gbps ports, then doubled with port multipliers. A motherboard with 80 SATA ports, anyone?
Perhaps I jest, but the limitation of what can be done now revolves around the imagination of the motherboard manufacturers and how much of a market is out there. They are all listening to what the customers want, and the more you want to buy the more of a say you can have. Leave interesting suggestions and combinations below.
For users waiting on other chipsets than Z170, such as H170, Q150, B150 and H110 will have to wait until later in the year when Intel releases them. For today's Skylake-K launch, only Z170 is being launched alongside it.
A Small Bit of Confusing USB Terminology
Finally, to throw a bit of a curveball in here, you will see motherboard manufacturers refer to USB 3.1 in different ways. Specifically, some manufacturers will refer to the new USB 3.1 ports as 'USB 3.1 Gen 2', giving 10 Gbps bandwidth, and the older USB 3.0 ports as 'USB 3.1 Gen 1' for 5 Gbps bandwidth. This just makes everything confusing for the buyer, and we aren't fond of these shenanigans.
USB Standards
Standard
Max Speed
Alt. Name
USB 2.0
480Mbps
High Speed
USB 3.0
5Gbps
SuperSpeed
USB 3.1 Gen 1
5Gbps
SuperSpeed
USB 3.1 Gen 2
10Gbps
SuperSpeed+
For the sake of simplicity, going forward we will be doing the following:
USB 3.1 Gen 1 running at 5 Gbps will be referred to as USB 3.0
USB 3.1 Gen 2 running at 10 Gbps will be referred to as to USB 3.1
Although both Apple and MSI are using the Gen1/Gen2 terminology, we will keep it simple.