NVIDIA's GeForce4 Ti 4200: ATI, look what you made them do
NVIDIA would have been quite happy supplying the mainstream market with GeForce4 MX cards but because of the Radeon 8500LE it became necessary for NVIDIA to also have a DX8 card in this sector; and thus the GeForce4 Ti 4200 was born.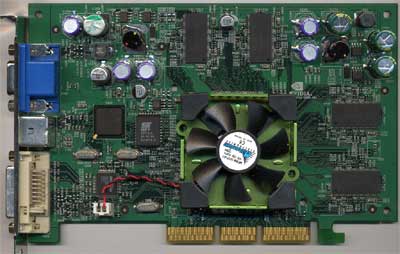 Click to Enlarge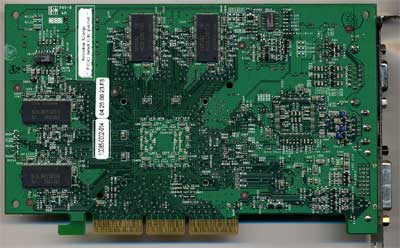 Click to Enlarge
The GeForce4 GPU is considerably more expensive to manufacture than the GeForce4 MX so costs had to be cut as much as possible to make the Ti 4200 a profitable offering. The GPU is clocked at 250MHz, making it the highest yielding NV25 GPU coming out of TSMC. As far as memory goes the card can be offered with 222MHz DDR (effectively 444MHz) or 250MHz DDR (effectively 500MHz) SDRAM. The difference in memory clock speeds arises from the fact that the cards will be offered with TSOP packaged memory and not the new BGA packaged memory we've seen on the higher end GeForce4s. In order to offset the costs of the 128MB cards the slower memory is used while the 64MB cards get the benefit of faster memory.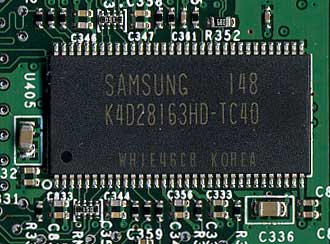 Sticking to TSOP memory allowed NVIDIA to keep to an older board design and you'll notice by the above pictures that the power circuitry is significantly reduced. The Ti 4200 PCBs are also 6-layer boards instead of the much more expensive 8-layer 4400/4600 boards.
The end result is a GeForce4 that is cheap enough to produce that it can be sold for $179/$199 (64MB/128MB). Availability is very scarce at this point, most board manufacturers are waiting for chips from NVIDIA. Most cards will begin to appear in May. One thing that should be made very clear is that the overclocking characteristics of the reference boards being sent out for review now are in no way representative of how final Ti 4200 boards will overclock. NVIDIA's reference boards have historically overclocked much better than shipping cards which also explains why NVIDIA usually encourages reviewers to try overclocking in their reviews.