Content Creation Performance
We start out our benchmark analysis with some content creation tests as usual. The first of the bunch is the 2002 edition of Ziff Davis Media's Content Creation Winstone. As with previous versions of Content Creation Winstone, the premise of the test is to run through a script of a handful of applications (in this case 7) and perform various tasks in the applications while switching between one or more of them. The idea is to simulate a present-day multitasking environment using content creation applications, the 7 application tested are listed below:
Adobe Photoshop 6.0.1
Adobe Premiere 6.0
Macromedia Director 8.5
Macromedia Dreamweaver UltraDev 4
Microsoft Windows Media Encoder 7.01.00.3055
Netscape Navigator 6/6.01
Sonic Foundry Sound Forge 5.0c (build 184)
Content Creation Performance
Content Creation Winstone 2002
AMD Athlon XP 2100+ (1.73GHz)

Intel Pentium 4 2.2GHz

AMD Athlon XP 2000+ (1.67GHz)

AMD Athlon XP 1800+ (1.53GHz)

Intel Pentium 4 2.0A GHz

AMD Athlon XP 1600+ (1.40GHz)

Intel Pentium 4 2.0GHz

AMD Athlon 1.4GHz

Intel Pentium 4 1.8GHz

Intel Pentium 4 1.6GHz



33.8

33.3

32.9

31.7

30.9

29.7

29.5

28.8

27.9

25.8



|
0
|
7
|
14
|
20
|
27
|
34
|
41
The extra 4% boost in clock speed of the 2100+ results in a small and unnoticeable 2.7% increase in performance in CCWS2K2. This gives the Athlon XP the edge over the Pentium 4 2.2GHz but keep in mind that performance differences less than 10% aren't tangible. That means that in this test you'll be hard pressed to notice any difference between the Athlon XP 1600+ and the Athlon XP 2100+.
For most business applications and disk-intensive content creation applications you'd be better suited buying a lower end Athlon XP 1600+ and going for a faster IDE drive and more memory. It's interesting to note that the old Pentium 4 2.0GHz CPU is only as fast as the Athlon XP 1600+ in this test.
Now with enough CPU speeds to look at performance trends as clock speed increases we can include CPU scaling graphs of all of our benchmarks. We graphed the benchmark score against the clock frequency or speed rating of the CPUs. For the speed steppings in-between those we benchmarked we performed linear interpolation to form a straight line.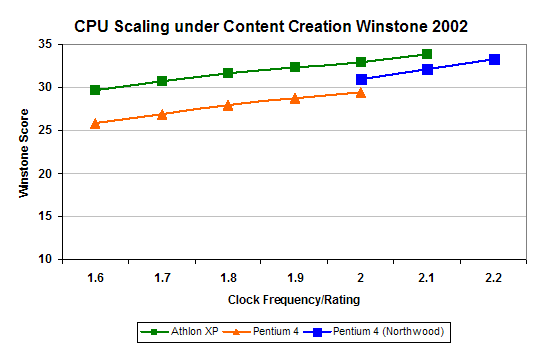 Here you can see that the Athlon XP has always held a performance advantage over the Pentium 4. It's only the introduction of the Northwood that allows the Pentium 4 to begin to catch up to the Athlon XP in this test. By the looks of the graph it will take a 2.4GHz Pentium 4 for the Northwood's performance curve to intersect the Athlon XP's curve.
Enter to Win an all expense paid trip for two to the 2002 PC Expo in New York City from AMD and NVIDIA!