Word Flow Keyboard with Shape Writing Support
The keyboard in WP8.1 gets a pretty big update with the addition of shape writing support. Similar to Swype, SwiftKey Flow and other systems on Android, instead of tapping individual letters on the Word Flow keyboard you can now trace a path over the same letters to form a word. Instead of tapping out A-N-A-N-D, shape writing allows me to start with my finger on A, trace down and to the right to hit N, trace back to hit A, go down/to the right again to hit N, and then drag my thumb/finger one last time to the left and land on the D key before finally lifting off.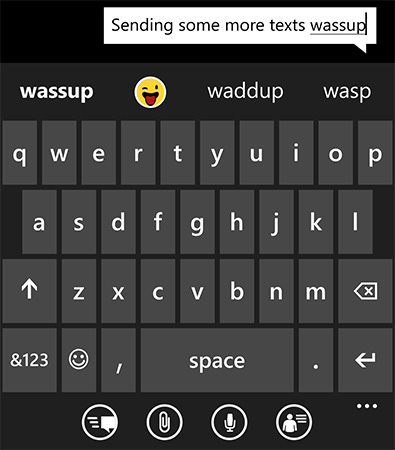 Although new to Windows Phone, shape writing has been around for years on other platforms including Android. The implementation on WP8.1 is excellent however. Shape writing does a great job of leveraging Windows Phone's predictive text engine. I found that right off the bat I made almost no mistakes while shape writing on WP8.1's Word Flow keyboard. I could just draw on the screen with my thumb without ever having to look to make sure what I was typing was correct. The only times shape writing didn't work for me were if I was trying to spell a word that wasn't yet in the dictionary, or if I was trying to use a contraction that wasn't immediately obvious (e.g. it's vs. its). The Word Flow keyboard is extremely quick at adding corrections to its database, so most mistakes happen one time only.
As far as performance goes, I'm still faster at two thumb typing than I am with shape writing. Compared to me typing with a single thumb however, shape writing is substantially quicker. I went through a simple one line typing test several times in all three configurations and recorded my average typing speed on the Nokia Lumia Icon WP8.1 dev preview device:
Windows Phone 8.1 Word Flow Keyboard Typing Speed
One Handed
One Handed Shape Writing
Two Handed
Typing Rate (Higher is Better)
~41 wpm
~51 wpm
~60 wpm
With Windows Phone 8, Microsoft added emoji support to the Word Flow keyboard. In WP8.1, emojis are part of the predictive text engine. If you type a word that has an emoji associate with it, you'll see the emoji in the suggestion bar. Draw out a word with shape writing and the next suggestion will be the emoji representing that word (if one exists).

Autocorrect suggestions still won't appear if you're typing too quickly. If you're typing above ~45 wpm you won't see any suggestions. Drop below that point and they'll populate in the suggestions bar.
Camera UI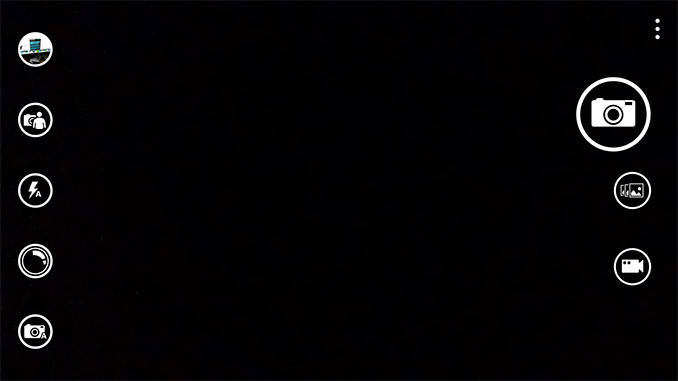 The Camera UI in Windows Phone 8.1 sees a significant set of updates. Like Action Center, there are five customizable buttons directly on the camera UI. By default you get access to the camera roll, front facing camera, scenes, lenses and flash settings without first going into the overflow menu. Every single one of those buttons is customizable though.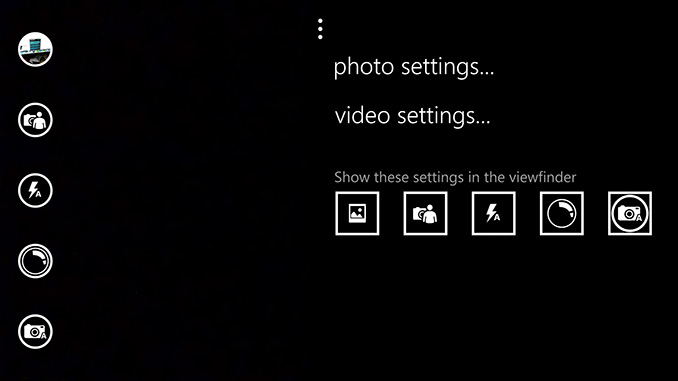 There's a new low resolution (1080p) burst mode that will capture 15 frames and allow you to save all or only the ones that you want. Unsaved frames are automatically deleted after a customizable period of time (7 days by default) or can be removed manually.
The improvements to the camera UI are nice but on devices like Nokia's Lumia Icon you're going to be using Nokia's Camera app instead, making the enhancements more useful on lower end devices.
Calendar
I won't spend too much time on the updated Calendar app other than to say that the new week view is awesome: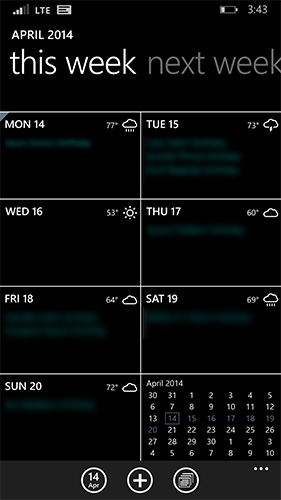 You get a glance at what you're doing every day of the week, as well as a tiny view of the month as a whole. Swipe to the right to look at next week, and the week after that. Week view in WP8.1's calendar app is probably one of the most useful things to me personally on any mobile platform. If you're Apple or a player in the Android space: copy this feature.