Haswell Media Engine: QuickSync the Third
Although we still have one more generation to go before QuickSync can apparently deliver close to x86 image quality, Haswell doesn't shy away from improving its media engine.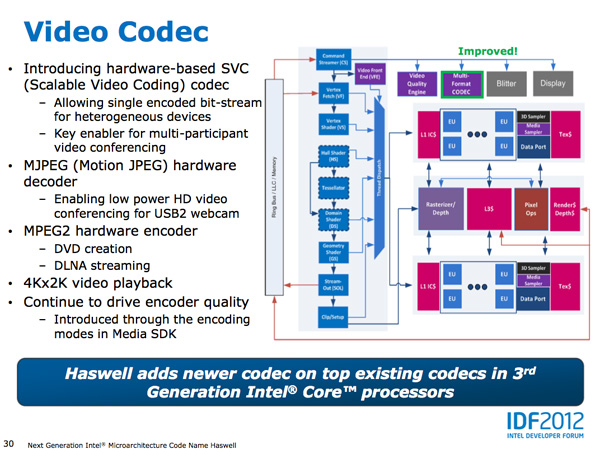 First and foremost is hardware support for the SVC (Scalable Video Coding) codec. The idea behind SVC is to take one high resolution bitstream from which lower quality versions can be derived. There are huge implications for SVC in applications that have varied bandwidth levels and/or decode capabilities.
Haswell also adds a hardware motion JPEG decoder, and MPEG2 hardware encoder.
Ivy Bridge will be getting 4K video playback support later this year, Haswell should obviously ship with it.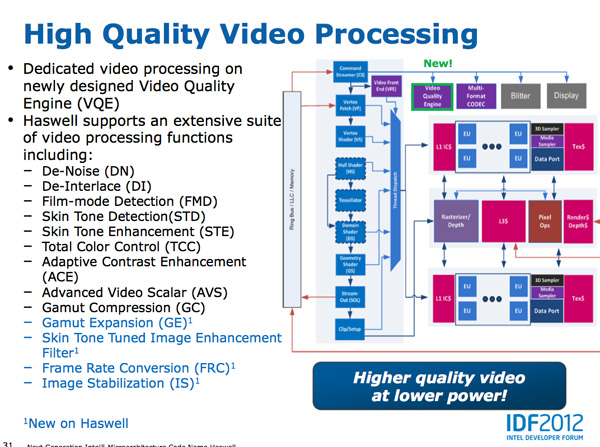 Finally there's a greater focus on image quality this generation, although as I mentioned before I'm not sure we'll see official support in a lot of the open source video codecs until Broadwell comes by. With added EUs we'll obviously see QuickSync performance improve, but I don't have data as to how much faster it'll be compared to Ivy Bridge.