Battery Life
Testing battery life on a tablet is pretty grueling as these things are effectively smartphones with gigantic batteries. What would last for only a few hours on a smartphone can easily last over ten on a tablet. The iPad 2 is no exception.
As iFixit discovered, the iPad 2 features a nearly identical battery to the original iPad (25Wh vs. 24.8Wh). We already established that display brightness hasn't gone up so the only real impact on battery life will be because of the A5 SoC.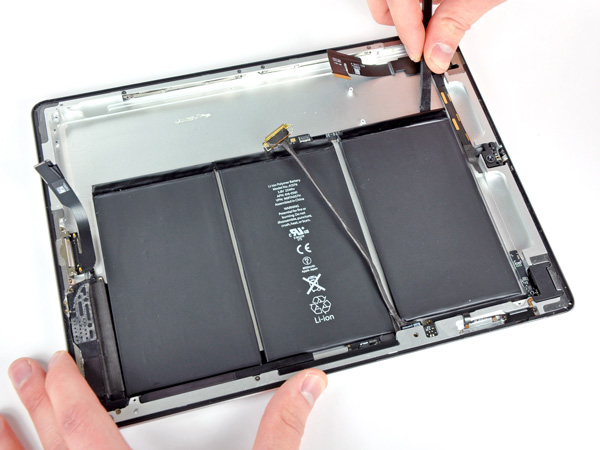 The iPad 2 WiFi's battery, courtesy iFixit
The ARM Cortex A9 tends to be more power efficient than its predecessor, the A8. With a shallower pipeline and the ability to execute instructions out of program order you get better performance per watt in most cases. As a result the A5 should complete bursts of instructions quicker than the A4 and get back to sleep sooner.
To put this to the test we put together a battery life test that combined our non-Flash smartphone web browsing test, checking for email every 15 minutes (via a Gmail account receiving ~100 emails per day) and constant local music playback while all of this is going on. The results are pretty much as expected: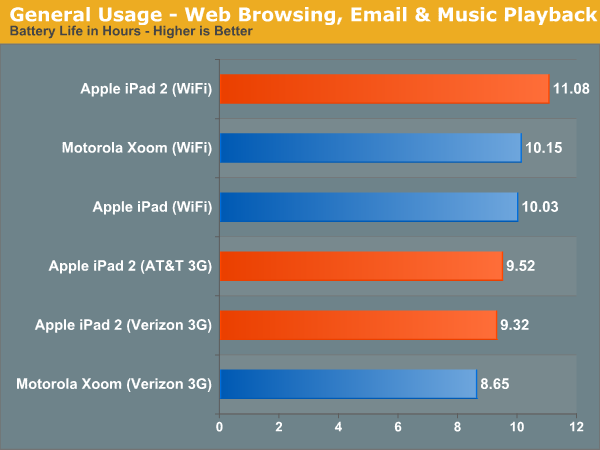 Over WiFi the Motorola Xoom and iPad 1 deliver very similar results. The iPad 2 pulls ahead by around 8%, it's not a huge advantage but it's there. Over 3G there's a noticeable drop in battery life, putting both of the iPad 2s below 10 hours and kicking the Xoom down to under 9 hours. All of the numbers on this chart are respectable however and you can expect a good day's worth of use out of any of these tablets.
Note that while the iPad 2 did better than its predecessor if you were to run an app that pegged both CPU cores at 100% you'd see reduced battery life on the iPad 2 vs. the iPad 1. Granted you'd also see better performance on the iPad 2.
Video playback is obviously an important function of these new tablets so we put together a H.264 decode playback test as well. For this test we transcoded a copy of Quantum of Solace from a 1080p BD source down to a 720p H.264 using Handbrake's Normal encode profile with one modification. In order to enable smooth playback on the Motorola Xoom we had to disable b-frames in the encode. The results are below: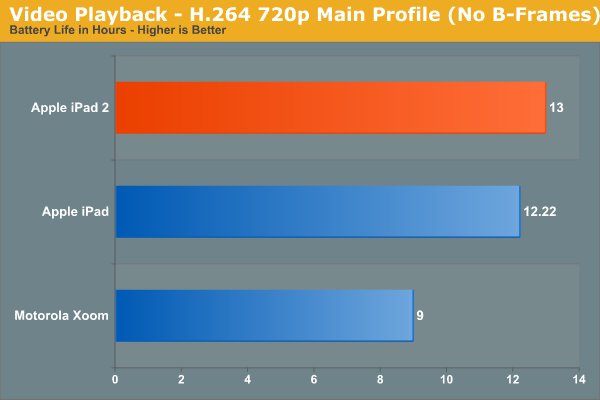 The iPad 2 consistently lasted longer than the original iPad in our video playback test. The Xoom however did noticeably worse. Unfortunately only a portion of the H.264 decode pipeline is accelerated by NVIDIA's Tegra 2 in this test. When playing back anything more strenuous, portions of the pipeline are handled by the CPU cores in software. If you were to enable b-frames the Xoom would not only stutter but its battery life would drop to around 6 hours.
On the iPad 2 its Cortex A9s are mostly powered down during this test, on the Xoom the A9s are helping with the heavy lifting for video decode and as a result we see lower battery life. Kal-El is expected to address this issue head on.