HP Mini 311 — Battery Life
We run many scenarios for our battery life tests. Most netbooks don't include optical drives, but since we had the external Blu-ray drive we were able to run our DVD and Blu-ray tests… sort of. We couldn't get DVD playback to work in Windows Media Player (or Media Player Classic - Home Cinema) due to "copy protection errors" (aka DRM rearing its ugly head — probably some codec or software we installed), but DVD playback worked fine with the included Arcsoft TotalMedia Theater 3.
TMT3 also supports a DVD up-sampling technology dubbed SimHD that's supposed to improve DVDs to "HD quality". Don't let that fool you! It's essentially a sharpening (sometimes over-sharpening) filter applied to every frame from the movie. It can look good in some scenes while adding noise to others, but some users might prefer the experience. SimHD isn't without its drawbacks, as it resulted in significantly lower battery life.
As a point of reference we ran the DVD playback tests with files copied to the HDD as well as from the external DVD; as you might expect, spinning a disc results in lower battery life — worse even than SimHD from the HDD. Honestly, DVD playback is so pre-2005, and this is the last you'll see of it in our testing of laptops. Rip a disc to your HDD and you won't have to worry about scratches or DRM issues, and you'll get better battery life to boot — a win-win-win scenario. Don't tell the MPAA and Media Conglomerate lawyers….
In addition to the above, we tested DivX HD, x264, Internet, Idle and even Gaming battery life. GPU decode acceleration is used where possible (and it's required for the Blu-ray test). DivX is also supported natively within Windows Media Player now, and a quick sanity check shows that it improved battery life slightly compared to decoding within MPC-HC (using ffdshow).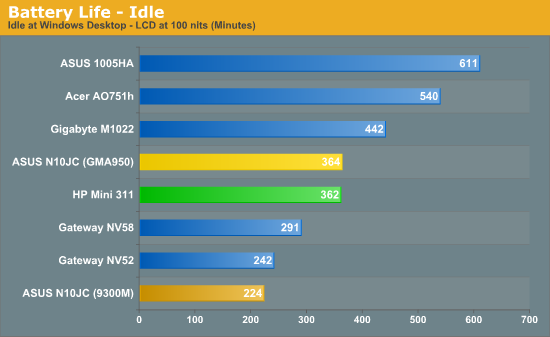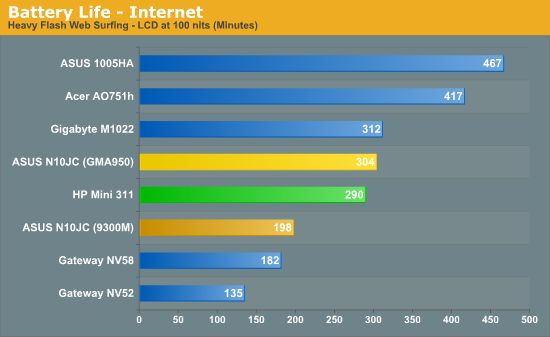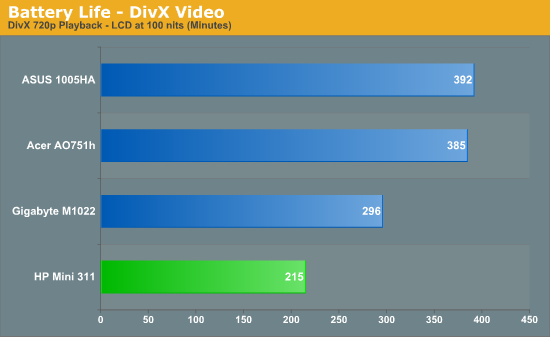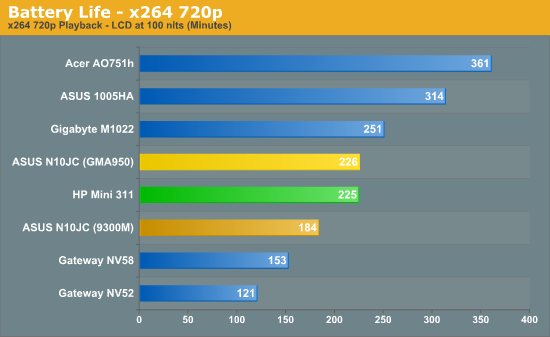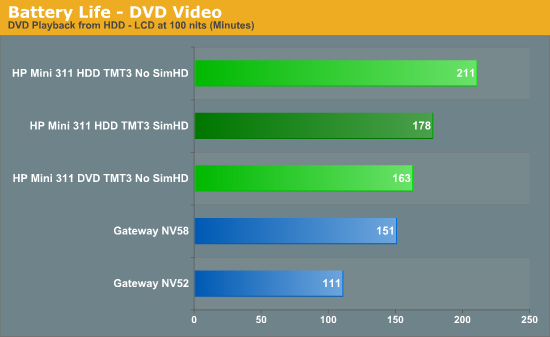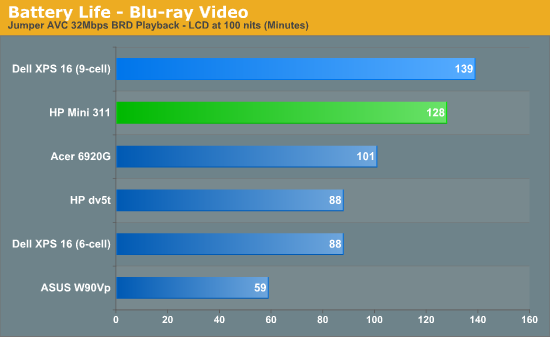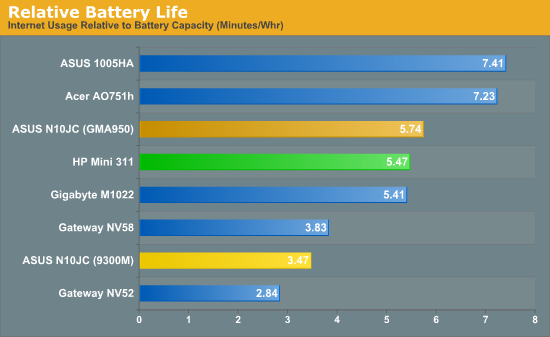 The battery life results are rather interesting. You can now get 9400M graphics performance (slightly slower than 9300M since it shares system memory bandwidth) with battery life that's at least close to some GMA 950 netbooks. The Mini 311 trades blows with the M1022 in our battery life tests, and it's very close to the old ASUS N10JC running in GMA 950 mode. In 9300M mode the Mini 311 offers clearly superior battery life compared to the N10JC. Unfortunately, that's only looking at half the picture.
The ASUS 1005HA still offers significantly better battery life in all tasks. The closest result is in x264 decoding, where the ION LE can help out, and the 1005HA still offers 40% better battery life. In other tests, the gap is as high as 80%, with the average advantage being closer to 60%. The 1005HA does have a larger batter (63Wh vs. 53Wh), though, so the real power advantage is 17% to 50%, depending on task.
As a whole, battery is generally good, but clearly certain tasks put a major load on the system. Blu-ray is still a killer, even with GPU acceleration, resulting in just over two hours of battery life. We don't have a chart (since we don't have results from most of the other laptops), but simulated gaming battery life (looping 3DMark at native resolution) lasted 160 minutes, actually surpassing Blu-ray playback time. However, as we discussed on the gaming performance page, that result should be taken with context: despite the ION graphics being plenty fast for low detail gaming, the Atom CPU just can't manage to run the majority of current 3D games. You'll want to stick to 2D games (a la Popcap) or titles from the early Pentium 4 era to get acceptable performance on the Mini 311.