Scaling and Performance with 3-way SLI
As we've explained, we had a great number of issues in testing 3-way SLI and Quad SLI on our 790i board. We couldn't even get 8800 Ultra Tri SLI to work, as it draws so much power in addition to being finicky in the first place. We were able to get some numbers run on Crysis and Oblivion.
Here is a look at performance scaling with both; we'll look at comparative performance further below.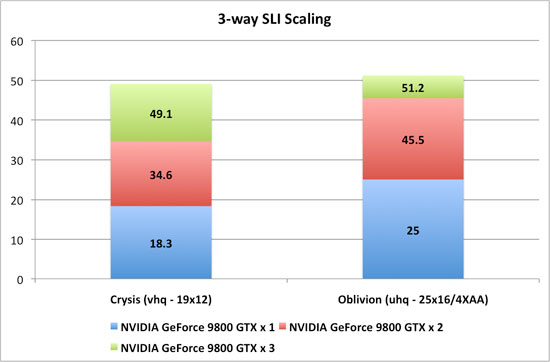 These numbers were run on the 790i system and we absolutely did leave VSYNC on its default setting. Performance differences between one, two, and three 9800 GTX cards were more compressed when we force VSYNC off in the control panel.
Here is how Crysis stacks up in a direct comparison with the major competition (except for the 8800 Ultra configuration which we could not run).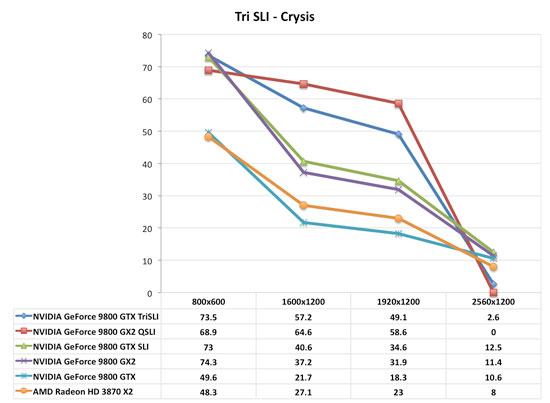 9800 GTX 3-way is absolutely playable at 1920x1200 with Crysis when using Very High settings. Clearly Quad SLI leads the way here, but for $300 less, that's not a bad deal if what you want to do is play Crysis at 1920x1200.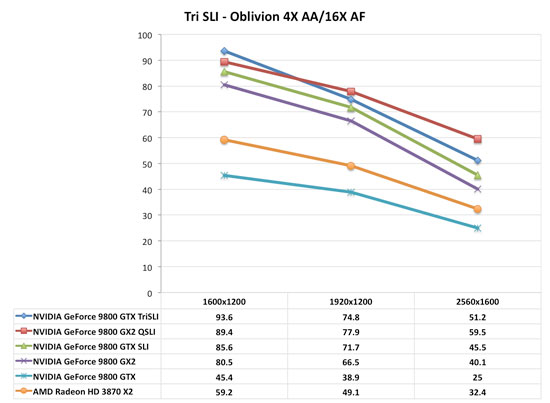 The delta between Tri and Quad is lower here. In both cases, two 9800 GTX cards outperform a single 9800 GX2. While the 9800 GX2 can be plugged into any system, NVIDIA still wants to sell 790i platforms. If you've got or want an NVIDIA based platform, you get higher performance for the exact same price by going with two 9800 GTX cards over a single 9800 GX2.
With the hassle of huge power supplies, cooling, etc. associated with Tri and Quad SLI, our money for maintaining value with a high end solution would have to fall to the 9800GTX SLI set up. 3-way seems to have some problems at the moment as well, as we ran into one large issue in one of the only two games we tested. Oblivion has some graphical issues that we document here on YouTube.