Stability & Load Testing: MemTest86+ and Prime95
With the ability to check the status of the motherboard and associated hardware out of the way, the next set among our overclocking-centric tools are those for testing and confirming the stability of our overclocking. Modern boards such as Intel's 3-series boards can achieve monstrously high FSBs (or HT speed, as the case may be) so our main concern is with the stability of the RAM and processor, which are far more limited. For that we like to turn to MemTest86+ and Prime95.
MemTest86+, as the name implies, is a memory testing utility. In this case it's a self-booting application designed to run without an operating system, utilizing low-level access to the system to work directly with the RAM. Using pre-set patterns, MemTest86+ continuously writes, reads, and rewrites to the RAM checking to see if any of the values it reads from the RAM are incorrect. Incorrect values of course indicate that there was an error somewhere in the process with MemTest86+ designed in such a way that it tries to create errors solely in the RAM.

Image courtesy of MemTest86.org
The usefulness of this utility and the reason why we include it are two-fold. First, it's a very useful memory overclocking utility due to the strenuous nature of the tests. If RAM can pass MemTest86+ then it is very likely operating correctly even in its overclocked state (and if it fails, you can be sure that it'll fail somewhere down the line too). Second is that in conjunction with swapping out DIMMs individually, it can be used to identify bad DIMMs should any of them have gone bad. Between these two aspects, if you've ever built a computer, at some point or another you've likely either used or needed MemTest86+.
With that said it should be noted that there are several versions of the utility, due to the fact that the utility is released under the GPL open source license, which allows project forking. The original MemTest86 began development several years ago, but in 2004 development ceased, and it was later forked creating MemTest86+. Since this year MemTest86 development has resumed but as a matter of preference we still like MemTest86+ even though the differences are minor. There are a few more versions out there, including a fork made by OCZ, however only the original MemTest86 and MemTest86+ are still up to date.
It should be noted however that MemTest86+ is an IA-32 application, meaning it is affected by the 4GB address space limit of 32-bit mode processing. At this point it's not possible to test more than 4GB of RAM at once, and there are no other utilities on the same level as MemTest86+ that aren't limited in the same way.
Because MemTest86+ is focused on only RAM stability, we still need a way to test the motherboard and CPU, and this is where Prime95 comes in. Prime95 is the Windows GUI client for the Great Internet Mersenne Prime Search project, a distributed computing effort to find new Mersenne Primes. The relevance of Prime95 is that it uses a series of Fast Fourier Transforms to search for these primes, and these calculations can be extremely taxing on a CPU, far more than normal day-to-day use is, which makes Prime95 very sensitive to any overclocking problems that would be causing CPU errors.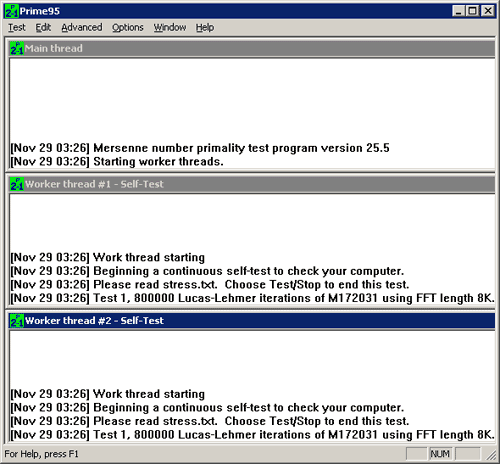 Due to this the Prime95 client includes a torture test mode that like MemTest86+, runs a series of known calculations looking for any errors in the results. This makes Prime95 an excellent overclocking stability testing utility because it not only brings a CPU to what would be the worst possible conditions in terms of load & heat, but it can catch small errors that otherwise wouldn't immediately manifest themselves in other applications that aren't looking for them, but could ultimately result in a crash. Prime95 can vary the sizes of the FFTs it uses and test RAM too as a result by using very large FFTs, but in practice this isn't as useful for testing RAM since it isn't possible to isolate the source of the problem when stress testing multiple aspects of a computer at once.
Like MemTest86+, Prime95 also has a sibling that bears mentioning, the also well-known Orthos. Orthos is a fork of Prime95 taking only torture testing abilities, with a more streamlined GUI and the addition of another test based on the Folding@Home distributed computing project's Gromacs core. Orthos is slightly older than the latest version of Prime95 and as a result lacks quad-core processor support (requiring 2 instances to be loaded instead) which is why we are recommending Prime95 instead. Otherwise the FFT tests between the two are exactly the same, and neither one will produce better results.