System Configuration
Our memory benchmark system uses the following components:
Performance Test Configuration
Processor:
Intel Core 2 Duo E6300
(Dual core 1.86GHz 2MB Unified Cache)
RAM:
2 x 512MB Patriot DDR-400
(1GB Kit - 2x512 MB)
Hard Drive:
Seagate 320GB 7200.10 (16MB Buffer)
System Platform Drivers:
VIA 5.09a
Intel 8.0.1.1002
Video Cards:
1 x EVGA 7600GS PCI-E - PCI-E Tests
1 x EVGA 7600GS AGP - AGP Tests
1 x EVGA 6800 Ultra PCI-E - PCI-E Tests
1 x EVGA 6800 Ultra AGP - AGP Tests
Video Drivers:
NVIDIA 91.31
CPU Cooling:
Stock Intel Heatsink
Power Supply:
OCZ PowerStream 520W
Motherboards:
ASRock 775Dual-VSTA (VIA PT880Pro)
ASRock 775i865G (Intel 865G)
Operating System:
Windows XP Professional SP2
BIOS:
AMI 1.50 - ASRock 775Dual-VSTA
AMI 2.50 - ASRock 775i65G
Our test boards represent a blend of performance and pricing requirements for a value-oriented E6300 Core 2 Duo system. The choice of components is designed to provide apples to apples comparison between the PCI Express and AGP capability on our ASRock 775Dual-VSTA platform. We chose the ASRock 775i865G motherboard to provide a comparable AGP system for testing that provided DDR memory capability. We are also only reporting results with DDR memory as the typical user upgrading to either board would probably have both an AGP video card and DDR memory available for use.
Our EVGA 7600GS PCI Express or AGP video card choice represents a very good mid-range alternative and ensures you have respectable game performance at resolutions under 1280x1024 for less than $130. Our EVGA 6800 Ultra tandem represents one of the top performance cards from two years ago and should give a good indication of the performance potential of each graphics slot. Unfortunately, we were unable to procure an ATI X850XT-PE AGP card for comparison with our PCI Express version. However, we doubt there would have been any additional information gained about AGP/PCI-E performance when testing the ATI solutions.
Our feature motherboard is the ASRock 775Dual-VSTA that includes the VIA PT880 Pro Northbridge and VT8237A Southbridge which fully support Core 2 Duo with the proper VRM and BIOS support. The ASRock 775Dual-VSTA is a very unusual board considering all of the available upgrade options and is available at a low entry price of $55.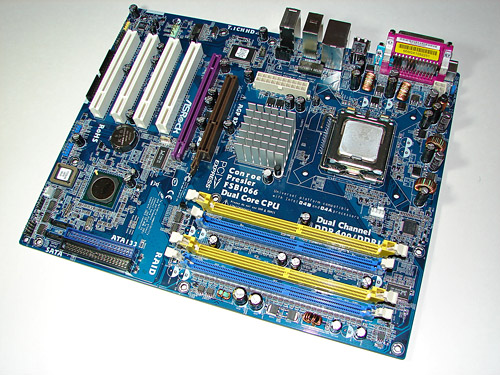 Click to enlarge
The board is laid out nicely and certainly caters to those who value IDE and PCI devices. The VT8237A only supports two SATA 1.5Gbps drives but does support four IDE devices. This board also features both AGP 8X capability, PCI-E graphics ability at X4 operation, VIA 10/100 Ethernet LAN, and Realtek ALC-888 HD 7.1 audio. The overall feature set of the VIA chipset is the same as the
Biostar PT880 Pro
board we reviewed a few months back.
Our other ASRock motherboard is the 775i65G based upon the Intel 865G Northbridge and ICH5 Southbridge with board updates that allow full support for the Core 2 Duo processor series. This motherboard also features on-board graphics capability but requires an external AGP card in order to support the 1066FSB requirement of the Core 2 Duo.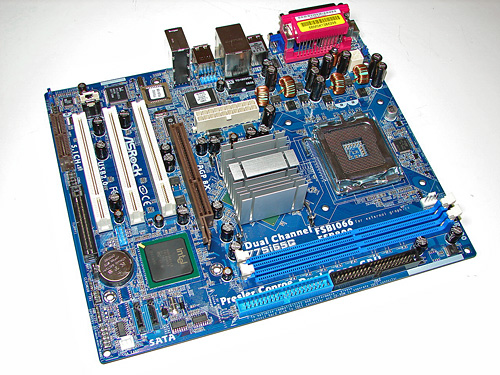 Click to enlarge
The motherboard utilizes a micro ATX form factor and includes three PCI slots, one AGP 8X slot, one AMR slot, Realtek 10/100 Ethernet LAN, and C-Media 9761a 5.1 Channel audio. The layout is very good and the board is clearly designed for users who want to continue using their AGP video card and DDR memory while upgrading to a newer processor. This motherboard should retail for around US $50 and requires a revision 2 layout for Core 2 Duo compatibility.