First Encounter with the mini
I'll get to the actual computer itself shortly, but there's one more little gem in the box that is absolutely worth mentioning.  The Mac mini comes with a single video output, a DVI output.  But, if you're familiar with the DVI spec, you'll know that the DVI connector can carry both digital and analog signals. So, with a very cheap adapter, you can get an analog VGA connector from a DVI port.  Apple obviously supplies the aforementioned connector with the Mac mini, which does the same thing that any DVI-to-VGA adapter does.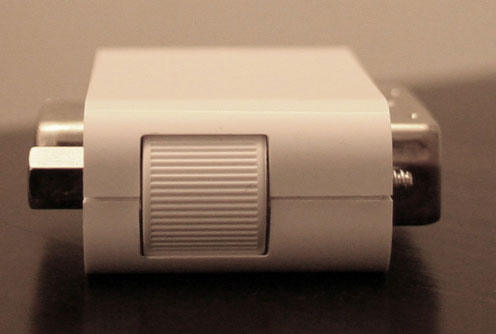 The difference here is that Apple actually managed to package the first well-made DVI-to-VGA adapter; well made in the sense that it has two half-exposed thumb-wheels integrated into the casing of the adapter - making it easy to actually screw the adapter into place, something that isn't always true about most conventional DVI-to-VGA adapters.  It's nothing huge, but a nice little addition.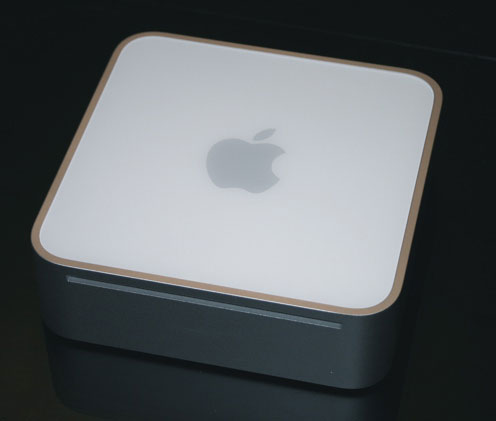 Then there's the mini itself, extremely small and extremely simple.  All that's on the front of the machine is a very small power LED and a slot-loading CD-RW or optional DVD-R drive.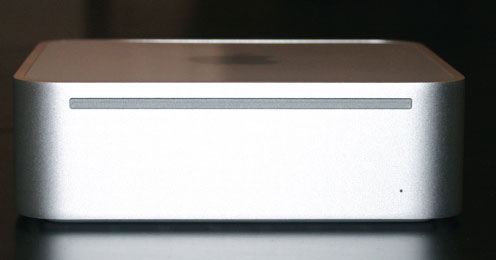 The back of the mini sports a tiny power button and vents, as well as the following I/O connectors, in order from left to right: power, 10/100 Ethernet, modem jack, DVI, two USB 2.0 ports, FireWire 400 port and 1/8" headphone/line out. 


The slight separation between the aluminum casing and the plastic portion of the Mac mini isn't normally there. The machine pictured here was only partially assembled after our dissection process detailed later.
The base of the mini is rubber, making sure that it doesn't scratch or slide on any surface on which it happens to be placed.  Also around the base of the system are vents used for cooling. The entire system only uses a single fan, so Apple had to maximize airflow by keeping air flowing through the vents.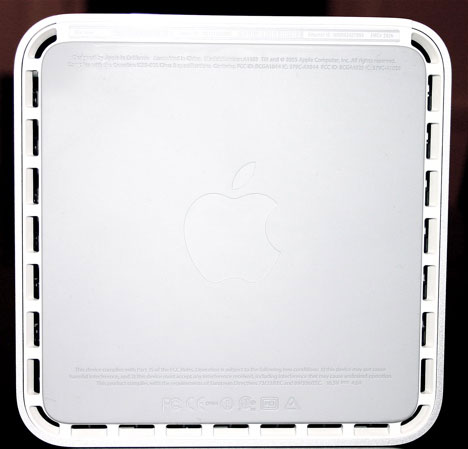 One way that Apple was able to decrease the size of the mini was by using an external power supply, an 85W one to be more specific.  The power supply features no fan and is about as wide as the mini itself, but not nearly as tall.  The fact that the entire mini runs off of a single 85W power supply is impressive. Remember, that's less power consumption than most high end Intel and AMD processors alone.