Conclusion & End Remarks
We're are the end of 2019 and the Pixel 4 is amongst the last devices released this generation. I'll be fully honest here and say that the expectations for the phone for me weren't all that great, something quite unfortunate to say for any product but just a fact of reality given Google's Pixel track record of hit and miss. What Google needed to provide was not just being able to deliver on their vision of a camera-centric phone, but also be able to execute on all the other core aspects that make a phone. So, did Google manage it this time around?
Design-wise, the Google Pixel 4 is quite different from what we've seen from the recent competition. Much like previous iterations of Pixel devices, there's a certain uniqueness about the industrial design of the phone that doesn't match up with other phones in the market. The Pixel 4 in particular is unique in terms of its frame and the finish of this detail. The matte back glass (On the white & orange variants, the black on is glossy) along with the matte frame make for an interesting in-hand feel that makes it stand out from the standard glossy and slippery designs out there. I think it works well for the phone. What I didn't like about it is that the ergonomics have regressed this year. No longer having a rounded off back means the phone feels thicker and bigger in the hand.
Google's choice of going with a regular larger "forehead" design works well, at least certainly a lot better than past notch designs. Google has populated this area with a variety of sensors, the two most notable functions being the device's face unlock hardware as well as the new Project Soli radar. The face unlock is well implemented and is fast, but I would have wished Google had also gone for an optional fingerprint scanner. It feels like this design decision was made in 2017 or early 2018 in response to Apple and before under-screen fingerprint sensors started to become the standard.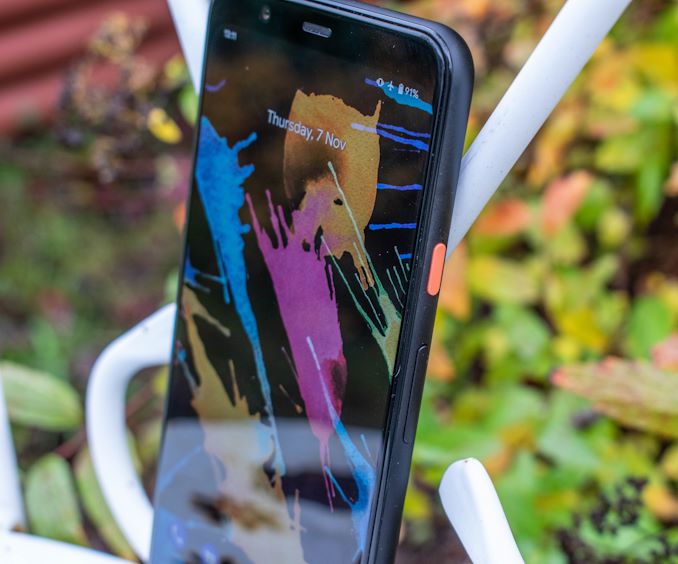 Project Soli, other than facillitating the face unlock function response time, feels like a gimmick. It's been attempted and implemented in the past, and even LG's recent attempt in the G8 was honestly underwhelming and quite pointless. Google's promotional videos of Project Soli certainly aren't representative of how it's implemented in the Pixel 4, and its uses are extremely limited.
The screen of the Pixel 4 is a major feature thanks to its 90Hz refresh rate. On the Pixel 4 XL we tested, it worked quite flawlessly, although there's concerns about Google's power management and how it currently automatically switches to 60Hz when under 75% brightness. It's easy to force the phone 90Hz all the time and the battery hit is (In the grand scheme of things) minor.
The display panel itself is good, although it's definitely not an "A+ grade" as Google wants to promote it as. The first hurdle is that it doesn't get very bright and maxes out at 436 nits – quite significantly below any other flagship this year. Colour calibration is adequate enough and definitely an improvement over past Pixel devices, but with still some evident issues such as non-linear gamma or in our case a green tint to the colour balance.
Performance of the Pixel 4 was excellent, but nothing that differed too majorly from other good implementations of the Snapdragon 855. GPU performance was average and also in line with what we've seen from other S885 phones. It's just a pity that Google is on this weird product cycle where they release their newest flagships at the tail-end of a SoC generation. I'm having a hard time justifying Pixel phones at their price range knowing well that you're not getting the fullest return on investment over initial lifetime of a device.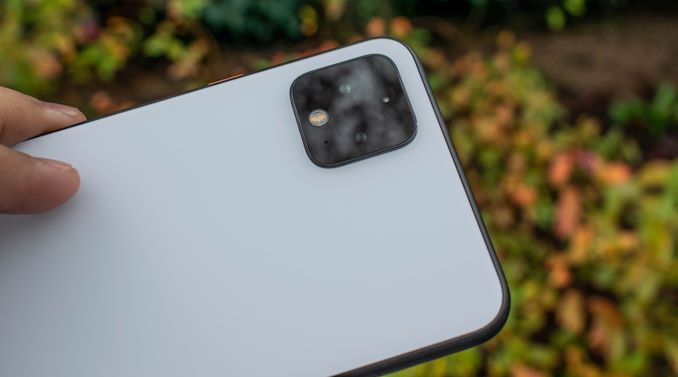 The camera on the Pixel 4 is inarguably its main selling point. Google has made definitive improvements to the camera quality with the newer generation sensor and the new HDR+ algorithm – the most notable change being that the new camera no longer has such a poor grip on shadows, and showcases improved dynamic range. Whilst it was meant to be a feature of the Pixel 4, Google's new colour balance algorithm this time around had more misses than hits, with a tendency of producing too warm pictures.
In low-light, the new camera sensor upgrade is again visible as it's able to achieve lower noise levels when having to capture more of a scene when in lack of light. In general, while the upgrades are good and healthy, it's naturally not as big an upgrade and jump compared to when Google first introduced Night Sight.
The telephoto module of the Pixel 4 is ok. The quality is good, but sometimes suffers from a lack of dynamic range as well as inaccurate colour balance. Super-zoom is a positive feature of the camera, but I feel like Google is maybe overstating its use and quality impact. In general, the Pixel 4's camera is about equivalent to a 2.5x telephoto module in terms of the spatial resolution it's able to produce in zoomed in images.
The problem for me is, that I have a hard time actually really differentiating the Pixel cameras to what other vendors are offering. Google has some edges here and there in the processing, but sometimes also falls behind. Generally, I feel that Google hasn't caught up with Samsung, Huawei and Apple in the capture experience. The choice of going with a telephoto module instead of a wide-angle is I think a mistake for the average user. When you're the only company in 2019 to not adopt a UWA module, it should give you pause to think.
Finally, the biggest draw-back of the Pixel 4 series in our testing was the battery life. There's no mistake whom to blame here: adopting 90Hz whilst still featuring second-rate display panels and combining this with stagnant or even smaller battery capacities is a deadly combination for battery life, and there shouldn't be any surprises that the Pixel 4s don't fare well. In our testing with the 4 XL, the absolute end results are still somewhat adequate and the phone is still useable, but it just doesn't compete with any other 2019 flagship. The regular Pixel 4 is likely a disaster.
Overall, the Pixel 4 frankly feels more like a device that would have been extremely successful if it had been released in 2018. Google releasing the phone this late in 2019 for prices of $799 for the regular version and $899 for the XL version just doesn't make much sense. Those are also 64GB base variant versions by the way, you'll have to pay an extra $100 for the 128GB models. I just can't rationalise recommending the phones to anyone at their current price and given their compromises – Google has to either design and execute better, or give up on pretending they're competing in the premium flagship segment and launch with prices about 25-30% lower.