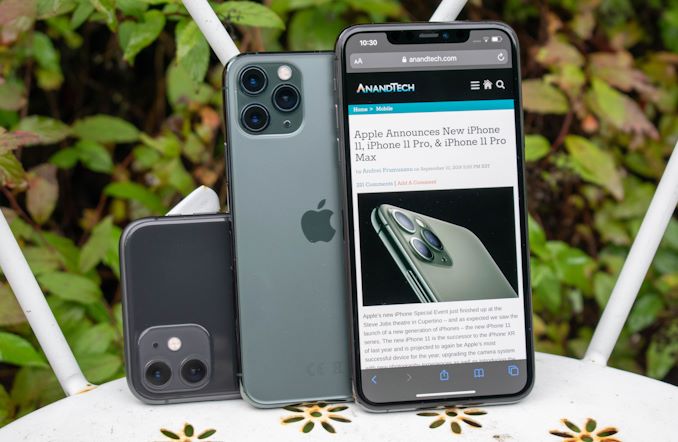 It's been a little over a year since our review of the iPhone XS and XS Max, and it's that time of the year to investigate Apple's latest and greatest: the iPhone 11 family. This time around Apple was able to launch all three phones, the iPhone 11, iPhone 11 Pro, and iPhone 11 Pro Max simultaneously, and we've gotten our hands on all of them. We'll be running them through our extensive testing marathon, again hopefully revealing more about how Apple's newest hardware improvements change the product experience.
This year we're not seeing major changes how Apple is slicing up their market segments among the phone models, though we are seeing bit of a name change for the new phones. The iPhone 11 is the direct successor to the iPhone XR: The new phone largely remains similar to its predecessor in terms of externals, although we're seeing the newest internal hardware as well as adoption of two of the three new cameras in the series.
The iPhone 11 Pro and the iPhone 11 Pro Max succeed the iPhone XS and iPhone XS Max. Here again, we're not seeing too major of changes in the design, although the backs of the phones differ more significantly to the regular iPhone 11. These are also the first devices that employ Apple's new full triple-camera system, utilizing a new generation main camera sensor, the well-known telephoto module, and Apple's first ultra-wide-angle module, matching a significant feature set that's been prevalent in many 2019 flagship smartphones.
Alongside the usual yearly SoC upgrade and the new generation A13, a big area Apple has improved the hardware design this year is in terms of battery capacities and screen efficiency, with the 11 Pro and 11 Pro Max particularly benefiting from some remarkable changes here.
Apple 2019 iPhone Specifications
iPhone 11 Pro
iPhone 11 Pro Max
iPhone 11
SoC
Apple A13 Bionic

2 × Lightning Performance @ 2.66GHz
8MB L2

4 × Thunder Efficiency @ 1.73GHz
4MB L2
GPU
Apple, 4 Cores
DRAM
4GB LPDDR4X

16MB System Level Cache
Display
5.8-inch OLED
2436×1125
DCI-P3/True Tone
800 cd/m² brightness
2M:1 contrast ratio
3D Touch
6.5-inch OLED
2688×1242
DCI-P3/True Tone
800 cd/m² brightness
2M:1 contrast ratio
3D Touch
6.1-inch LCD
1792×828
DCI-P3/True Tone
625 cd/m² brightness
1400:1 contrast ratio
-
Size
Height
144.0 mm
158.0 mm
150.9 mm
Width
71.4 m
77.8 mm
75.7 mm
Depth
8.1 mm
8.1 mm
8.3 mm
Weight
188 grams
226 grams
194 grams
Battery Life
3046mAh

+14.5% capacity
"+4H vs XS"
3969mAh

+25% capacity
"+5H vs XS Max"
3110mAh

+5.7% capacity
"+1H vs XR"
Wireless Charging
Qi
Rear Cameras
Main
12 MP 1.4µm Dual Pixel PD f/1.8, OIS
Wide Color Gamut
Quad LED True Tone Flash
Tele-
Photo
12 MP f/2.0 Telephoto, OIS
2x Optical Zoom
-
Wide
12MP f/2.4
120° Ultra-wide Angle
Front Camera
12MP f/2.2 Wide Angle
Storage
64 GB
256 GB
512 GB
64 GB
256 GB
512 GB
64 GB
128 GB
256 GB
I/O
Apple Lightning
Wireless (local)
802.11ax Wi-Fi with MIMO + Bluetooth 5.0 + NFC

UWB U1 Chip for "Spatial Awareness"
Cellular
Gigabit-class LTE-A
4x4 MIMO and LAA
Gigabit-class LTE-A
2x2 MIMO and LAA
Splash, Water, Dust Resistance
IP68
up to 2 meters (Pro models = 4 meters), up to 30 minutes
Dual-SIM
nano-SIM + eSIM
nano-SIM + nano-SIM (China model)
Launch Price
64 GB:
$999 / £1049 / 1149€

256 GB:
$1149 / £1199 / 1319€

512 GB:
$1349 / £1399 / 1549€
64 GB:
$1099 / £1149 / 1249€

256 GB:
$1249 / £1299 / 1419€

512 GB:
$1449 / £1499 / 1649€
64 GB:
$699 / £729 / 799€

128 GB:
$749 / £779 / 849€

256 GB:
$849 / £879 / 969€
Starting off with the hardware internals, the new generation of phones now come with Apple's latest A13 SoC. We'll be going into far more detail about the changes later on in this article, but the high-level overview is that this year we're seeing two new CPU microarchitectures from Apple: two big performance "Lightning" cores at 2.66GHz, and four small efficiency "Thunder" efficiency cores at 1.73GHz. On the GPU side the design remains a four-core processing block, employing a newer iteration of Apple's custom GPU microarchitecture which promises to once again bring large performance and efficiency gains.
Apple's microarchitecture improvements, in turn, will have to do most of the heavy lifting as far as A13's processing performance goes. This year we aren't seeing too great of an improvement on the chip manufacturing side of matters, as Apple is employing TSMC's relatively iterative N7P manufacturing process for the A13. N7P offers some improvements over last year's N7 process, but it's far from a full (or even half) generational update.
Cellular connectivity is provided by Intel's "PMB9960" modem, which is likely to be the XMM7660. This modem offers LTE Category 19 connectivity with download speeds of up to 1.6Gbps. Though it should be noted that in order to reach the full potential of the modem you'll need a Pro model phone, as Apple holds back the regular iPhone 11 a bit, and as a result that model only goes up to 1Gbps. Another big upgrade in connectivity is the introduction of WiFi 6 (802.11ax) support via a new Broadcom combo module, likely based on the BCM4375 chipset. This makes Apple only the second vendor (next to Samsung's Galaxy S10 and Note10 series) to actually offer the new WiFi standard in a phone this year.
In terms of main memory, the Pro models remain at 4GB of LPDDR4X, and this year the base iPhone 11 is now at parity as well. Unfortunately, the storage tiers this year also remain the same, at 64GB, 256GB and 512GB. I do find it extremely conservative of Apple to continue the 64GB base model given that the majority of the competition has switched over to 128GB as a minimum. Granted, Apple makes more efficient use of the storage thanks to HEIC and HEVC image and video compression storage, but it's still a rather cheap design decision in order to get people to choose the higher tier options, which carry some pretty extreme price premiums.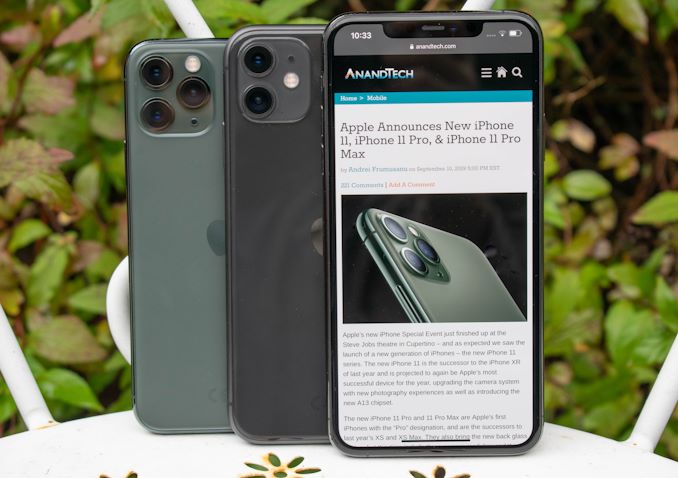 Shifting gears, let's talk about what's on the outside of the new iPhones. As this isn't a year where Apple is introducing a major design change to the phones – with 2019 essentially serving as a second 'S' year – Apple has largely left well enough alone in terms of phone designs. So looking at the front of the phones, you won't find that much has changed. This also means that Apple hasn't touched the display dimensions, which continue to range from 5.8-inches to 6.5-inches, as these are almost entirely dictated by the form factors of the phones. The 11 Pro and Pro Max both continue to have OLED screens, however this year Apple has upgraded the display panels, which they have been using since the original iPhone X. Calling it their Super Retina XDR display, the new model now promises higher brightness levels of up to 800 nits in regular content, and up to 1200 nits in HDR content. The new panels are also said to be 15% more efficient, something we'll investigate later in the review.
Meanwhile the iPhone 11 display remains the same as last year: this is again an LCD and comes at a lower resolution of 1792 x 828 pixels. I was not very impressed with the XR display's density, and the fact that Apple chooses to retain this resolution is unfortunate, as the iPhone 11 is a device that will be used by a lot of people for many years to come. It's a highly subjective topic and opinions will vary depending on how you use your phone – I tend to read a lot in bed in the evenings and holding up the phone close like that definitely is a compromise for the XR and iPhone 11.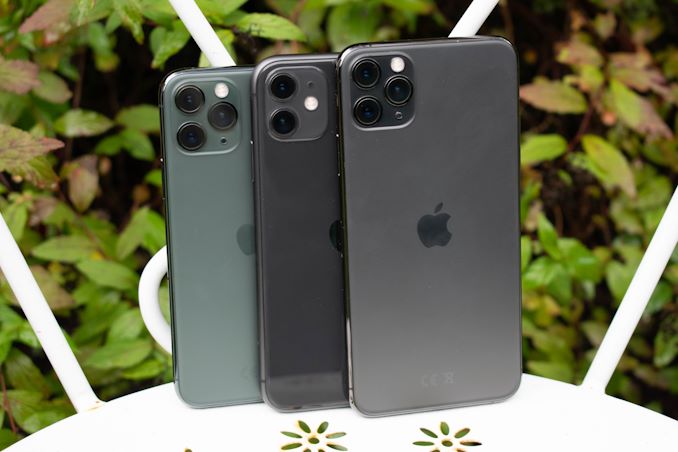 Otherwise, the rear of the new phones has changed more substantially, at least as far as glass back designs can change. Accommodating Apple's newest cameras and the Pro's larger triple sensor setup, the Apple logo has been shifted down from the upper third of the body to the center, and the new camera housing and design definitely attracts your attention.
A very large and actually practical design change on the Pro models is a new frosted chemically-etched matte surface. To be sure, this isn't the very time we've seen this, as OnePlus, LG and Google have already introduced it in their phones over last year. But it's actually a bit of a revolution due to how much it changes the feel of the phone versus regular glossy glass – I wish all vendors adopt the design, as it's a definitive plus for the phones. Apple's take has the most granular-feeling texture of all the vendors, so it does still give off a vibe of being glass, while the finer textures found on the Pixel 3 and such might fool you into thinking it's some kind of plastic.
The regular iPhone 11, in contrast, retains a glossy back, which is paired with a matte camera rectangle. This comes with the usual disadvantages of it being a classical finger-print magnet.
What we don't see externally – but can definitely feel – is the increased battery capacity of the different models, with all of the phones getting larger (and often heavier) batteries. The regular iPhone 11 is the most non-eventful here as it only sees a 5.7% increase in capacity, bringing it to up to 3110mAh. Yet even with this capacity bump, Apple has held the weight of the phone to 194g, identical to the iPhone XR.
The iPhone 11 Pro and 11 Pro Max, on the other hand, have received substantial battery capacity increases. The 11 Pro gets a 14.5% increase over the XS, putting it at 3046mAh. This larger battery causes the phone's weight to increase by 11g, with the smallest of the iPhones now weighting 188g. The iPhone 11 Pro Max goes even further, receiving a massive 25% increase in battery capacity for a total of 3969mAh. This adds a further 18g to the weight of the phone, bringing it to a hefty 228g altogether.
Part of the reason why Apple has been able to increase the capacity of the 11 Pro Max's battery by so much as compared to the 11 Pro is due to a change in the layout of the battery itself. For the 11 Pro max, Apple has switched from a dual-cell battery configuration to a single-cell L-shaped battery; this effectively increases the actual battery volume inside the phone. The iPhone XS already made this transition last year, so there's no changes for the 11 Pro in terms of battery layout.
And regardless of whether the battery capacity changes were the cause or the effect, Apple has increased the body thickness of the Pro models by 0.4mm, bringing them to 8.1mm. The change in thickness is immediately noticeable when comparing the two generations, however it doesn't fundamentally change the ergonomics of the new phones. Otherwise, the iPhone 11 retains the same thickness as the XR.

Speaking of the body, the back glass and camera bump are rather interesting in terms of their manufacturing – it's all a single large piece of glass along with the raised rectangular protrusion, with a filleted bevel in the transition. The cameras modules each have their own dedicated circular raised metallic ring housing around them, but because this is now transitioned by the raised glass rectangle element, it no longer feels nearly as sharp as on Apple's earlier phones. This is despite the fact that the total Z-height of the cameras isn't actually any different than on the iPhone XS. The camera glass is also actually the same diameter as its predecessors, however the thicker metallic ring makes it appear as if the cameras are just bigger and chunkier on the new series. We continue to see very small raised O-ring to prevent the camera glass directly touching surfaces and to prevent scratches.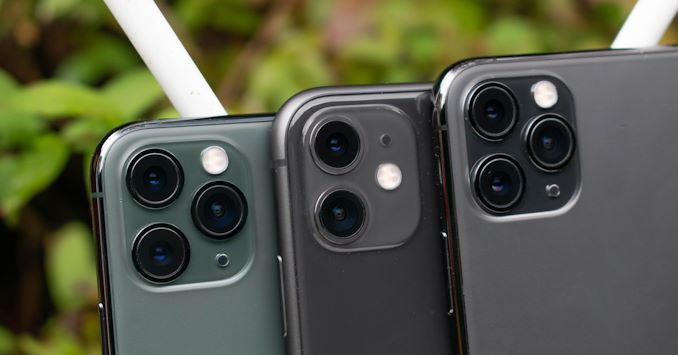 As for the camera modules themselves, we're seeing new sensors for all of them. In terms of the main sensor, Apple hasn't changed its fundamental characteristics, it's still a 12MP unit with 1.4µm pixels; however this new generation sensor now introduces full-sensor dual-photodiodes, or full sensor PDAF. The isn't new to smartphones in general, as we first saw it introduced on the Galaxy S7 a few years ago, but it's good to see its use expanded among other sensors. The camera optics largely remain the same with an f/1.8 aperture lens as well as OIS.
The telephoto module should also have a new sensor, although we don't have more information on it other than it being 12MP. The optics did see a large change, switching from an f/2.4 aperture to a larger f/2.0 in the new series, along with OIS. This module isn't featured on the regular iPhone 11, making it exclusive to the Pro models.
Finally, the big new addition to the cameras is the introduction of an ultra-wide-angle module. This is a 12MP unit with an f/2.4 aperture. The camera's 120° field of view is what makes it special, and is definitely a feature Apple needed to have in order to compete with other vendor's camera systems in 2019.
Apple has also vastly improved the camera software experience, which is something we cover in more detail in the (extensive) camera testing section of this review.
Wrapping up our look at the physical design of the phones, while the back design of the iPhone 11 series has changed quite a bit, you'd be hard pressed to differentiate between the iPhone X, XS or the 11 Pro when viewing them from the front. The net result is that there are small improvements in several places across the body of the phones, but they are still very much iPhones as we've come to know them.
This aspect is probably the most boring of the new phones; Apple tends to iterate on their industrial designs for at least three generations, and consequently the iPhone 11 series represents the 3rd year of the design that was originally introduced with the iPhone X. This does give Apple products a more "known" look and feel that is widely recognized, however given the competitive landscape – and in particular in the last year where we've seen a ton of design differentiation from other vendors – the new iPhone 11 series does feel a bit dated in terms of its looks, with the regular iPhone 11 in particular being well behind the curve in terms of bezel design.