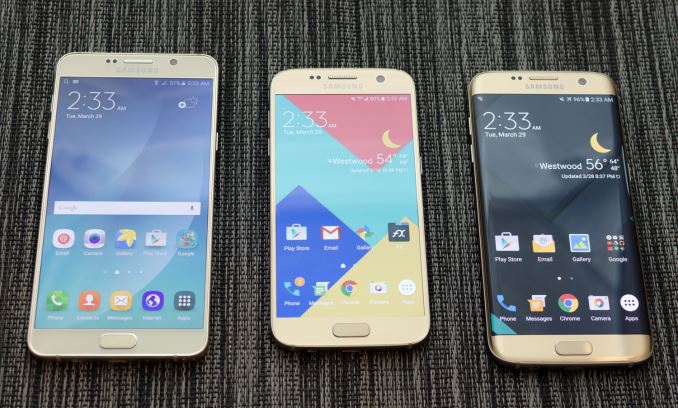 As we start wrapping up the last of our Q2 2016 buyers guides we finally come to the best Android smartphones guide. With CES and MWC having passed, we've now seen all the major Android smartphone players present their flagship smartphones for 2016. As usual, I'll be moving down the price range, starting from the largest and most expensive phones, and ending with the best of Android's mid range devices.
Best Android Phablets: Samsung Galaxy Note5 and Google Nexus 6P
Unchanged from our previous smartphone guide is the best Android phablet recommendation. This is primarily due to the fact that we see our top phablet choices refreshed in the fall, unlike standard flagship phones that tend to launch at the start of the year during CES and MWC.
The Galaxy Note5 is Samsung's flagship large screen smartphone, and it still comes out on top of the competition in all the key areas like camera, display, and performance. At a high level, the Galaxy Note5 has a 5.7" 2560x1440 AMOLED display, Samsung's Exynos 7420 SoC, 4GB of LPDDR4 memory, and a 16MP camera with OIS that also supports 4K video recording. Samsung created the phablet category, and they've continued to improve on the Note line with every iteration, leading to a well refined smartphone that is difficult to compete with.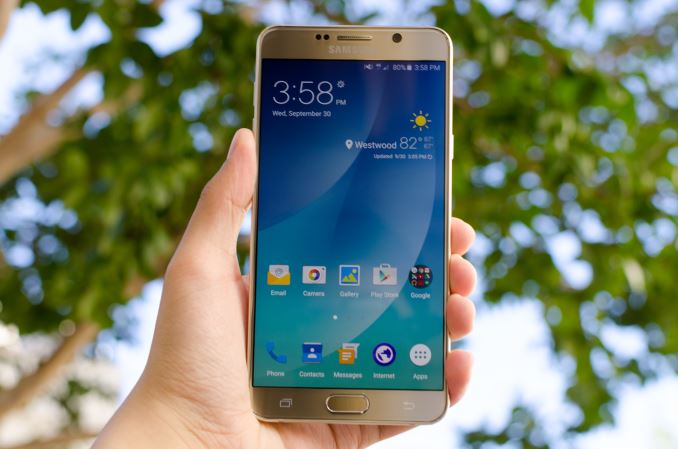 Due to Samsung's release schedule the Galaxy Note5 is actually a step behind the Galaxy S7 in some ways. Obviously the 5.1" Galaxy S7 and 5.7" Galaxy Note5 don't compete directly, but Samsung does offer the Galaxy S7 Edge which has a 5.5" curved display. You don't get the S-Pen from the Note5, but you do get improvements in other areas, including a new camera and either Qualcomm's Snapdragon 820 or Samsung's Exynos 8890 SoC depending on your region.
Given that the market is always moving, it may be best to wait a few months for the next iteration of the Galaxy Note. For now, the Note5 is as good as it gets for large Android phones.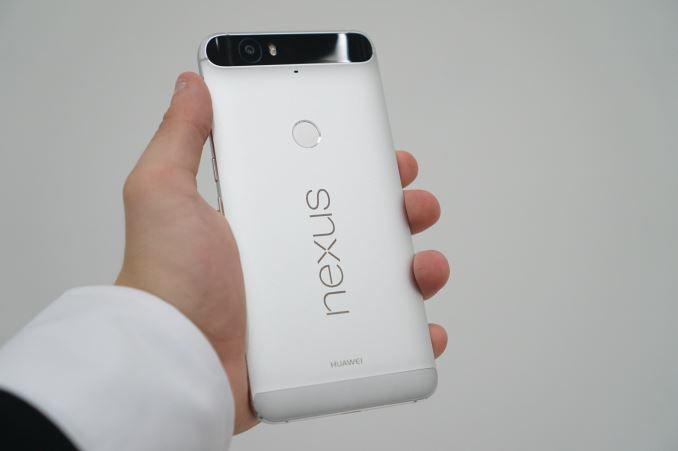 If you're looking for something priced more affordably than the Galaxy Note5, or if you're not a fan of Touchwiz, the Nexus 6P is a viable alternative. It's Google's flagship Nexus phone, and it's made in partnership with Huawei. Like the Note5 it sports a 2560x1440 AMOLED display, but it's powered by Qualcomm's Snapdragon 810 SoC which is paired with 3GB of LPDDR4 RAM and 32GB of NAND.
Compared to the Note5 you do make some sacrifices with the Nexus 6P. Snapdragon 810's problems are a known quantity at this point, and I'm honestly very hesitant to recommend a phone that uses it after seeing the improvements with Snapdragon 820 this year. In the case of the Nexus 6P, you're getting what is likely the best Snapdragon 810 implementation in a phone, so there's less throttling than with other smartphones using the same SoC. The Nexus 6P's 12.3MP camera can take some really great photos, but you're almost always forced to shoot in the slow HDR+ mode, and exposure can still be incorrect at times. The final compromise is storage performance, as the Nexus 6P's eMMC NAND is simply not competitive with the UFS 2.0 solutions on the market.
While the Nexus 6P is a step behind the Note5 in many respects, the promise of software updates and unmodified Android software from Google is an important thing for many people. In addition, the price is also a step behind that of the Note5 as well, with the Nexus 6P starting at the equivalent of $499 USD in many markets. For me, this is what the true appeal of the Nexus 6P is, and in markets where the phone isn't sold directly from Google at a relatively low price there may be better options available for users looking to get a phablet for a lower price than the latest generation of flagship phones.
Best High-End Android Smartphone: Galaxy S7 and HTC 10
As the most widely known line of Android flagship smartphones, I don't think the Galaxy S series needs any introduction. This year marked the release of the Galaxy S7, the seventh flagship Android phone from Samsung if you're ignore derivative smartphones like the Galaxy S Edge series. The Galaxy S7 represents Samsung making important changes to the design and feature set that they arrived at with the Galaxy S6. The design is very similar to the Galaxy S6, but Samsung has tweaked the curvature of the back, edges, and cover glass to make the phone significantly more ergonomic. The chassis does get thicker and heavier, which allowed for a significant reduction to the camera hump on the S6, as well as a larger battery.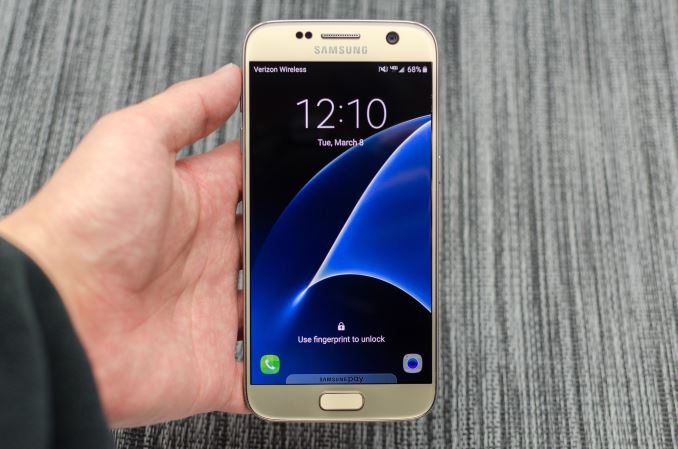 As far as specs go, the Galaxy S7 comes in two versions. Both have 5.1" 2560x1440 AMOLED displays, 32 or 64GB of UFS 2.0 NAND, 4GB of LPDDR4 memory, a 12MP Sony IMX260 camera with a f/1.7 aperture, and a 3000mAh battery. Depending on where you live you'll either get Qualcomm's Snapdragon 820 or Samsung's Exynos 8890 SoC, both of which use custom ARM cores. More specifically, the US, Japan, and China versions receive Snapdragon 820, while the rest of the world gets Exynos 8890.
Regardless of which Galaxy S7 you get; you'll be getting the best hardware that Samsung has to offer. I was a fan of the Galaxy S6, and simply improving upon it for 2016 was a pretty surefire way to create a great successor. People who were upset by the loss of MicroSD support on the Galaxy S6 will also appreciate Samsung adding it back.
As for price, the Galaxy S7 starts at $669 for the 32GB model as an unlocked phone, with the price going up to $769 for 64GB.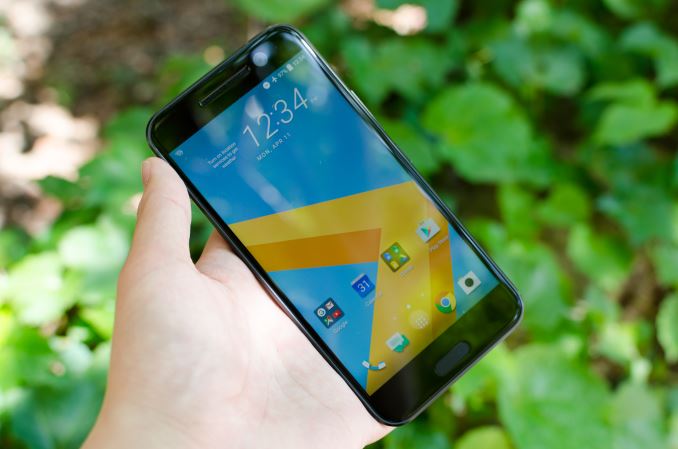 The other phone worth discussing at the high end is the HTC 10. While we're still working on our review of the HTC 10, I have no hesitation in saying that it is at least an equal to the Galaxy S7. However, determining whether it's better for you is conditional on at least a few different factors.
To start, we can look at where the HTC 10 is better than the Galaxy S7. In terms of audio quality, design, OEM UI, and other areas like perceptual latency I would argue that HTC is just clearly ahead of Samsung. HTC also has proper USB 3.1 and USB-C support, which does make the device more future-proof than the Galaxy S7's microUSB connector in that regard. The front facing camera is also just better on the basis of having OIS and optics that can actually focus on a subject instead of being set to infinity at all times.
However, Samsung is clearly ahead in display and the camera is clearly the fastest I've ever seen in any phone, bar none. Samsung is also shipping better WiFi implementations right now in terms of antenna sensitivity and software implementation, along with IP68 water resistance and magstripe payments for the US and South Korea.
To further muddy the waters, there are areas where HTC and Samsung trade blows. While Samsung's camera is clearly faster, HTC often has better detail in their images, especially at the center of the frame but the Galaxy S7 has better detail at the edge of the frame. Noise reduction tends to be a bit less heavy-handed and sharpening artifacts aren't nearly as strong as it is on the Galaxy S7. HTC's larger sensor also means that it's possible to get actual dSLR-like bokeh with macro shots, which is honestly something that I've never seen before in any smartphone camera ever.
Overall, I think it's pretty fair to say that the HTC 10 is a solid choice. If I had to pick between the two I would probably lean towards the HTC 10, but this is based upon personal priorities. I don't think you can really go wrong between the two. The HTC 10 is currently 699 USD when bought unlocked through HTC with Carbon Gray and Glacial Silver with 32 GB of internal storage, which is a bit more than the Galaxy S7 but considering how smartphones are often used for 2-3 years now I don't think 50 dollars should be a major point in favor or against a phone.
Best Mid-Range Android Smartphone: OnePlus 3
This section of the guide is one area that is changing from last quarter's iteration. My previous recommendation for a mid-range smartphone was the Nexus 5X, which sits closer toward the upper end of the mid range. At $349 it presented a lot of value for your money, but since its release I believe it has been surpassed by another smartphone. For this quarter I think the best mid-range Android smartphone has to be the OnePlus 3.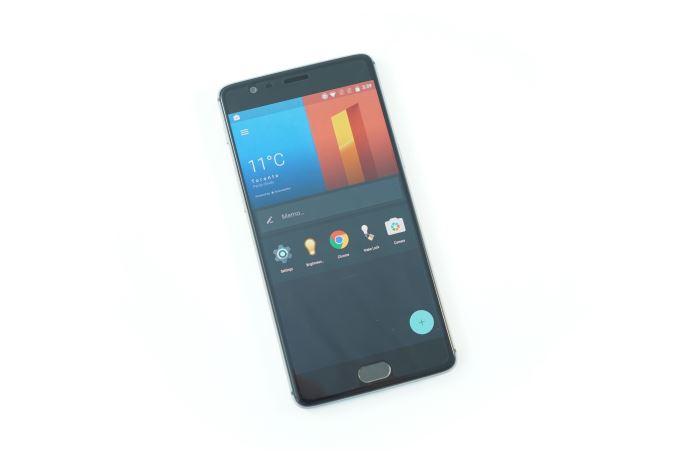 I reviewed the OnePlus 3 recently, and the only major issue I could find with the phone was that the display accuracy was quite poor. It also doesn't have the best video recording out there, but it's not unusable by any means. Beyond those two problems, I felt the phone was quite good. The build quality is exceptional, the camera takes nice photos, and Snapdragon 820 provides huge performance gains over the OnePlus 2 which had a very poor Snapdragon 810 implementation. In addition to all that, OnePlus will be rolling out an update soon that includes an sRGB mode, and based on my measurements they've really hit their mark here, which means that display accuracy is no longer a concern for anyone who values it. The OnePlus 3 comes in only one configuration, which has 64GB of storage and is priced at $399.
While it has lost its spot as the top mid range Android phone, I think the Nexus 5X deserves an honorable mention, partially because the OnePlus 3 really stretches the definition of mid-range when it's priced at $399. If you can find the Nexus 5X when the price drops below $300 it's still a phone that's worth considering, but I just think that the OnePlus 3 ends up being worth the extra $100 or so and will be a better investment in a smartphone to last the next two or three years.
Best Budget Android Smartphone: Huawei Honor 5X
I look at many mid range Android smartphones in my reviews. I've seen the state of the market go from a cesspool of horrible phones to a market of phones that actually provide a pretty great user experience for someone shopping on a more constrained budget. At one point Motorola was the champion in this space for users who didn't live in regions serviced by Xiaomi. Unfortunately, they've made some missteps regarding software updates lately, and I think that their hardware decisions since they were purchased by Lenovo have been very poor to say the least. Because of that, my budget smartphone recommendation is still Huawei's Honor 5X.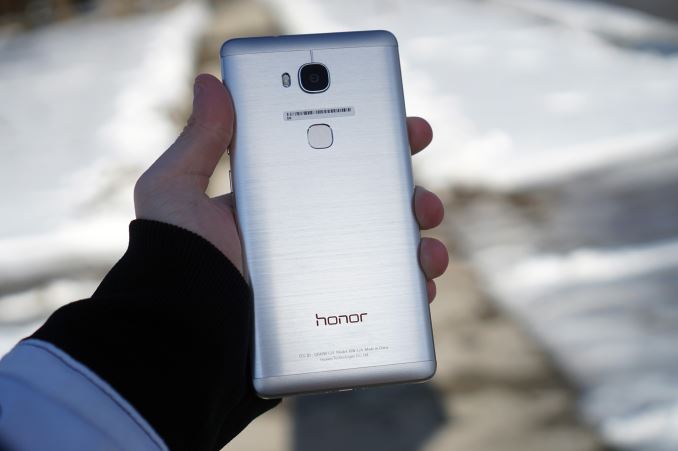 The Honor 5X is actually a phone from 2015, but it was brought to North America this year after a launch event at CES. I published my review of it earlier this year, and I said that for $199 it would be really difficult to find a better device. I think that still holds true, and the Honor 5X is a great all around device for $199. It has a 1920x1080 IPS display, 16GB of NAND, a 13MP rear-facing camera, and a 3000mAh battery. At the heart of the phone is Qualcomm's Snapdragon 616 SoC paired with 2GB of LPDDR3 memory.
On top of having relatively good specs for a $199 phone, the Honor 5X goes above and beyond in two ways. The first is the chassis, which is primarily made of aluminum and looks a lot nicer than most of the mid range phones you'll find. The second is the inclusion of a fingerprint scanner, which is a convenience that is often lost when moving down from the flagship smartphone market. Including the sensor is one thing, but the fact that it's a really nice and simple to set up fingerprint scanner is a big advantage over competing phones that don't even include one at all.
Obviously there are always exceptions. If Xiaomi operates in your market and works on your carrier you may find "better" devices from them. For a large number of buyers that simply isn't an option, and at these price points importing a phone is going to be more trouble than it's worth to get something that's a bit faster or has a couple spec advantages. I think for most users looking for a mid range phone the Honor 5X really delivers, and bringing features like the fingerprint scanner and metal chassis from high end smartphones helps to position it above the competition. For $199, I don't think you can go wrong with the Huawei Honor 5X.