Kicking off today is the 2013 Intel Developer Forum, Intel's annual gathering of developers, press, and techies. Among the many sessions scheduled over the rest of the week we're expecting several product announcements, and as is customary the first few of these announcements have been dropped in this morning's opening keynote, being delivered by Intel's new CEO, Brian Krzanich. The first – and certainly hottest item – is the announcement of a new line of SoCs from Intel. Dubbed the Quark family, these SoCs will be slotted in below Intel's existing and future Atom products, being designed with a strong emphasis on size and power consumption. Intel isn't giving the press any hard numbers at this time, but they are throwing around the idea of...
Last night I got a reminder from my friend Vlad that my Galaxy Gear headline wasn't technically accurate - the Gear wasn't Samsung's first wearable. I responded saying that...
12
by Anand Lal Shimpi on 9/5/2013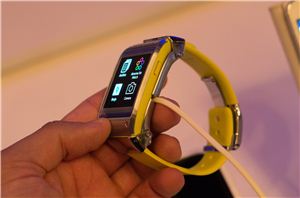 As the smartphone and tablet markets shift from high growth to the early stages of maturity, forward looking companies are looking at other adjacent markets for continued growth. Wearable...
80
by Anand Lal Shimpi on 9/4/2013