In August 2012, Nixeus launched the VUE27, a 27" WQHD (2560x1440) S-IPS LED monitor with a $430 price tag. However, the high demand led to a backlog and the monitor currently retails close to $500. The follow-up was a 30" WQXGA version priced at $700, the Nixeus VUE 30. As expected, the price has now increased to $890. By providing US-based service / warranty, they managed to win over quite a big segment of the market which was being served by eBay sellers based in Korea. However, with Monoprice getting into the game, the competition in this market has become hot. In order to counter the pricing pressure, Nixeus is introducing a new model, the NX-VUE27D. While the earlier models had a wide variety...
Zotac has released two new products: Mini DisplayPort and DisplayPort to dual HDMI adapters. These adapters are first of their kind and simply have one (Mini) DisplayPort input and...
18
by Kristian Vättö on 8/2/2011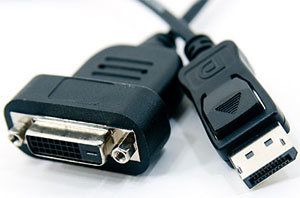 For quite a while now one of the largest obsticles for using Eyefinity in budget scanrios has been an issue of connectivity. Eyefinity video cards are cheap and large...
24
by Ryan Smith on 8/30/2010