AMD Gaming Evolved Client
Game streaming and recording has continued to be both a growing hobby and profession for many in recent years. Anytime there is growing interest in anything from society there comes a growing number of people willing to make tools to facilitate said interest. In this vein AMD and second-party developer Raptr have brought a few updates to their Gaming Evolved client in an effort to provide a more accessible means to record and share gameplay footage. The first of these additions is what AMD is calling the Replay feature, which is a new recording mode for the Gaming Evolved client. Replay mode will start recording the moment the game starts (or when the designated hotkey is pressed), and will then record the whole gameplay session...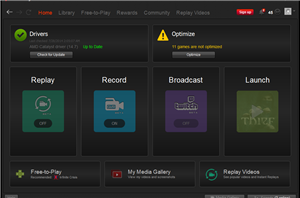 Just over a month ago, AMD and their partner Raptr pushed out the first version of their video recording Game DVR utility, which ships as a part of AMD's...
12
by Ryan Smith on 7/28/2014