PCP&C 1200W Efficiency, Temperatures, Fan Speed and Acoustics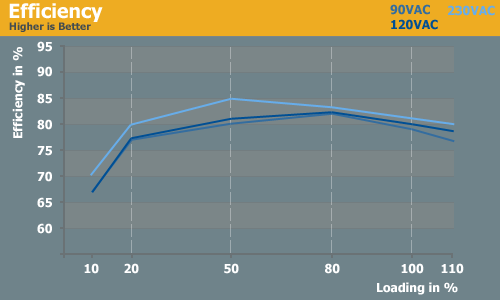 With high input voltage the efficiency reaches up to 85% at a medium load of 600W. In general it always stays above 80% and doesn't go lower even at a 110% load. With lower input voltage such as 90 and 120VAC the levels are just average and only reach maximum efficiency at loads of around 900W - where it achieves a decent 83% efficiency. While 83% efficiency at 900W might be good, most systems that would require such a PSU will likely not be running at 900W load constantly. It should be possible to improve efficiency at other loads, but it seems likely that the unique design/layout PCP&C uses is playing a role.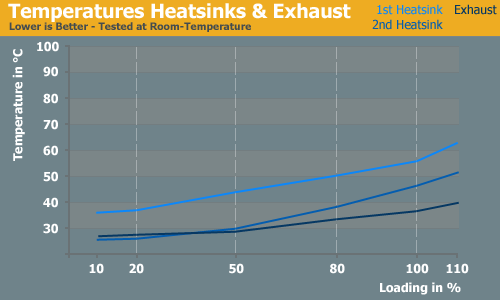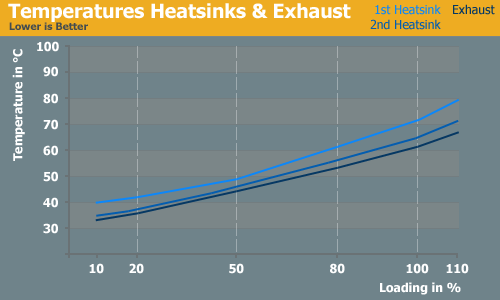 During our first round of testing our temperature probe broke and we saw more than 1000°C on our thermometer. This is the second round of new probes we've had to install, a testament to the extreme conditions that can be found inside our testing chamber. Since the Turbo Cool has double the number of components of a "normal" power supply but also just "half" the load on each of the bridges, we actually expected the temperatures to be a little higher than we finally measured. Given there are three heat sinks, the primary in this graph is the top heat sink and by secondary we mean the two lower heat sinks.
The temperature delta from minimum to maximum load during testing is around 25°C at room temperature and as much as 40°C in the heat chamber. The temperature difference on the primary heat sink between the two environments starts at 5°C and reaches a maximum 18°C; this means that the primary heat sink is generally quite hot regardless of ambient temperature. Looking at the heat chamber testing, all of the measurements show a similar increase; this is good as it indicates the heat is at least getting out of the power supply and doesn't stick around to cook any of the components. To help make this possible PCP&C installed a Delta fan that can reach speeds of up to 4900 RPM.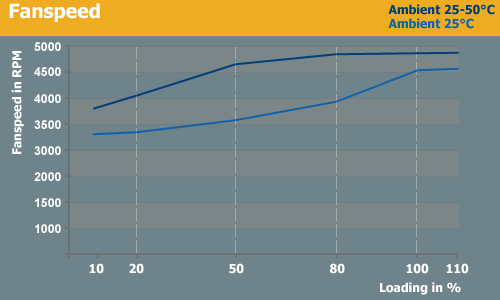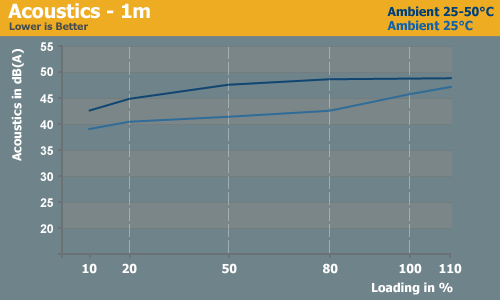 We actually needed to extend our table to show the RPM of the Delta fan properly since we couldn't imagine finding a modern PSU with a fan that could almost hit 5000 RPM. Even at low temperatures we already measure almost 3500 RPM under room temperature. Starting with 30°C in the heat chamber the fan is already almost 1000 RPM higher. With these fan speeds the measured sound levels are hardly surprising. Please note the above measurements are taken at a distance of one meter! With its noise level of 50dB(A), this power supply tops even the Silencer 750 QUAD and is now the new leader of the non-silent power supplies faction. Once again, this loud fan is needed because there's no other reasonable way to get the heat out of the case with all the obstacles in the way of a proper airflow. High power with limited airflow pretty much necessitates the use of noisy cooling fans; this PSU would fit right in with many datacenter cooling racks.