Courtesy of Custom PC Review At Flash Memory Summit, Toshiba was showcasing their latest 15nm 128Gbit MLC NAND wafer that has been developed in partnership with SanDisk. I simply could not resist to calculate the die size as Toshiba/SanDisk has not published it and die size is always the basis of any semiconductor cost analysis. Unfortunately I was too busy running between meetings that I did not take a photo of the wafer, so I am borrowing the picture from Custom PC Review. To estimate the die size, I used the same method as with Samsung's second generation V-NAND. Basically I just calculated the amount of dies in both X and Y axes of the wafer as that gives as an approximation of the die size...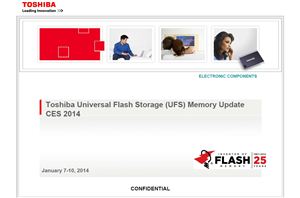 Since they first started showing up on the market, most smartphones and tablets have used eMMC flash storage. While in some ways similar to the NAND flash used in...
8
by Jarred Walton on 1/14/2014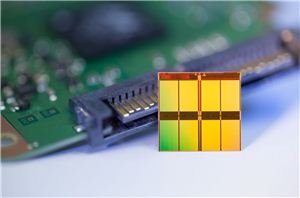 Earlier today Micron announced its first 16nm MLC NAND device. The 128Gbit device is architecturally identical to the current 20nm/128Gbit 2-bit-per-cell MLC device that's shipping today but smaller. That...
10
by Anand Lal Shimpi on 7/16/2013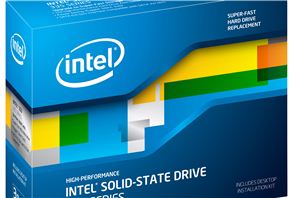 Back in February, Intel released its first SandForce based SSD: the Intel SSD 520. Since then Intel's SSD lineup has evolved. A couple of months after the 520's release...
70
by Kristian Vättö on 10/29/2012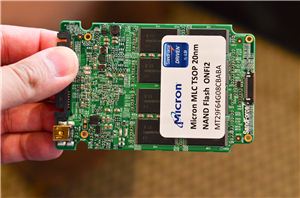 SandForce's controllers have fairly broad compatibility with NAND available on the market today. It shouldn't be a surprise that the first demo we saw of Toshiba's 19nm and Intel/Micron's...
20
by Anand Lal Shimpi on 6/8/2012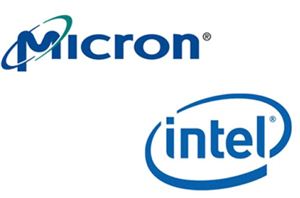 Intel and Micron today announced that they have done some modifications to their agreements on their IMFT joint venture. In short, Intel is selling its stake in two fabs...
6
by Kristian Vättö on 2/28/2012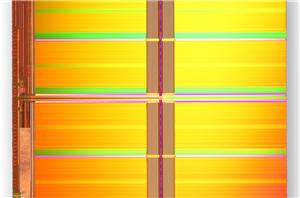 Earlier this year, Intel and Micron's joint NAND manufacturing venture (IMFT) announced it had produced 64Gb (8GB) MLC NAND on a 20nm process. Most IMFT NAND that's used in...
36
by Anand Lal Shimpi on 12/6/2011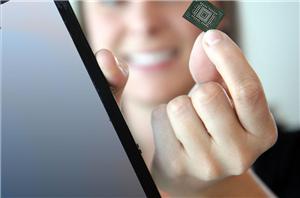 After 11 years of partnership, Sandisk and Toshiba's timing could not have been better. Just seven days after losing the NAND crown to Intel and Micron (IMFT) they announce...
35
by Jason Inofuentes on 5/5/2011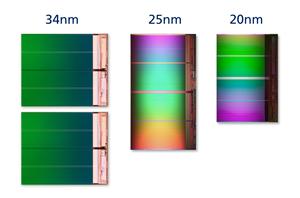 We just started testing SSDs based on IMFT 25nm NAND Flash and look at what Intel/Micron just announced? The first 8GB MLC NAND device built on a 20nm process...
42
by Anand Lal Shimpi on 4/14/2011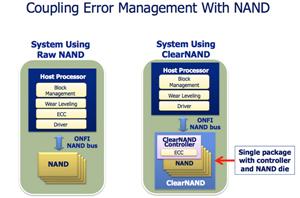 NAND endurance is on its way down with each subsequent process generation. At the same time unrecoverable bit error rates are on their way up. Companies like SandForce have...
24
by Anand Lal Shimpi on 12/2/2010