Razer has been well known in the gaming space for making high end and relatively pricey peripherals. While their sweet spot has definitely been input devices (mouse and keyboard, primarily), they've launched their fair share of gaming audio products as well, mostly centered around over-ear headphones that typically look really cool. Between the in-your-face neon green of the Orca and Kraken, the aviator style of the Blackshark, and the futuristic Tiamat, all of Razer's recent headsets have made a design statement. Unfortunately, none of them have sounded very good. And I really mean none of them, excepting the ambitious and expensive Tiamat 7.1. No matter which Razer headset you look at, you can get substantially better audio quality for the money elsewhere. So when...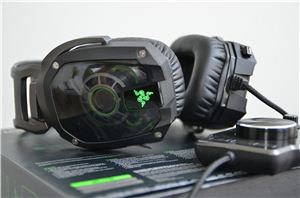 What is it? Razer's Tiamat 7.1, the first headset to feature 10 discrete drivers for true 7.1 surround sound. How much? $179.99 from Razer's webstore or Amazon.com What does it do? The...
14
by Vivek Gowri on 6/15/2012
A competitive gamer loves being at the cutting edge. Every piece of hardware needs to be meticulously set to his or her specifications and customisations – being hindered...
41
by Ian Cutress on 8/5/2010