AMD has been relatively silent on the topic of NVIDIA's variable refresh rate G-Sync technology since its announcement last year. At this year's CES however, AMD gave me a short demo of its version of the technology. Using two Toshiba Satellite Click notebooks purchased at retail, without any hardware modifications, AMD demonstrated variable refresh rate technology. According to AMD, there's been a push to bring variable refresh rate display panels to mobile for a while now in hopes of reducing power consumption (refreshing a display before new content is available wastes power, sort of the same reason we have panel self refresh displays). There's apparently already a VESA standard for controlling VBLANK intervals. The GPU's display engine needs to support it, as do the panel...
With ATI and AMD fully integrated, and Intel finally taking graphics (somewhat) seriously, NVIDIA needs to do a lot more to remain relevant (and dominant) in the industry going...
192
by Anand Lal Shimpi on 12/12/2013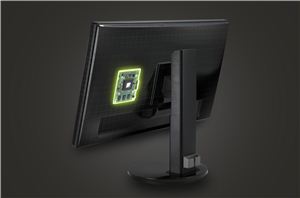 Earlier today NVIDIA announced G-Sync, its variable refresh rate technology for displays. The basic premise is simple. Displays refresh themselves at a fixed interval, but GPUs render frames at...
217
by Anand Lal Shimpi on 10/18/2013