This afternoon (and yesterday) we had a chance to meet with a number of SoC vendors who have partnered with Microsoft for Windows 8. Each of them has their own individual reference tablet running Windows 8, and today we had a chance to survey the landscape and get photos of all the tablets. We started with ARM, then looked at x86 based tablets. Of course, the real goal with Windows 8 is to abstract as much of the difference between these two platforms away. Unfortunately, all of the ARM vendors were required to keep their tablets under glass and out of the way of physical contact per Microsoft instruction. Microsoft isn't ready to show off the ARM version of Windows 8 for a variety...
Ryan and I are on the floor at Microsoft BUILD for day two, where Windows Server 8 is the subject. There's still more for the keynote, but Microsoft briefly...
5
by Brian Klug on 9/14/2011
At BUILD today Microsoft just announced that the same version of Windows 8 Developer Preview we've been using on Samsung tablets for the past day will be available at...
9
by Brian Klug on 9/13/2011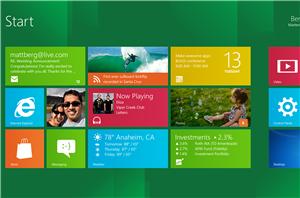 We're here in Anaheim, California at Microsoft's BUILD conference. As has become tradition Microsoft has been holding major developer conferences for their new OSes roughly a year ahead of...
236
by Brian Klug & Ryan Smith on 9/13/2011