I got a chance to look at some of Samsung Displays' new and upcoming products, probably one of the highlights of my CES 2013 experience. There's a bit to go through, but first up are their buzzworthy curved displays and a concept phone or two. I spent three years in my undergrad optical and electrical engineering education working on curving a CCD for use matching focal planes, and thus curved displays are instantly near and dear to me as interesting next steps. Samsung was showing off a single-axis curve in their demo room. First is a larger size display with a relatively small bend radius. It's a hemicylindrical display designed for signage. Next are two smartphone concepts. I've been wondering for some time what curved (not...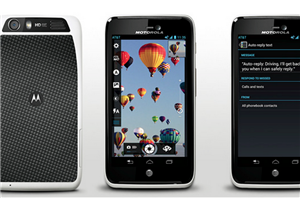 Image courtesy of Droid-Life. Somewhere a Motorola employee is wishing he'd double-checked that launch date. Splashing into the news after a bit of a hiatus, Motorola briefly revealed the splashpage...
25
by Jason Inofuentes on 7/5/2012
Though we've learned a lot about the Galaxy Nexus specifications already, one of the things that has remained a question thus far is whether its 4.65" 720p HD Super...
152
by Brian Klug & Jason Inofuentes on 10/21/2011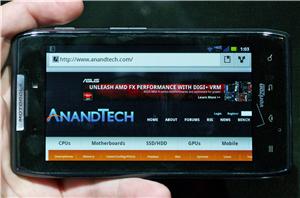 Unlike some prior events, reps were more than happy to let us get our grubby mits on the devices. Even going so far as to let us run benchmarks...
15
by Jason Inofuentes on 10/18/2011