While it was easy to make an educated guess that the Galaxy S5 LTE-A Broadband had a PenTile subpixel layout to support the higher pixel density, I didn't get visual confirmation of this until now. While this picture is rather boring, it's much more interesting to see the display when turned off. There are a few observations to be made from this photo. While it definitely looks disconcerting and creepy to some, it's possible to make out that there's something set in between the green subpixels when viewed diagonally. This appears to be where the transistors are placed to control a given subpixel. It also seems that the deposition process isn't perfect, as there's noticeable variance in shape and size among subpixels of a given...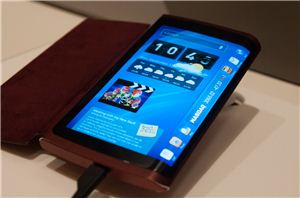 I got a chance to look at some of Samsung Displays' new and upcoming products, probably one of the highlights of my CES 2013 experience. There's a bit to...
25
by Brian Klug on 1/12/2013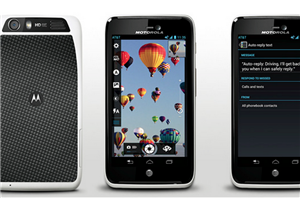 Image courtesy of Droid-Life. Somewhere a Motorola employee is wishing he'd double-checked that launch date. Splashing into the news after a bit of a hiatus, Motorola briefly revealed the splashpage...
25
by Jason Inofuentes on 7/5/2012
Though we've learned a lot about the Galaxy Nexus specifications already, one of the things that has remained a question thus far is whether its 4.65" 720p HD Super...
152
by Brian Klug & Jason Inofuentes on 10/21/2011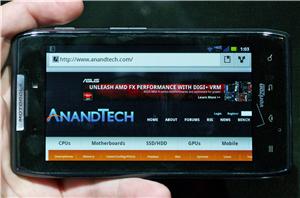 Unlike some prior events, reps were more than happy to let us get our grubby mits on the devices. Even going so far as to let us run benchmarks...
15
by Jason Inofuentes on 10/18/2011