We are in the final throes of wrapping up a series of articles featuring Integrated Graphic platforms from Intel, NVIDIA, and AMD that starts early next week. During this process, we had a couple of boards that stood out from the others. One of these also happens to be the last board we received, the DFI LanParty Jr. 790GX M2RS. The name is longer than the board it seems. This is the only uATX based 790GX board on the market currently and it is part of the LanParty Jr. series from DFI. DFI has established this family with mid-range performance based chipsets that include the uATX P45 based LanParty Jr. P45 T2RS board, which also happens to be a stand out in the upcoming P45/X48 roundup.
We will go into further details on the board shortly, but wanted to provide a quick first look at it today since we have had numerous questions about its performance. While the 790FX/SB750 boards are still a tick quicker than the 790GX boards, DFI has managed to close this gap quickly. We have been working with them over the past couple of weeks and the latest 916 BIOS has really opened up memory performance and clocking attributes with our 9950/9850BE processors. DFI has implemented a lock out on several of the advanced BIOS options so you need to press F9 at the main BIOS setup screen to open up the BIOS fully, just like Gigabyte requires you to press Crtl-F1 on most of their boards. Once you do, this board has an incredible number of tweaks for the advanced user.
The board's overall stability has improved significantly as we have been running this board with our 9950BE at 3.54GHz non-stop since Tuesday without a failure yet. We still have some additional testing to complete this weekend with a variety of office and multimedia applications, but so far this board is very solid in stock or overclocked conditions.
One of the concerns from the performance oriented crowd is that the x16 graphic slots are hardware fixed at x8 operation. We have not noticed any performance differences with single card testing when compared to the 790FX that operates its PCIe 2.0 slots at x16 in single or dual card configurations. In CrossFire testing, we had the same results with the 4670 and 4850 cards while the 4870 cards performed about 2% slower. Hopefully, some additional tuning will close that gap, a gap we might add will only be important for those seeking the best benchmark scores. In the meantime, we are providing a few screenshots today along with some additional BIOS images in the gallery.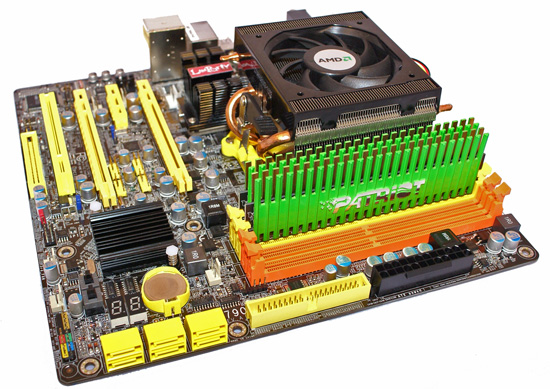 There is not much room on this board after squeezing in two x16 slots (dual x8 electrical). If you plan on utilizing dual slot GPUs then the PCIe x1 slot will not be available with a single card solution and the PCI slot will not be available in a CrossFire setup. Otherwise, the current layout works well although the placement of the additional USB headers is a pain depending upon your card setups. About our only real problem during testing came with the 790GX heatsink as the placement interfered with several of our aftermarket air coolers and even the retail 9950BE cooler. Fortunately, the heatsink is easy to remove and replace or you could just do a little bending of the fins as shown in the image below.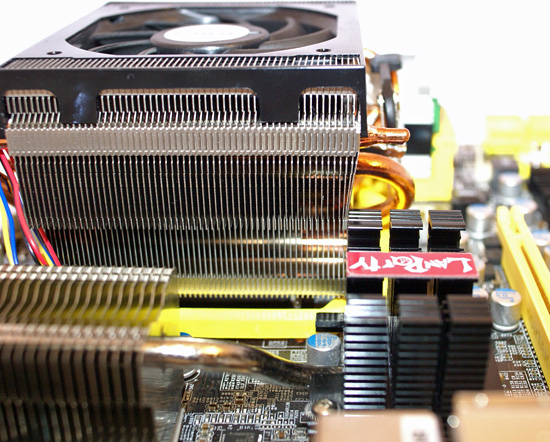 As stated earlier, performance on this board has been excellent and its overclocking capabilities have been superb with the latest BIOS. We are still tuning the board and hopefully will be able to lower voltages shortly, but in the meantime we are providing a few screenshots of our latest clocking results with the 9950BE.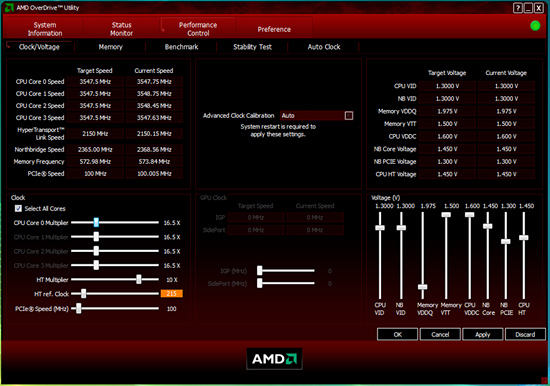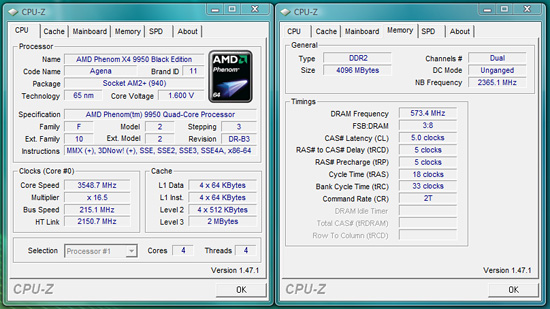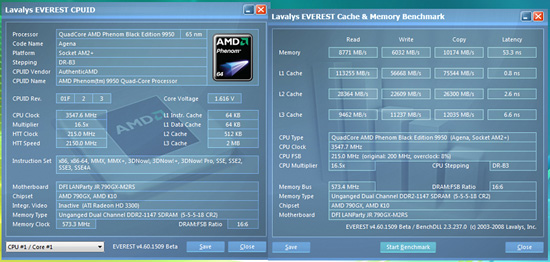 We were able to hit 3.54GHz (up to 3.62GHz now at 1.575V) on this particular 9950BE with the assistance of CoolIT Systems' Freezone Elite CPU cooler. So far, this particular setting has held up to 24/7 testing across a wide variety of applications. HTT clock speed is set to 215MHz, Multiplier at 16.5x, and memory is at DDR2-1147 with 5-5-5-18 timings on 1.975V with 4GB under Vista 32. Northbridge speed is at 2365MHz and ended up being our limit on this board. This particular CPU will run Northbridge speeds up to 2515MHz on the Foxconn and ASUS 790FX boards but we could not get the board to POST at a 2400MHz speed with stock memory and CPU multipliers.
Hopefully, DFI can address this shortly, if not, the board is still very fast even with a slightly reduced NB speed. Our maximum HTT clock is 238MHz on with this 9950BE. This is quite good for our CPU as it typically maxes out around 235MHz on the 790FX boards. DFI provides full support for AMD's Overdrive (AOD) utility. We utilized a beta copy of the 2.1.4 release in our testing that addresses several significant bugs found in the 2.1.2 release, especially the fact that ACC would not work properly with an AHCI or RAID setup. You can now download the released version of 2.1.4. We would like to add a simple but sometimes misunderstood fact about AOD, if the motherboard manufacturer has not provided proper BIOS hooks for this program the user will see reduced functionality or potentially no functionality when trying to overclock their system.
We will have additional performance results in our roundup shortly. In the meantime, our maximum clock speed with air-cooling has been 3.42GHz on 1.475V, which is pushing the limit for stability during benchmark tests. We ended up at 3.3GHz on 1.450V for 24/7 operation under air cooling. Also of note, we have to give a shout out to Patriot Memory for their Viper DDR2-1066 4GB kit that hit DDR2-1147 in the above tests and to G.Skill for their DDR2-1100 4GB kit that is doing DDR2-1200+ on this board as of today. We purchased both memory kits at NewEgg and the DFI board from Motherboard Pro so our results should be representative of shipping products.