ASUS' Socket-F and Woodcrest Server Platforms
ASUS' server division was in full force showing off new platforms for both AMD and Intel servers. While ASUS' desktop shipments are approximately 32% AMD and 68% Intel, its server shipments are 40% AMD and 60% Intel reflecting the market appreciation for Opteron.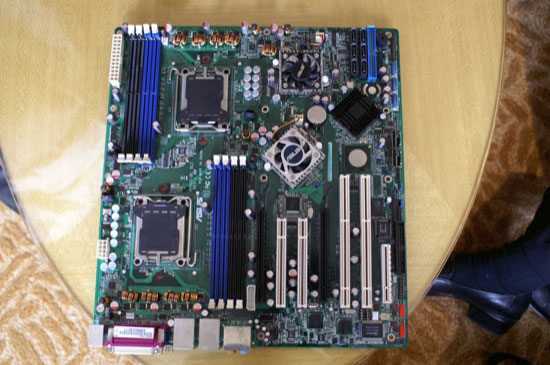 Click to enlarge
Although all we've talked about lately is AMD's desktop DDR2 platform, Socket-AM2, the server equivalent is only about a month away. Because of the very high pin count (1207 pins), AMD's DDR2 server platform, Socket-F, moved to a LGA style socket similar to what Intel has been using on the desktop since Prescott.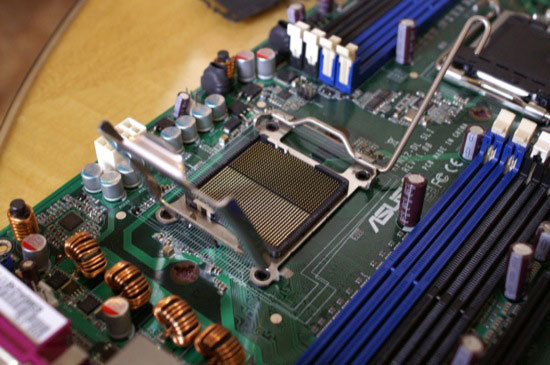 This Socket-F motherboard uses NVIDIA's MCP55 Professional chipset, the server/workstation version of the nForce 590 SLI desktop chipset. The MCP55 + IO55 setup results in two x16 PCIe slots that can be used for a pair of Quadro cards running in SLI mode.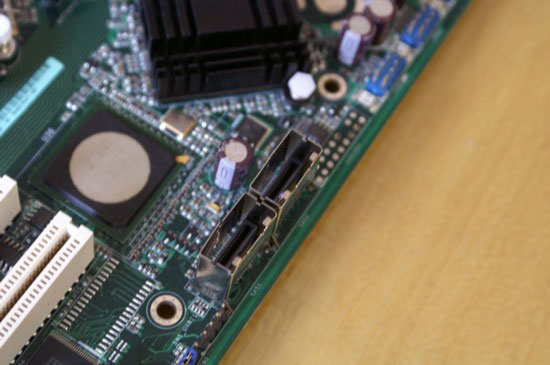 The motherboard also features two mini-SAS connectors, that each can provide four SAS/SATA connectors using a 1-to-4 splitter cable.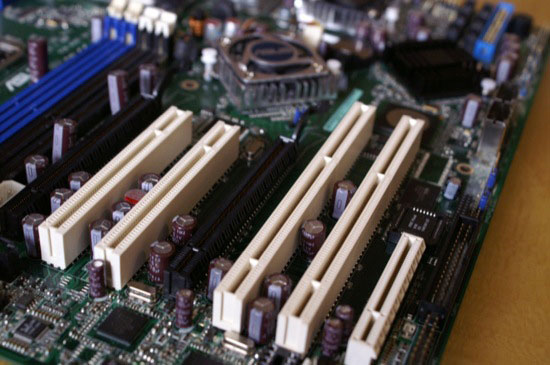 Given the server focus of this motherboard, finding two PCI-X slots on board isn't out of the ordinary at all. The Intel PCIe to PCI-X bridge underneath the blurry black heatsink at the top of this picture drives the two PCI-X slots. Who would've expected an AMD server board with a NVIDIA chipset and an Intel PCI-X controller.
ASUS told us that it is working on a passively cooled version of this motherboard that may be ready by the time it ships.
Next up is ASUS' Blackford motherboard for the Xeon platform. Intel's Blackford chipset supports Woodcrest as well as FB-DIMMs.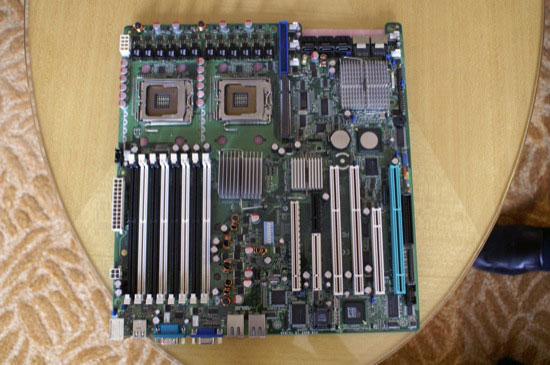 Click to enlarge
The standard Blackford chipset features a quad channel FB-DIMM memory controller; each white FB-DIMM slot below indicates a separate memory channel: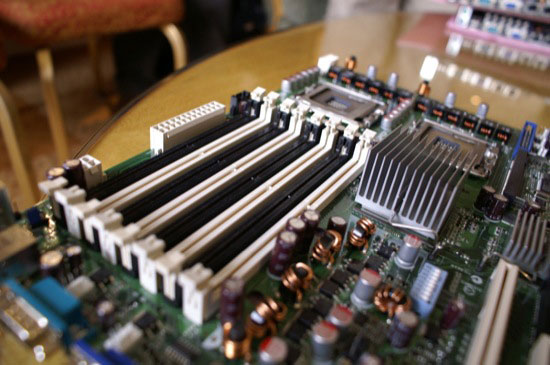 ASUS also has a version of this motherboard based on the Blackford-VS chipset, which only supports two FB-DIMM channels: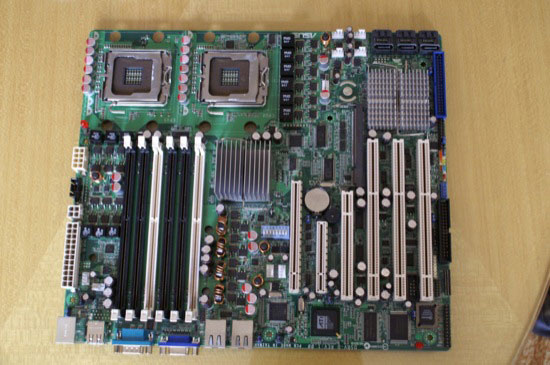 Click to enlarge
Later this week we will have our own review of Intel's Blackford chipset running Woodcrest, a platform that was officially announced late last month.
Before concluding its presentation, ASUS' server division introduced us to a very clean 1U server based on a Blackford-VS motherboard:
The server is very clean on the inside and features dual redundant power supplies, as well as a completely tool-less design.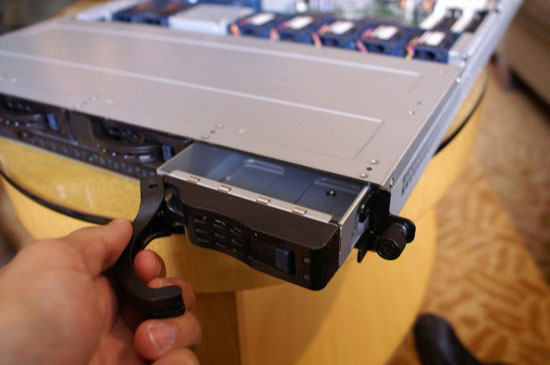 There are three LAN ports on the back of the chassis (the one at the right is covered in this picture); the third port is for remote system management, which is very helpful in any enterprise environment.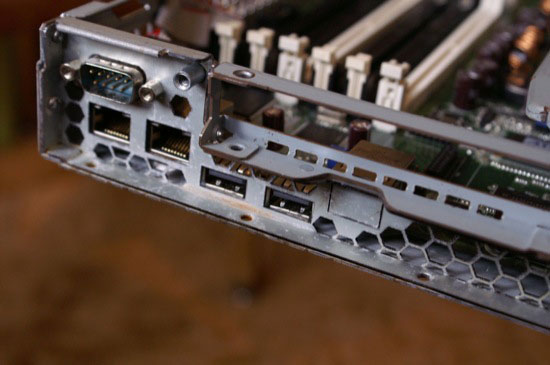 The LED to the left of the VGA connector illuminates when the server fails so it is easy to pick out when installed in a rack of tens of these servers.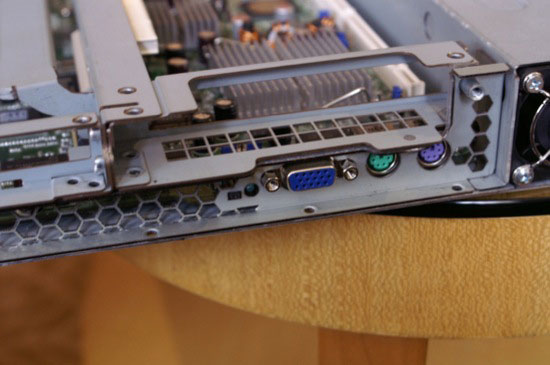 The cooling fans in the server are all easily removable should there be a failure: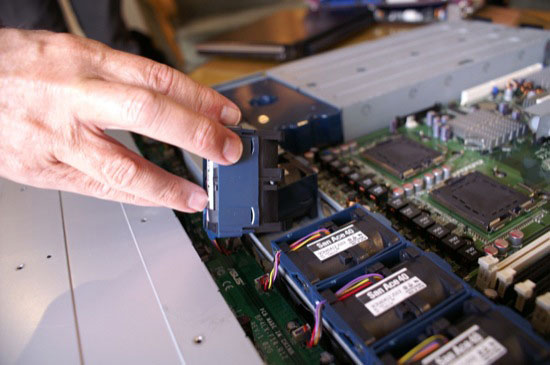 There are four hot swappable drive bays at the front of the chassis, all of which support either a SAS or SATA drive.