Original Link: http://www.anandtech.com/show/2020


It's almost like we say this every year, but Computex hasn't even officially started yet and we already have a lot to talk about. Everything from the power requirements of next year's GPUs from ATI and NVIDIA to the excitement surrounding Intel's Conroe launch is going to be covered in today's pre-show coverage so we'll save the long winded introduction and get right to business.
We will first address some of the overall trends we've seen while speaking to many of the Taiwanese manufacturers and then dive into product specific items. We'll start with the most shocking news we've run into thus far - the power consumption of the next-generation GPUs due out early next year.
DirectX 10 GPUs to Consume up to 300W
ATI and NVIDIA have been briefing power supply manufacturers in Taiwan recently about what to expect for next year's R600 and G80 GPUs. Both GPUs will be introduced in late 2006 or early 2007, and while we don't know the specifications of the new cores we do know that they will be extremely power hungry. The new GPUs will range in power consumption from 130W up to 300W per card. ATI and NVIDIA won't confirm or deny our findings and we are receiving conflicting information as to the exact specifications of these new GPUs, but the one thing is for sure is that the power requirements are steep.
Power supply makers are being briefed now in order to make sure that the power supplies they are shipping by the end of this year are up to par with the high end GPU requirements for late 2006/early 2007. You will see both higher wattage PSUs (1000 - 1200W) as well as secondary units specifically for graphics cards. One configuration we've seen is a standard PSU mounted in your case for your motherboard, CPU and drives, running alongside a secondary PSU installed in a 5.25" drive bay. The secondary PSU would then be used to power your graphics cards.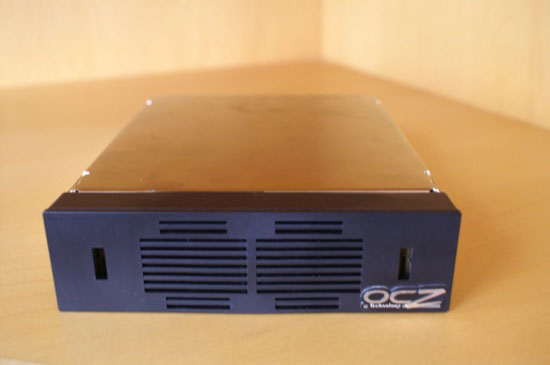 OCZ had one such GPU power supply at the show for us to look at. As you can see above, the 300W power supply can fit into a 5.25" drive bay and receives power from a cable passed through to it on the inside of your PC's case.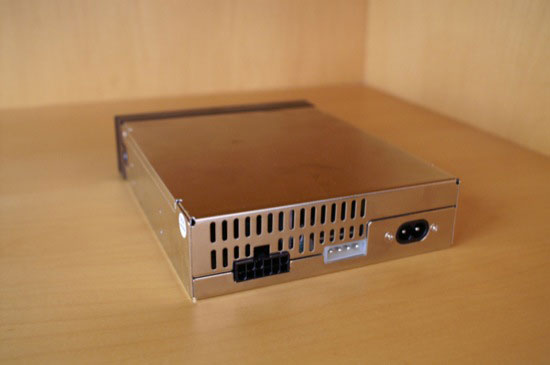 OCZ is even working on a model that could interface with its Powerstream power supplies, so you would simply plug this PSU into your OCZ PSU without having to run any extra cables through your case.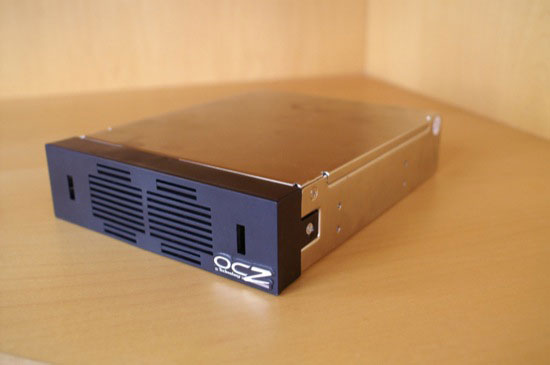 In order to deal with the increased power consumption of this next-generation of DirectX 10 GPUs apparently manufacturers are considering the possibility of using water cooling to keep noise and heat to a minimum.
As depressing as this news is, there is a small light at the end of the tunnel. Our sources tell us that after this next generation of GPUs we won't see an increase in power consumption, rather a decrease for the following generation. It seems as if in their intense competition with one another, ATI and NVIDIA have let power consumption get out of hand and will begin reeling it back in starting in the second half of next year.
In the more immediate future, there are some GPUs from ATI that will be making their debut, including the R580+, RV570 and RV560. The R580+ is a faster version of the current R580, designed to outperform NVIDIA's GeForce 7900 GTX. The RV570 is designed to be an upper mid-range competitor to the 7900GT, possibly carrying the X1700 moniker. The only information we've received about RV570 is that it may be an 80nm GPU with 12-pipes. The RV560 may end up being the new successor to the X1600 series, but we haven't received any indication of specifications.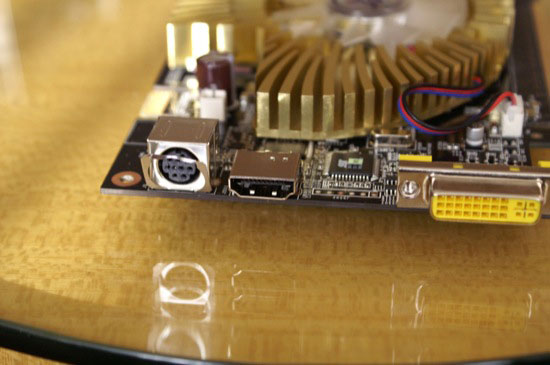 After the HDMI/HDCP fiasco that both ATI and NVIDIA faced earlier this year, we're finally seeing video cards equipped with HDMI outputs and full HDCP support. The HDCP solution of choice appears to be a TMDS transmitter by Silicon Image that has found its way onto almost all of the HDMI equipped video cards we've seen.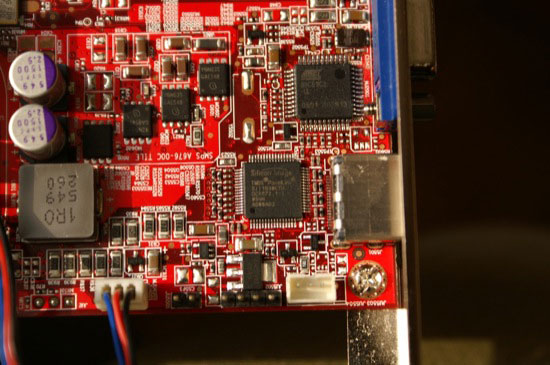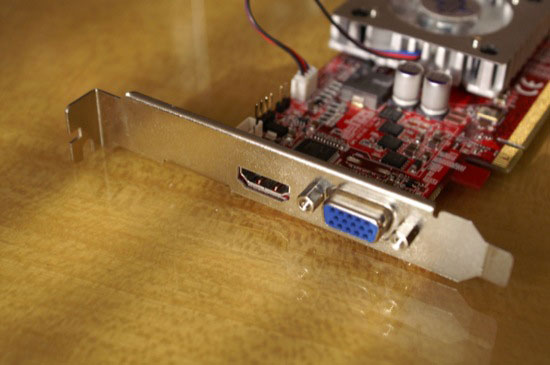 While some of the HDMI equipped graphics cards simply use the HDMI output as a glorified DVI connector, other companies have outfitted their designs with a SPDIF header to allow for digital audio passthrough over HDMI as well. Remember that the HDMI connector can carry both audio and video data, and by outfitting cards with a header for internal audio passthrough (from your soundcard/motherboard to the graphics card) you take advantage of that feature of the HDMI specification.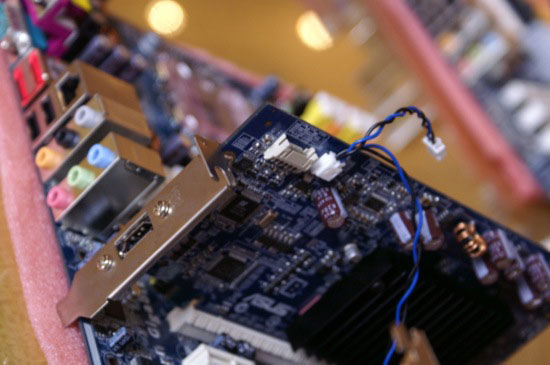 Alongside HDMI support, passively cooled GPUs are "in" these days as we've seen a number of fanless graphics cards since we've been here. The combination of HDMI output and a passive design is a definite winner for the HTPC community, who are most likely to be after a video card equipped with a HDMI output at this point.
Conroe Motherboards Arrive
Everyone in Taiwan is pretty much excited about the same thing: Conroe. Intel has a major Conroe launch in Taiwan later this week, and all of the motherboard manufacturers are demonstrating their entire line of Conroe ready LGA-775 motherboards. Although Intel's brand new Broadwater chipset (965 series) is being positioned as the platform for Conroe, motherboard manufacturers have been building 975X and 945 based motherboards with Conroe support as well. Unfortunately due to changes in the VRM requirements for Conroe, no current LGA-775 motherboards will work with the new processor.
Motherboard manufacturers are particularly interested in releasing 945 based motherboards with Conroe support simply because the performance is apparently close to 965 platforms, but at a much lower cost.
Much to our surprise, ATI recently informed all of the motherboard manufacturers that CrossFire is currently not supported on 965 (Broadwater) platforms. Apparently the chipset lacks support for peer to peer writes, which are necessary for CrossFire to function. ATI is investigating if a workaround is possible but for now the only option for CrossFire on an Intel chipset with Conroe support is using the 975X platform.
We have also heard rumors of Intel working on a revised version of the 965 chipset with support for two PCI Express x8 slots, instead of the current x16 + x4 configuration. A 965 revision with balanced PCIe slots would make the job of running a multi-GPU configuration much easier, although the imbalance in PCIe lanes is not the reason why CrossFire currently doesn't work on the 965 as mentioned above.
While Conroe is the talk of the town, a few motherboard manufacturers have already received Kentsfield samples from Intel. Kentsfield is a quad-core version of Conroe, still for the desktop market, due out in the first quarter of next year. The motherboard makers that are fortunate enough to have Kentsfield have already confirmed that it is up and running on current P965 and 975X platforms.
The excitement about Conroe is also impacting the forecasts for motherboard shipments later this year. All of the motherboard manufacturers we've spoken to have indicated that they expect to ship even more Intel based motherboards by the end of this year than they currently do. We were also able to get some statistics on the breakdown of shipments according to processor type from a handful of manufacturers:
| | | |
| --- | --- | --- |
| Manufacturer | AMD Shipments | Intel Shipments |
| Albatron | 30% | 70% |
| ASUS | 32% | 68% |
| ASRock | 20% | 80% |
| DFI | 95% | 5% |
| ECS | 25% | 75% |
| Foxconn | 30% | 70% |
| Gigabyte | 30% | 70% |
| MSI | 50% | 50% |
The majority of manufacturers are shipping more Intel than AMD platforms, and they all expect the split to begin to shift even further in Intel's favor by the end of this year. The two notable exceptions were DFI, whose enthusiast line of motherboards are almost exclusively AMD, and MSI whose shipments were balanced between the two manufacturers.
The other item that's driving Intel motherboard shipments are the July price cuts, which are nothing short of significant. The Pentium D 805 we reviewed not too long ago will drop to an extremely low $93, which is amazing for a dual core processor. The Pentium D 900 series will also see significant price cuts, with the Pentium D 950 falling to $224 and the lower clocked cores all dropping below $200. The price cuts are of course needed in order to help move Pentium D and Pentium 4 processors after Conroe's introduction.
There is a lot of concern about the availability of Conroe, as Intel has only committed to around 25% of its mainstream and high end desktop processor shipments being Conroe by the end of this year. After Dell and HP buy up all the Conroes they will want for their systems, there simply may not be any left for the end user to buy in the channel market. Alternatively, there may end up being some supply in the channel market but at significant markups due to a shortage. It's availability that AMD is counting on to dull the impact of Conroe's launch.
Since AMD moved up its AM2 launch to before Computex, there really wasn't much to talk about with regards to AMD. While most motherboard manufacturers are showing off Socket-AM2 platforms, with no tangible performance improvement over their Socket-939 offerings the interest just isn't there. We've also encountered some frustration from motherboard manufacturers with AMD because they claim that AMD's availability of Socket-AM2 CPUs simply isn't as great as AMD had originally promised.
Interestingly enough, despite AMD's recent announcement of its new 4x4 platform none of the motherboard manufacturers we spoke to had heard of it, much less had a design ready to go. We definitely got the impression that 4x4 was a last minute effort to compete with Conroe on the high end.
The final motherboard-related item we noticed while in Taiwan was that the popularity of passively cooled motherboards has gone up tremendously. Just about every motherboard we were shown either lacked a fan or was about to be redesigned to use passive cooling only. We couldn't be happier.
The Memory Market
The memory manufacturers we've spoken to are ecstatic about AMD's move to DDR2, as they can begin moving away from DDR.
While DDR shipments still outnumber DDR2 shipments, the shift is definitely taking place. Right now there is a price parity between DDR-400 devices and DDR2-667 devices; combined with AMD's move to Socket-AM2 and the conditions are ripe for a serious transition over to DDR2 in the market. If Conroe ends up being as popular as everyone is expecting it to, the number of DDR2 platforms will continue to increase as will the demand for DDR2 memory.
The breakdown of DDR2 shipments is particularly interesting, with the majority of modules still being DDR2-533. Now that the price difference between DDR2-533 and DDR2-667 has gone down tremendously, we will see the balance shift more towards the latter.
Unfortunately DDR2-800 is still extremely expensive compared to DDR2-667, because of extremely poor yields. One source told us that DDR2-800 was yielding far below 50%, resulting in anywhere from a 30% to 100% premium over DDR2-667. Everyone expects the yields on DDR2-800 to increase tremendously later this year, which will help drive DDR2-800 prices down as well as increase the number of low latency or higher bandwidth DDR2-800 parts.
Samsung has been talking to its partners about the move to DDR3; by the end of this year Samsung is supposed to be sampling DDR3 modules, but the memory makers we spoke to believe that the schedule is too aggressive.
Currently on Samsung's roadmaps we've got DDR3-800, 1066 and 1333, but things could very well change by the time DDR3 actually makes its introduction on the desktop. The memory makers we spoke to expect to see the beginning of a transition to DDR3 by the end of 2007 at the earliest, which seems plausible.
BenQ: Status of Blu-ray and SATA Optical Drives
We talked at great length with BenQ about the current lack of Serial ATA optical drives. While SATA optical drives don't offer any real performance advantage over PATA drives, there are other factors that are driving our demand for and interest in the units. Intel's new I/O Controller Hub used in the 965 (Broadwater) chipsets, ICH8, doesn't natively support any PATA ports; motherboard manufacturers have to resort to a 3rd party controller to offer one PATA port. It's clear that Intel wants to be rid of PATA, and with 6 - 8 SATA ports on new motherboards these days the time to transition entirely to SATA is now.
Unfortunately, as BenQ tells us, the same desire to transition to SATA doesn't exist with the Tier 1 OEMs that are building systems using these optical drives. Apparently there are still a number of compatibility issues with the default Windows driver and many SATA optical drives, which has made the big OEMs wary of moving away from tried and true PATA drives. With very little OEM pressure to transition to SATA optical drives, manufacturers like BenQ have no reason to push for a quicker move to SATA.
BenQ said to expect less than 5% of its drive shipments by the end of this year to be SATA; by the middle of next year that number will thankfully grow to 25%.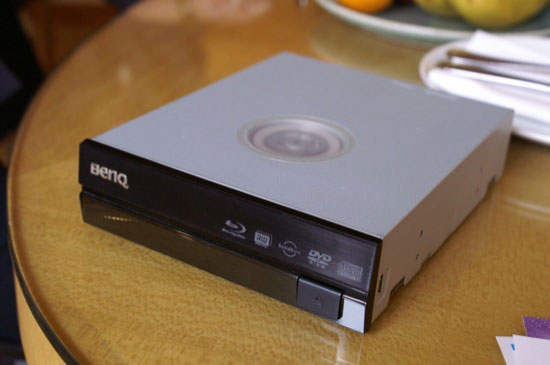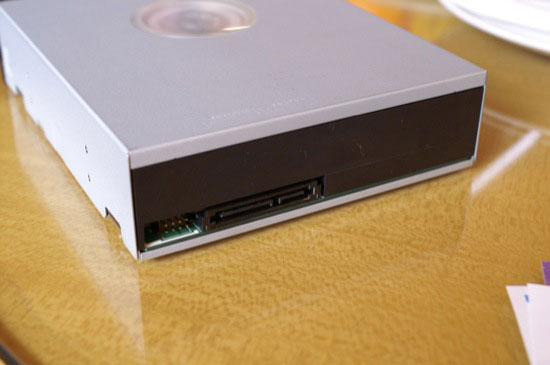 With DVD readers and recorders quickly dropping to commodity price levels, the new focus of optical drive makers is on Blu-ray and HD-DVD. BenQ is exclusively producing Blu-ray drives and its representatives showed us the first two Blu-ray drives that will debut later this year. The BW1000 is offered in both an internal and an external variety, both featuring a 2X read/write speed for Blu-ray media. Dual layer Blu-ray media will be written to at 1X.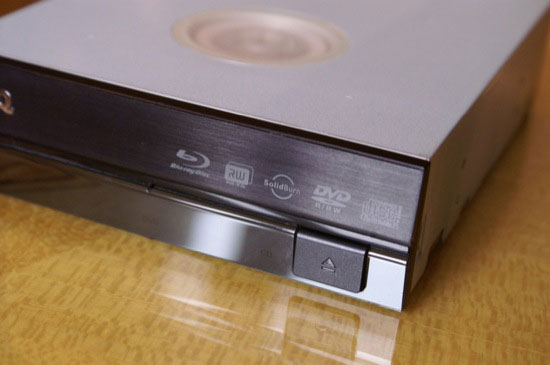 The drives also feature a LED indicator telling you what sort of media you've got in the drive (e.g. Blu-ray or DVD). The internal drive will carry a price tag of around $700 when it debuts in July. The Optical Pickup Unit in a Blu-ray drive can cost around 20x that of the OPU in a DVD drive, which contributes to the incredibly high cost.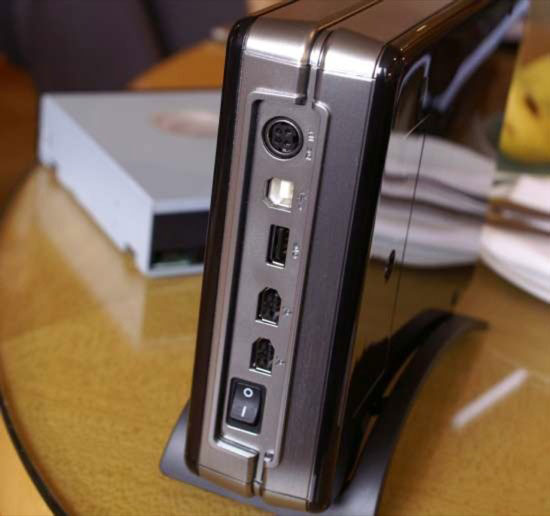 BenQ stated that you may be able to upgrade these 2X drives to 4X drives with a firmware update later on, but it's too early to tell for sure. The first native 4X Blu-ray drives from BenQ will arrive in Q1 of next year.
Gigabyte: 94% of GB Graphics Cards are Passively Cooled
Gigabyte shared one very interesting statistic with us during our meeting: 94% of all Gigabyte graphics card shipments are passively cooled. Thanks to products like the Silent Pipe and Silent Pipe II, Gigabyte has been able to bring reasonably high performance GPUs to market in a completely fanless solution.
Gigabyte shared three cards with us in Taiwan: a 6600GT with a Silent Pipe cooler, a 7600GT with a Silent Pipe II cooler, and a passively cooled 7300GS.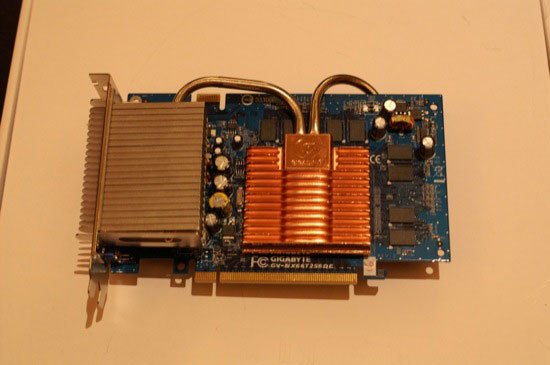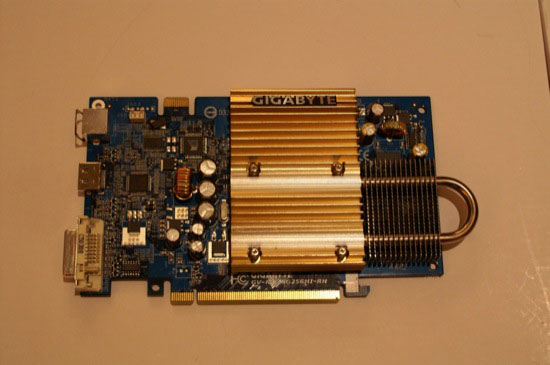 The 7300GS solution is actually a half height card, but a heatsink is used at the top of the PCB to make it look like a full height card and most importantly, run cool without a fan.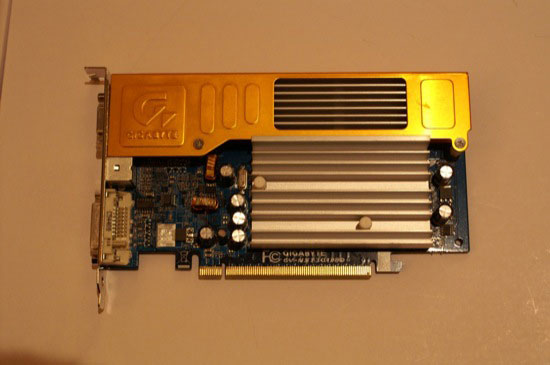 Gigabyte's Socket-AM2 Platform
Gigabyte has a number of Socket-AM2 platforms at the show, we took a quick look at its nForce 590 SLI offering: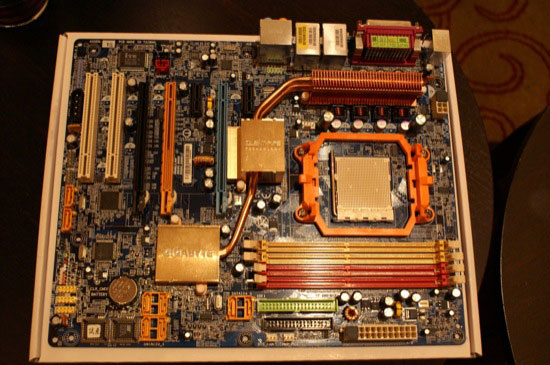 Click to enlarge
Gigabyte's AM2 motherboard is entirely passively cooled, which you can see in greater detail below: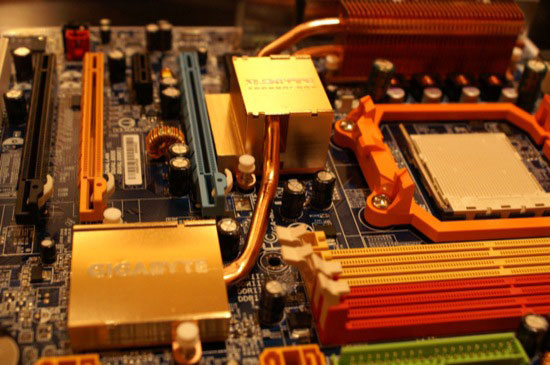 Gigabyte's Conroe Motherboard
Using the P965 chipset (Broadwater), Gigabyte showed us its flagship Conroe motherboard. The P965 chipset only supports one PCIe x16 slot and one x4; the blue slot below is the x16 and the orange slot is the x4: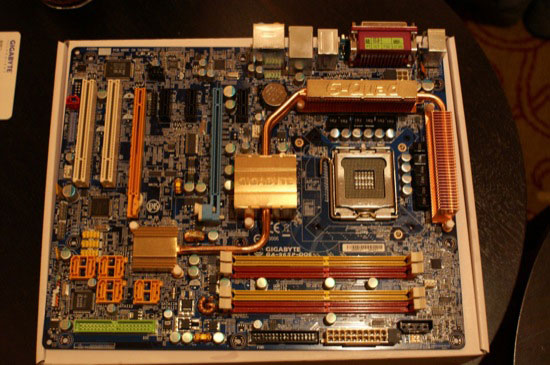 Click to enlarge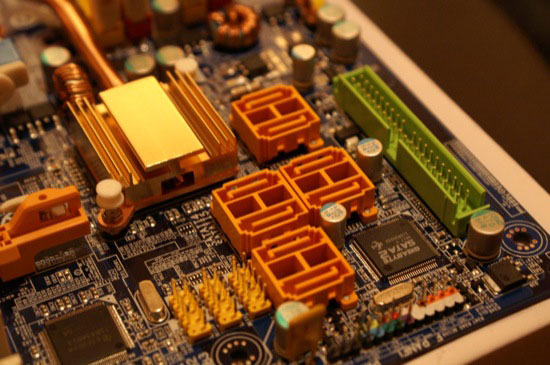 Six of the SATA ports are courtesy of Intel's ICH8R, the other two are made possible by the relabled JMicron SATA/PATA controller that you see in the picture above. The Gigabyte "SATA2" chip (actually a JMicron chip) provides support for the two SATA ports and the lone PATA port you see in the picture above. Remember, Intel's ICH8R doesn't support any PATA ports natively so you will see all motherboard manufacturers resorting to a similar sort of arrangement.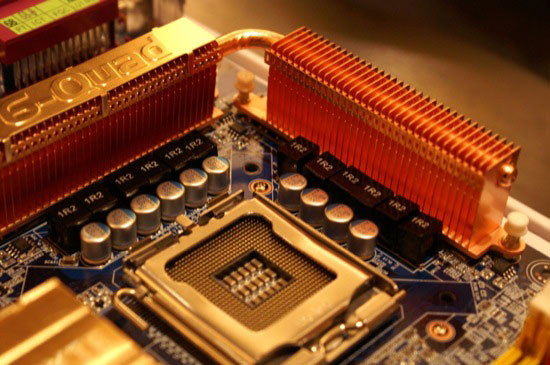 Gigabyte outfitted its P965 motherboard with a 12-phase power design, designed to support Kentsfield. This board has already been tested to work with Kentsfield, although Gigabyte's competitors insist that a 12-phase power design is not necessary for Kentsfield.
You'll notice that all of the capacitors on the motherboard are similar to those around the CPU in that they are not standard electrolytic capacitors filled with liquid. All of the capacitors used on the Gigabyte board use a solid chemical compound designed to better withstand higher temperatures, thus preventing leaking or other capacitor related failures. The more expensive capactiors raise the price of the motherboard by a healhty $20. Gigabyte still only offers a 3-year warranty on this board, despite the technically more reliable capacitors.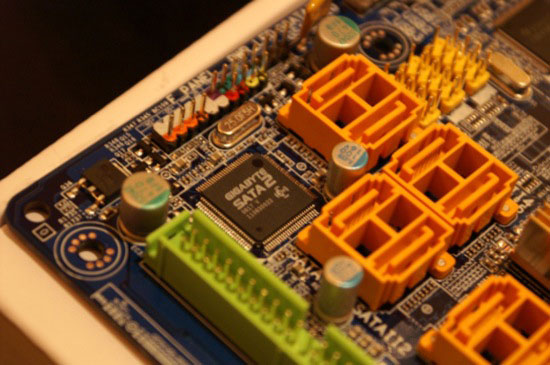 Gigabyte is simply trying out the more expensive caps on this motherboard, if the demand is high enough you may see a similar setup on high end AMD motherboards as well. Gigabyte's competitors insist that the more expensive caps aren't necessary across the motherboard and that this is simply a gimmick.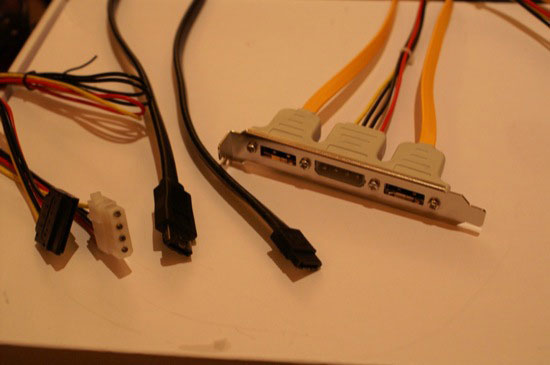 Gigabyte also ships this motherboard with two external SATA brackets that convert internal SATA ports into ports that can be used outside of your system. Gigabyte's brackets also provide 4-pin power for powering internal hard drives outside of your case.
Gigabyte SFF Core Duo PC
Gigabyte also shared its new 3 liter small form factor barebones desktop with us in Taiwan. The system, called the A963, is built around a Core Duo motherboard and features integrated graphics. Like many very small form factor designs, the A963 is effectively a notebook without a screen. The motherboard requires SO-DIMMs and a 2.5" HDD as well as a slimline optical drive.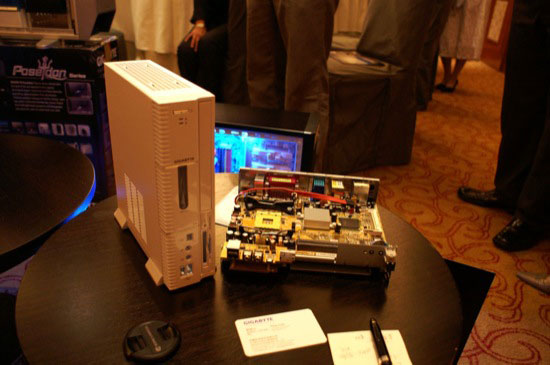 The A963 will be available globally, including the US market, and should set you back around $220.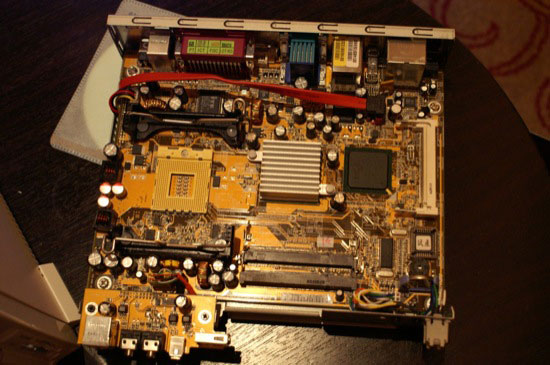 Click to enlarge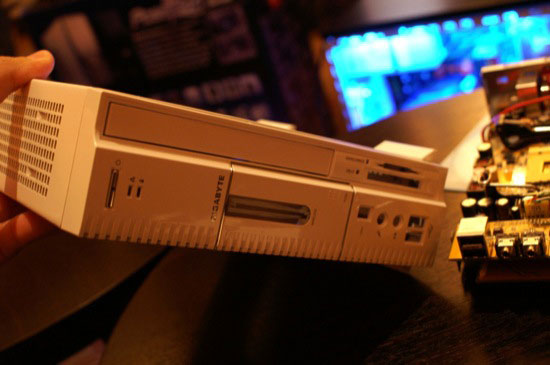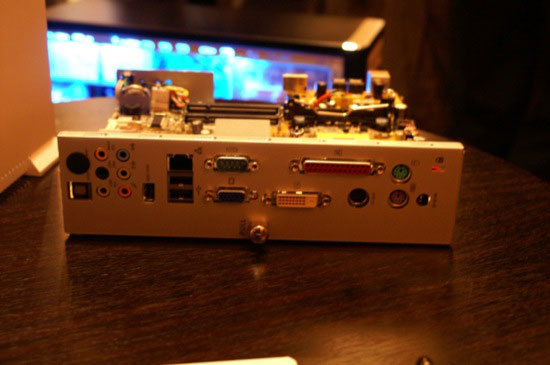 MSI's Conroe Motherboards
Like most other motherboard manufacturers, MSI kicked off our meeting with a showing of its new Conroe motherboards.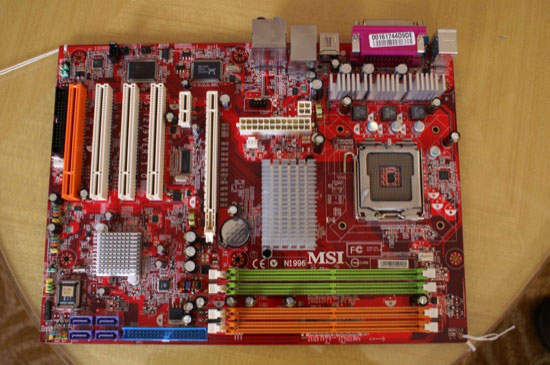 Click to enlarge
MSI's entry level P965 motherboard uses the regular ICH8, which only supports four SATA ports as you can see below: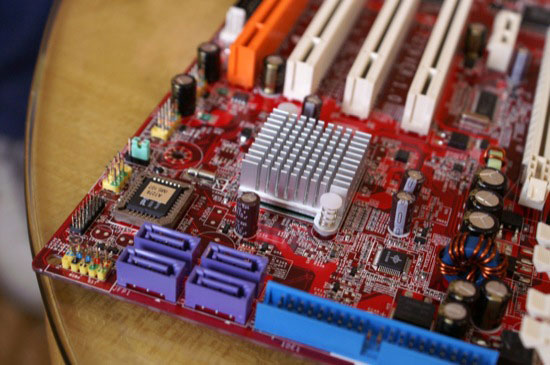 The other important thing to note is that all of MSI's Conroe motherboards are passively cooled. MSI insists that you can adequately cool Intel's chipsets without resorting to more expensive heatpipes.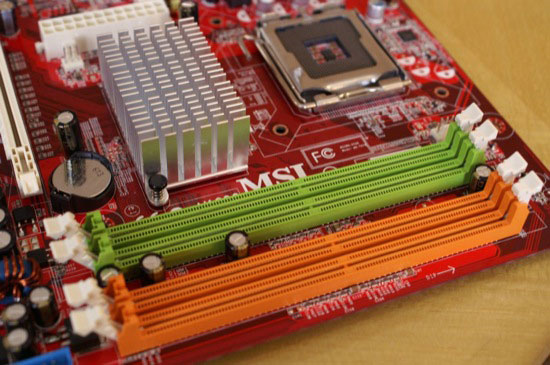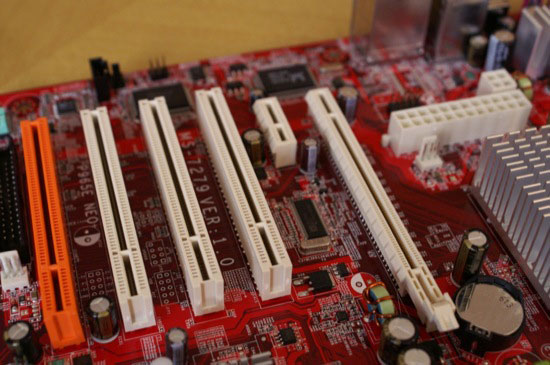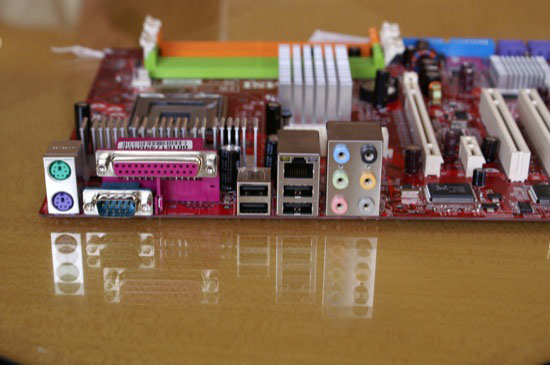 MSI's high end P965 motherboard with Conroe support uses the more expensive ICH8R option, which offers six SATA ports.
Click to enlarge
As with all P965 motherboards there's no CrossFire support despite the two PCIe x16 slots (one is a x16 and the other is a x4).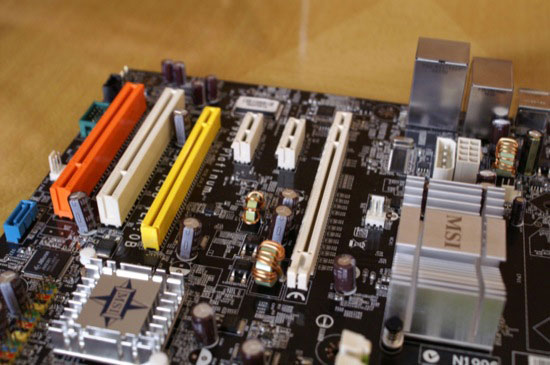 Below we get a better look at the new P965 chipset beneath the MSI heatsink: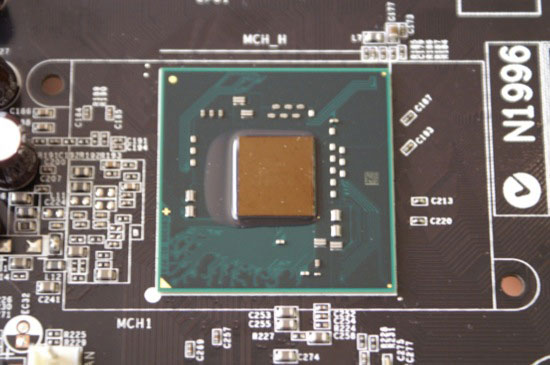 Intel's P965 chipset features a new memory controller design compared to previous Intel chipsets, however we have not been able to get an idea of how extensive the modifications are. We do know that this is the first Intel chipset to officially support DDR2-800, which may be all the redesigned memory controller offers.
Intel's new ICH8R is pictured below:
Like all other motherboard manufacturers making Conroe boards, if you want CrossFire support you need to go with the Intel 975X chipset. While both ATI and NVIDIA will have multi-GPU solutions with Conroe support, for now it's all about Intel's offerings.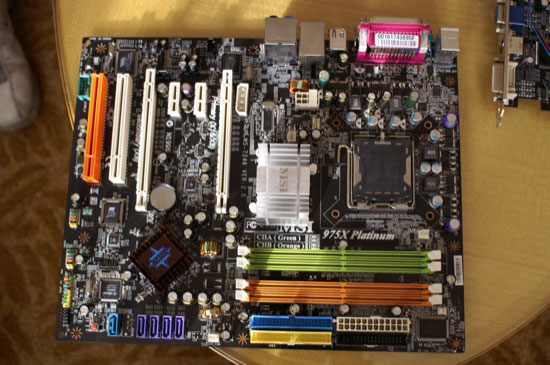 Click to enlarge
With the older ICH7R, MSI's 975X platinum only has 4 SATA ports that are driven by the South Bridge. The extra SATA port is provided by a third party controller.
MSI's AM2 Motherboard
Given that MSI ships just about as many AMD motherboards as it does Intel motherboards, the topic of Socket-AM2 came up rather quickly.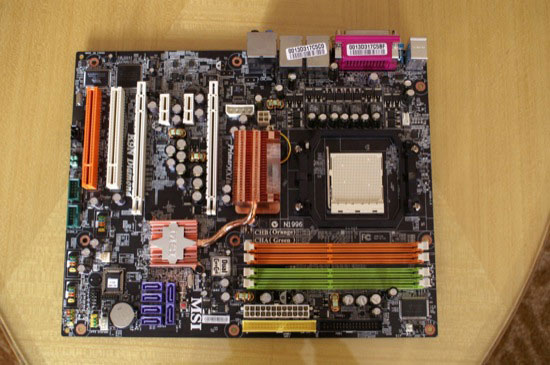 Click to enlarge
We're currently working on reviews of a number of Socket-AM2 motherboards, the first of which you will begin seeing this week.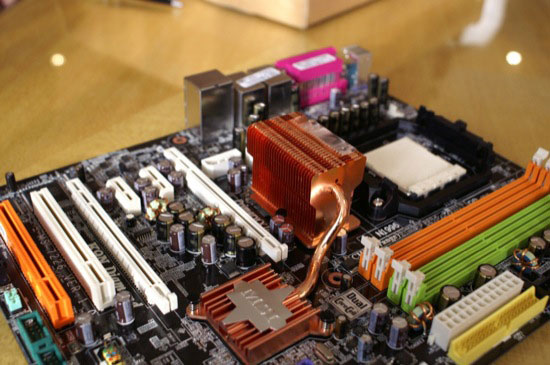 MSI's Turion 64 X2 Notebook
It wasn't all motherboards with MSI; this stylish little notebook is MSI's first Turion 64 X2 offering - the S271.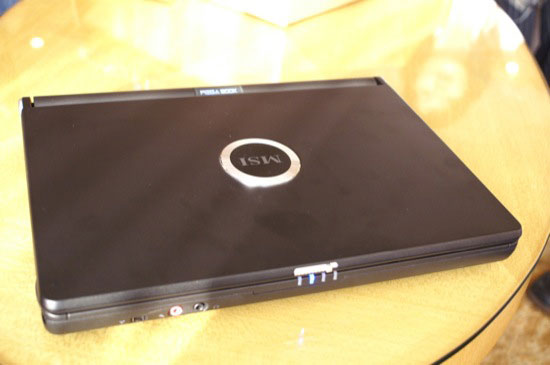 Click to enlarge
The 12.1" notebook features a native resolution for 1280 x 800 and weighs 1.9 kg (4.18 lbs) with the standard 6 cell battery.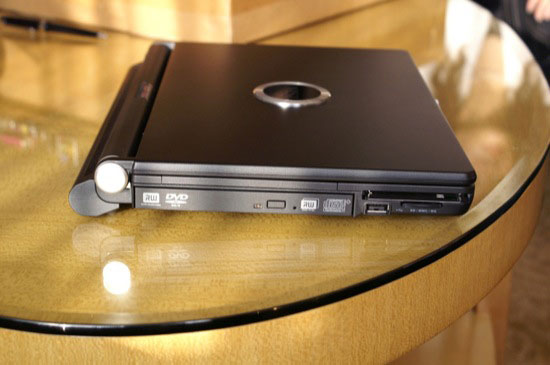 Click to enlarge
The S271 is a bit on the thick side, but is a lot lighter than it looks. On the inside MSI uses an ATI RS482 chipset.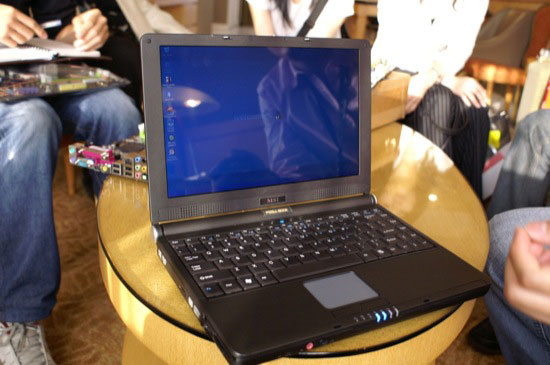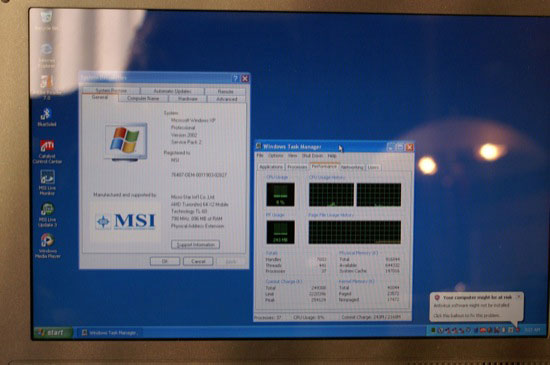 ASUS' Socket-F and Woodcrest Server Platforms
ASUS' server division was in full force showing off new platforms for both AMD and Intel servers. While ASUS' desktop shipments are approximately 32% AMD and 68% Intel, its server shipments are 40% AMD and 60% Intel reflecting the market appreciation for Opteron.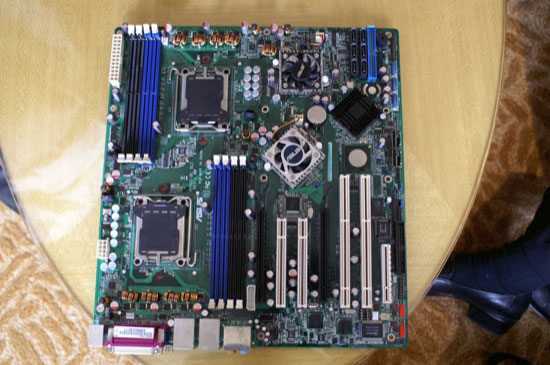 Click to enlarge
Although all we've talked about lately is AMD's desktop DDR2 platform, Socket-AM2, the server equivalent is only about a month away. Because of the very high pin count (1207 pins), AMD's DDR2 server platform, Socket-F, moved to a LGA style socket similar to what Intel has been using on the desktop since Prescott.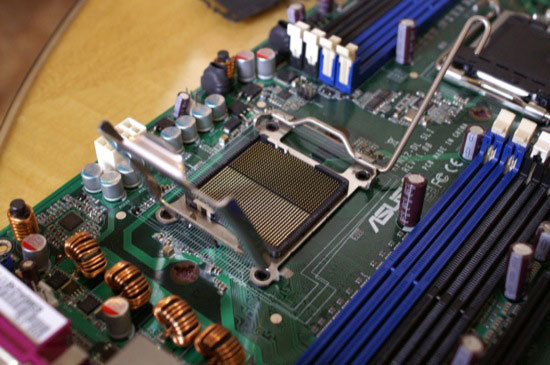 This Socket-F motherboard uses NVIDIA's MCP55 Professional chipset, the server/workstation version of the nForce 590 SLI desktop chipset. The MCP55 + IO55 setup results in two x16 PCIe slots that can be used for a pair of Quadro cards running in SLI mode.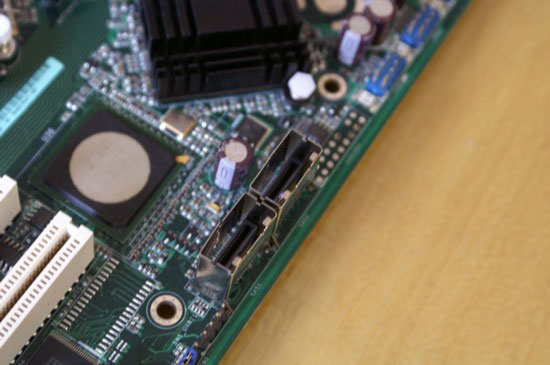 The motherboard also features two mini-SAS connectors, that each can provide four SAS/SATA connectors using a 1-to-4 splitter cable.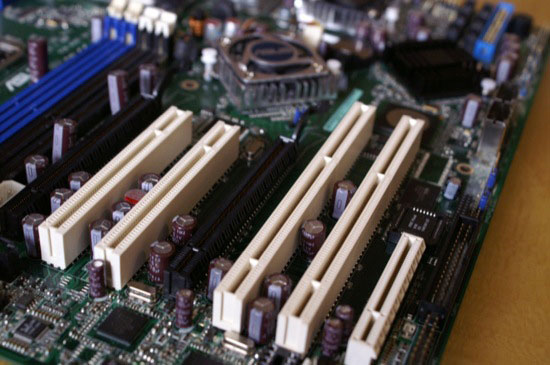 Given the server focus of this motherboard, finding two PCI-X slots on board isn't out of the ordinary at all. The Intel PCIe to PCI-X bridge underneath the blurry black heatsink at the top of this picture drives the two PCI-X slots. Who would've expected an AMD server board with a NVIDIA chipset and an Intel PCI-X controller.
ASUS told us that it is working on a passively cooled version of this motherboard that may be ready by the time it ships.
Next up is ASUS' Blackford motherboard for the Xeon platform. Intel's Blackford chipset supports Woodcrest as well as FB-DIMMs.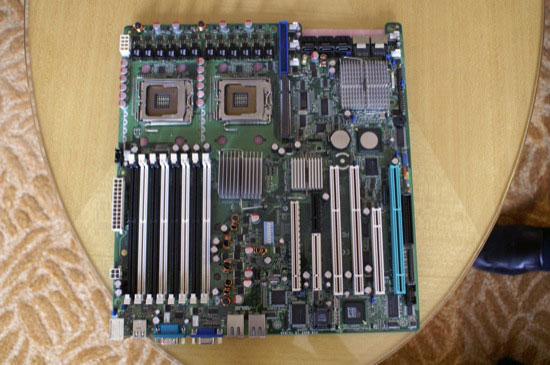 Click to enlarge
The standard Blackford chipset features a quad channel FB-DIMM memory controller; each white FB-DIMM slot below indicates a separate memory channel: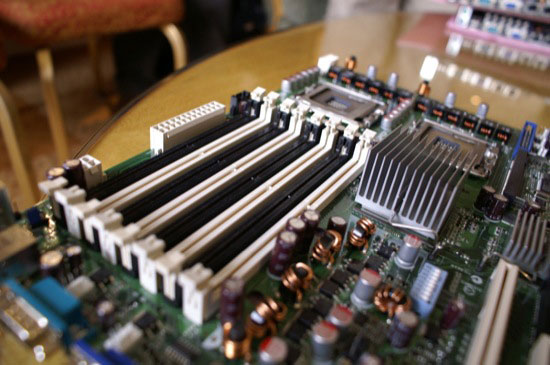 ASUS also has a version of this motherboard based on the Blackford-VS chipset, which only supports two FB-DIMM channels: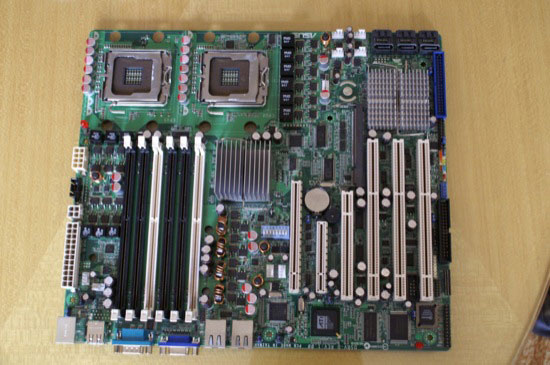 Click to enlarge
Later this week we will have our own review of Intel's Blackford chipset running Woodcrest, a platform that was officially announced late last month.
Before concluding its presentation, ASUS' server division introduced us to a very clean 1U server based on a Blackford-VS motherboard:
The server is very clean on the inside and features dual redundant power supplies, as well as a completely tool-less design.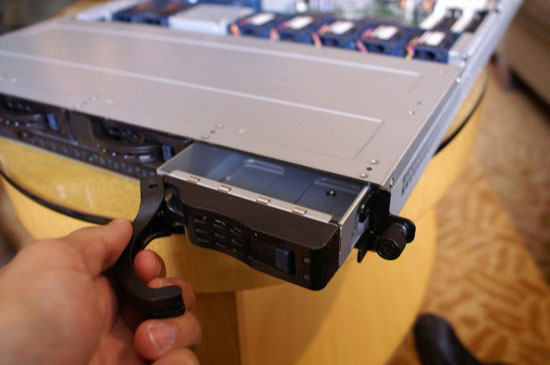 There are three LAN ports on the back of the chassis (the one at the right is covered in this picture); the third port is for remote system management, which is very helpful in any enterprise environment.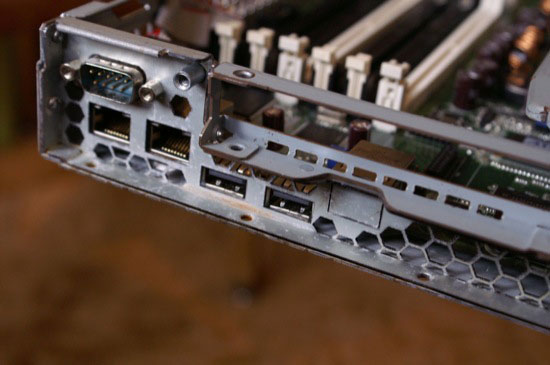 The LED to the left of the VGA connector illuminates when the server fails so it is easy to pick out when installed in a rack of tens of these servers.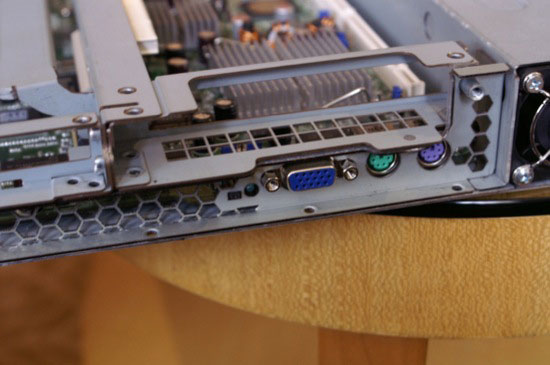 The cooling fans in the server are all easily removable should there be a failure: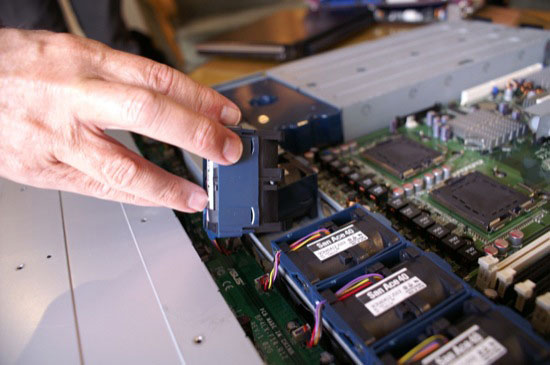 There are four hot swappable drive bays at the front of the chassis, all of which support either a SAS or SATA drive.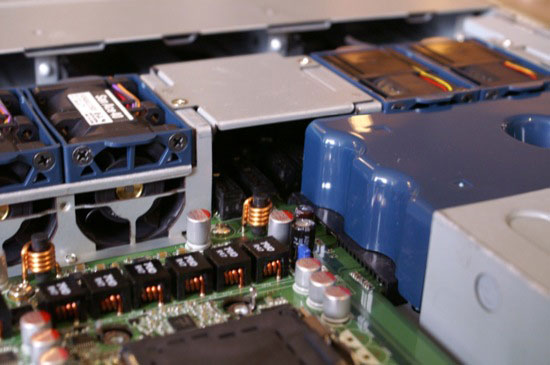 ASUS' Conroe Motherboards
Of course Conroe was on ASUS' mind during our meeting as we got a chance to look at some of the top tier maker's P965 and 975X line: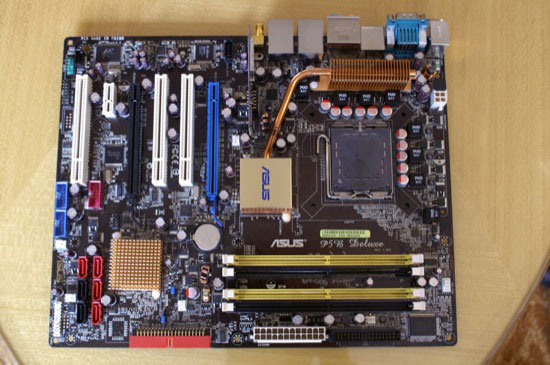 Click to enlarge
AUS P5B Deluxe is a starts off as a run of the mill P965 motherboard, but of course with the usual ASUS flair. ASUS' trademark heatpipe cooling solution is very present on this motherboard, as is a new addition - a wireless riser card: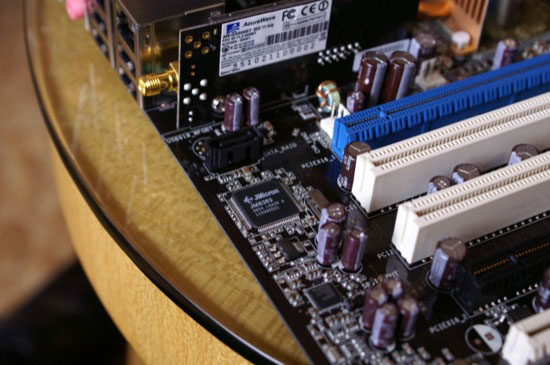 The wireless riser card can be removed, and in theory upgraded later if ASUS offers such a card in the future. It connects via two on-board USB connectors (it's simply an 8-pin header on the board) and can be removed by taking out a single screw and unplugging the daughter card.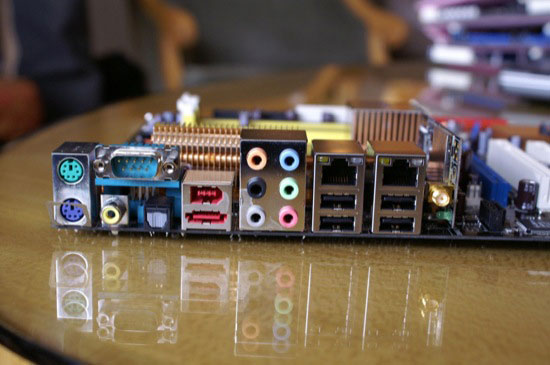 Like many new motherboards we encountered, the P5B Deluxe features an eSATA port for use with external hard drives. The benefit of eSATA of course is that you get the same performance as an internal SATA hard drive, but with the convenience of a removable drive.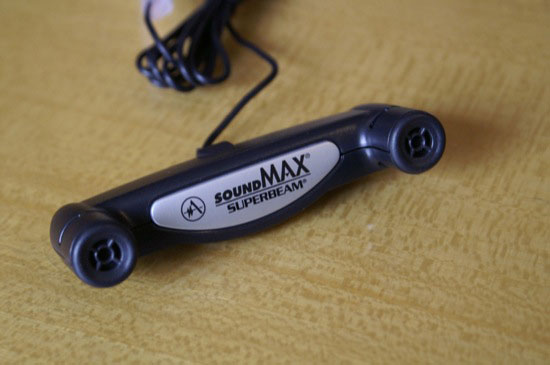 Taking advantage of the motherboard's support for noise cancellation technology, ASUS bundles an array microphone with the P5B Deluxe. An array microphone with noise cancellation technology can significantly reduce the background noise and focus more specifically on the person speaking, especially useful for speaking in a noisy environment.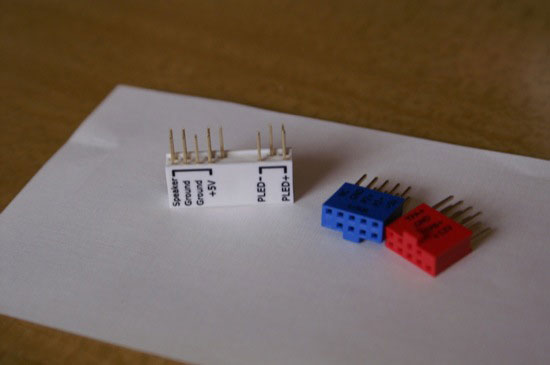 The last neat feature in ASUS' P5B Deluxe bundle is the inclusion of these riser blocks for the front panel and USB/FireWire headers. Their purpose is to allow you to connect your front panel and USB/FireWire connectors to the risers and then easily seat the riser on the header pins on the motherboard.
We would still prefer it if case manufacturers and motherboard manufacturers got together and enforced a standard pin header, but after years of hoping we'll take anything we can get.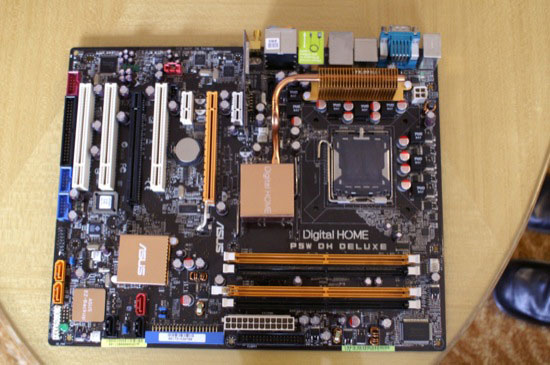 Click to enlarge
ASUS 975X motherboard with Conroe support, the P5W DH Deluxe, is pictured above.
ASUS' Skype Phone
Given ASUS' incredible size, there isn't a market that the company hasn't dabbled in. Today's gadget? A Skype phone: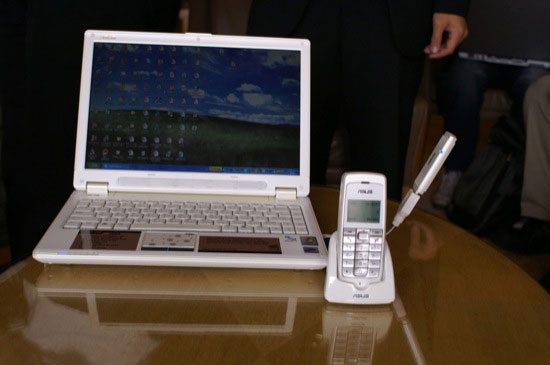 Utilizing a custom wireless protocol, you install a USB antenna on your desktop or notebook and then you've got support for ASUS' wireless Skype phone. The phone interfaces, wirelessly, to your PC and can search and dial people on your Skype buddy list. The interface is a bit slow and it only supports a single phone, but it works.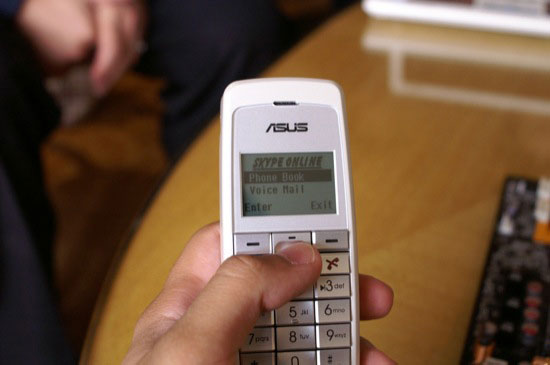 The phone also supports wireless streaming of music from your Windows Media Player 10 library to the phone itself, which we viewed as a secondary feature obviously to the Skype support.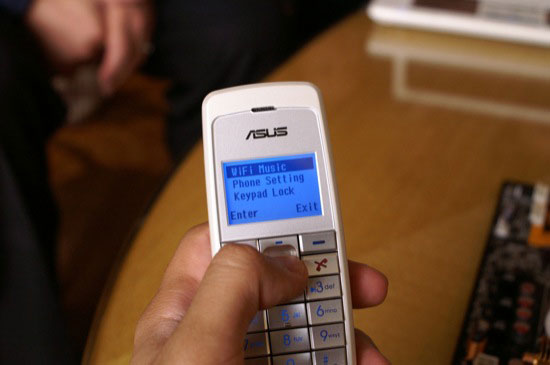 Skype is far more popular in Asia than it is in the U.S., which is why you see companies like ASUS so excited about something like this. Skype's popularity aside, VoIP phones will increasingly become more important as time goes on. The ability to carry around a wireless phone that would effectively let you voice chat with anyone on your AIM buddy list for example is very intriguing.
ASUS' Concept Motherboard
ASUS showed us something we honestly can't believe we hadn't seen up to this point from any other motherboard manufacturer: a concept motherboard.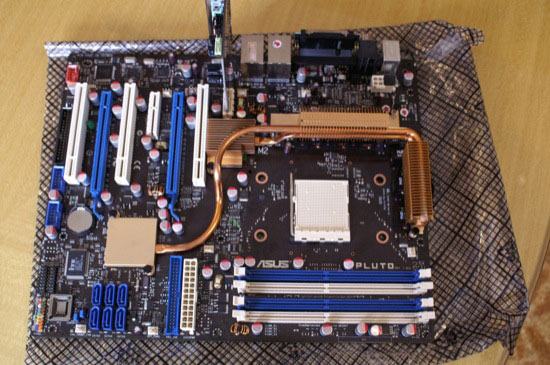 Click to enlarge
The ASUS Pluto Concept motherboard was designed to showcase technologies that ASUS is conemplating using on future production motherboards.
The first feature of the concept, which has already been done by some of ASUS' competition was an audio riser card to help separate the audio circuity from noisy components on the motherboard: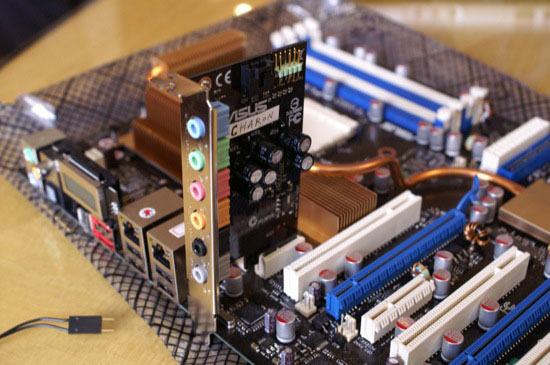 The next feature of this concept motherboard is an electroluminescent rear IO panel to help you figure out where to plug things in, while in the dark: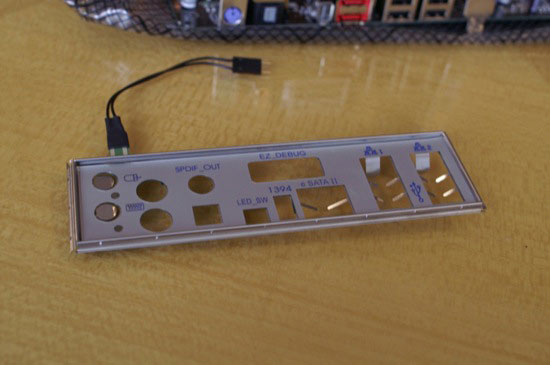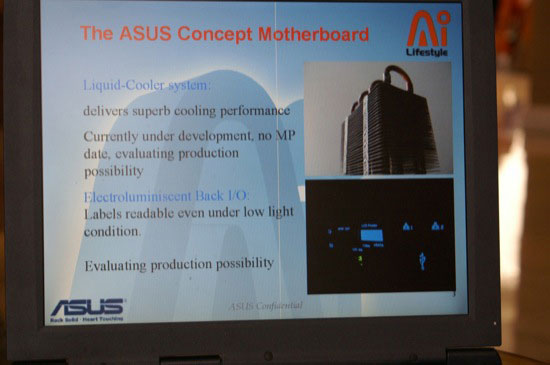 There's also a POST diagnostic display on the rear of the motherboard that is a bit more verbose than most diagnostic displays that you sometimes find on motherboards themselves: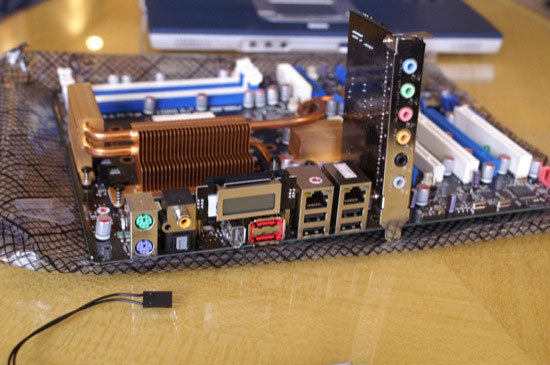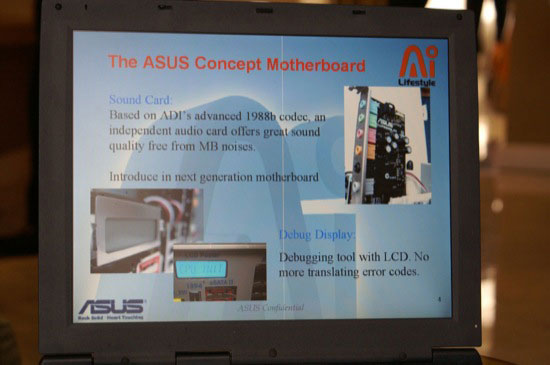 Despite being able to display more text, the debug display is still not as verbose as we'd like in order to use it for anything more than a very high level diagnostic tool. We do commend ASUS for the creativity and putting in the effort to do something new with its products.
There is also a water cooling element to the concept, however we weren't able to get a shot of it running in time for publication. We may be able to bring you more coverage of the concept later this week.
ASUS 1S Workstation Boards (AMD and Intel)
The final ASUS products we were shown were from a new group at ASUS, targeting single socket workstation motherboards. The advent of dual core and forthcoming quad core CPUs will change the workstation market at least for the short term. You will soon be able to, in a single socket, achieve a level of processing power never before thought possible without going to a much more expensive workstation or sometimes server motherboard.
ASUS had two such 1S workstation boards on hand, one using AMD's Socket-AM2 and one supporting Intel's Conroe and Kentsfield processors: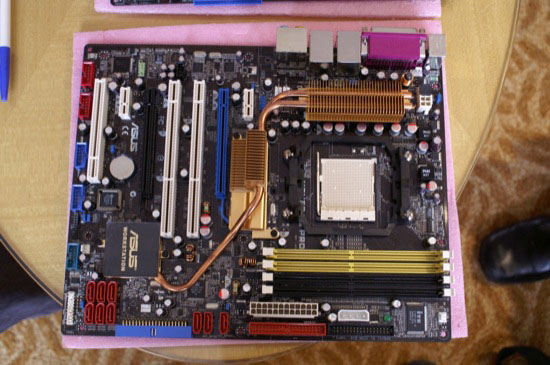 Click to enlarge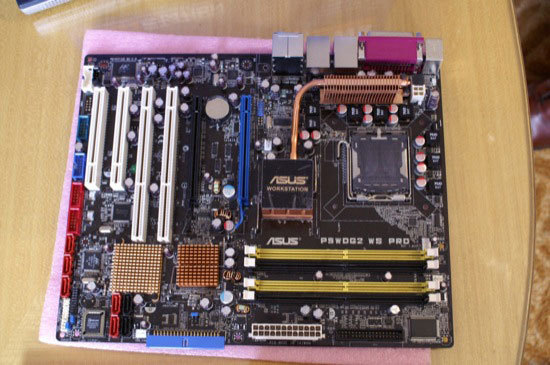 Click to enlarge
The major difference between these motherboards and their desktop counterparts is the inclusion of PCI-X slots, but otherwise you've basically got 1S desktop motherboards.
DFI's NF590 and RD580 AM2 Motherboards
With 95% of DFI's shipments being AMD platforms, it's not surprising that the two motherboards we are taking a look at are both AM2 platforms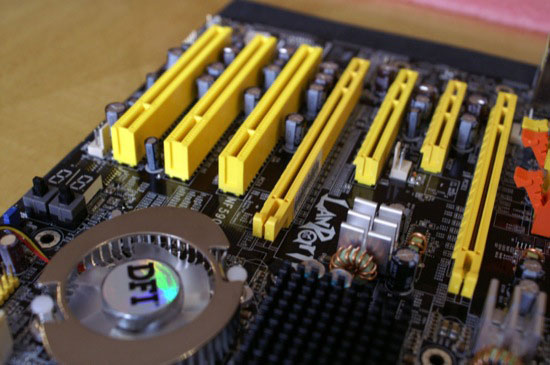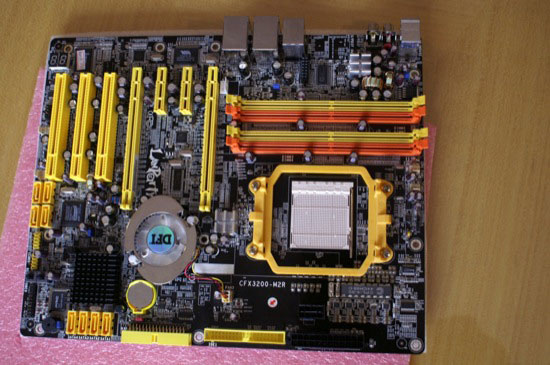 Click to enlarge
DFI's nForce 590 SLI and CrossFire 3200 motherboards are both what you would expect from DFI, the most unique feature being the digital VRM design used on both motherboards. The digital VRM cleans up the layout around the CPU socket and eliminates the possibility of leaky capacitors. The added peace of mind comes at a higher total motherboard cost of course.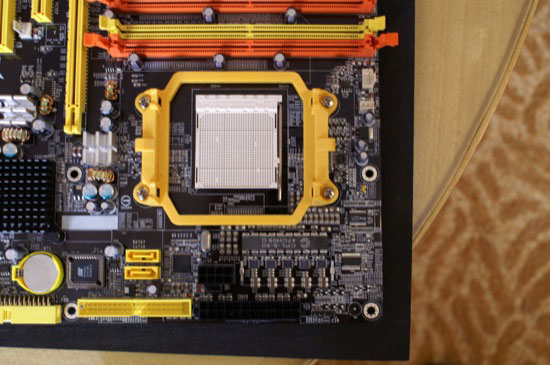 Click to enlarge
Note the lack of any conventional electrolytic capacitors around the CPU socket.
ASRock
ASUS' low cost spinoff, ASRock, has done quite well since its introduction to the already saturated motherboard market. ASRock's designs continue to be extremely cost effective all while carrying ASUS' usual quality of engineering. First up from ASRock is a Conroe 975X motherboard: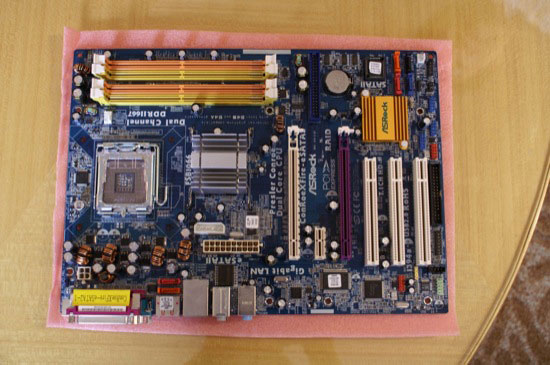 ASRock is working on a Broadwater board for Conroe as well, but in order to avoid competing directly with ASUS the Broadwater solution is being held back for the time being.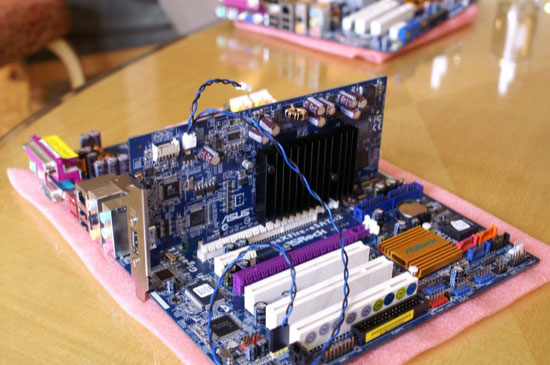 The ASRock 975X Conroe solution has an on-board SPDIF header that can be connected to a HDMI equipped video card (an ASUS solution is pictured above) to allow for digital audio passthrough over HDMI.
ASRock also showed us its new nForce 6150 based Socket-AM2 motherboard built in a micro-ATX form factor:
Remember ASRock's upgradable motherboard that allowed you to simply purchase a new CPU card and switch between sockets 754 and 939? ASRock showed us its new Socket-AM2 card for the Upgrade series motherboard: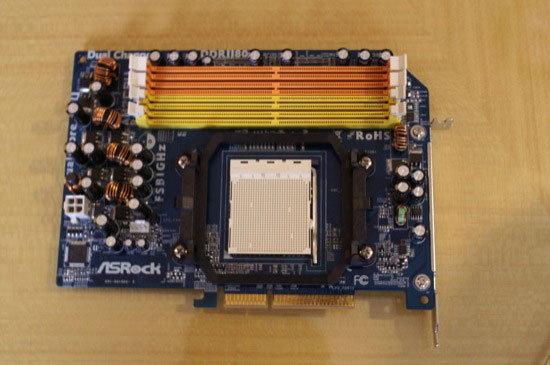 The AM2 card should be available almost immediately and priced as low as $40 - $50, however ASRock isn't sure if vendors will mark the card up even more due to its relatively low volume.
Albatron Offers mini-ITX Athlon 64 Motherboard
Like many other graphics card and motherboard vendors, Albatron had a passively cooled 7600GT at Computex that its representatives were kind enough to share with us: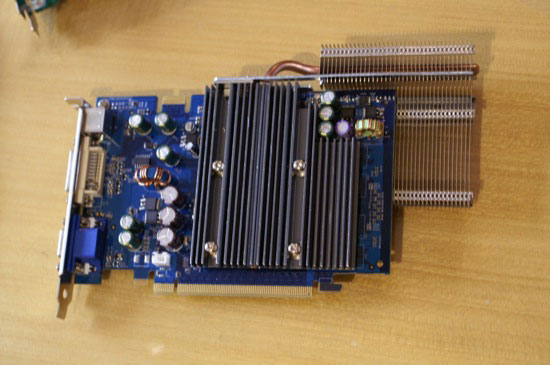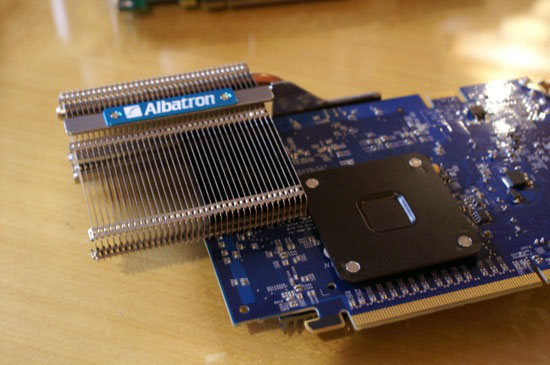 We're planning on working on a roundup of passively cooled GPUs as soon as we get back to the US, so stay tuned for coverage on all of these silent graphics cards in the future.
The highlight of our meeting with Albatron was most definitely its mini-ITX Socket-754 Athlon 64 motherboard based on the nForce 6150 chipset: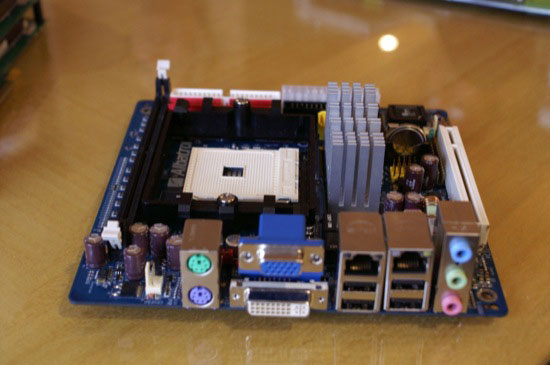 Click to enlarge
Albatron says that a Socket-AM2 version is in the works and should be out by the end of this year. Coupled with an Energy Efficient Small Form Factor Athlon 64 or X2 processor, the Socket-AM2 version of this motherboard should be a very attractive option for a HTPC among other things. Kudos to Albatron on doing something different.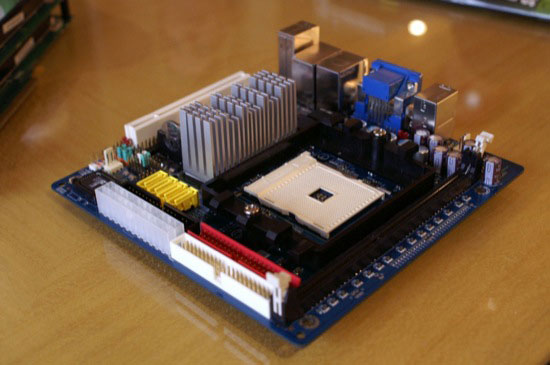 Click to enlarge
ECS Delivers Affordable SLI and CrossFire
Last but not least we've got ECS and its showcase of the three usual suspects: a P965, nForce 590 SLI and CrossFire 3200 motherboard.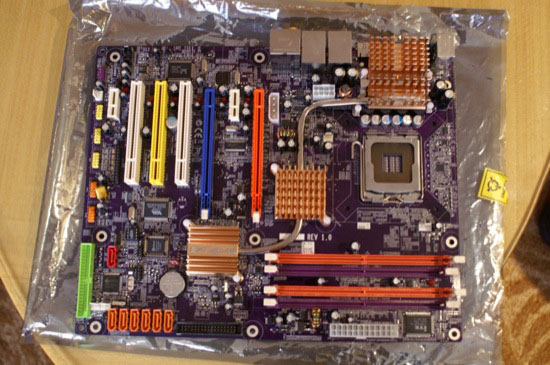 Click to enlarge
ECS' P965 motherboard is passively cooled, which proves that you can now get passive cooling at all price points of motherboards.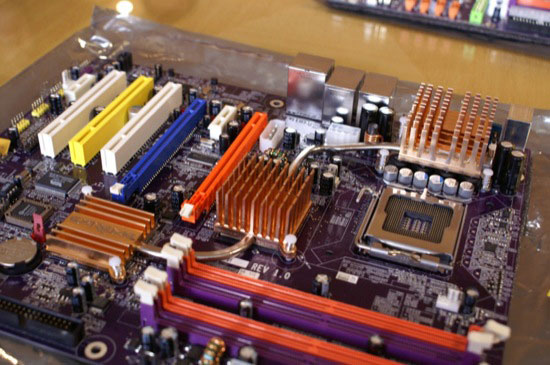 We were particularly interested in ECS' nForce 590 SLI and CrossFire 3200 motherboards, because according to ECS the street price on both of those products should be around the $120 mark. While we're still skeptical that we'll find a 590 SLI at such a low price point we'll have to wait and see what happens in the coming weeks as these platforms hit etailers.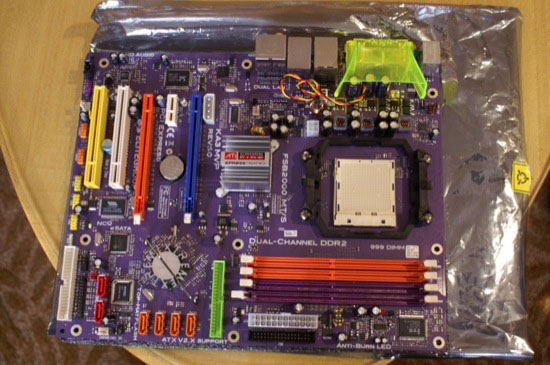 Click to enlarge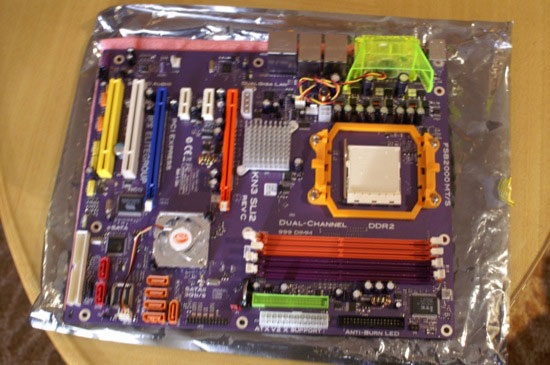 We're happy to see eSATA on both of these motherboards: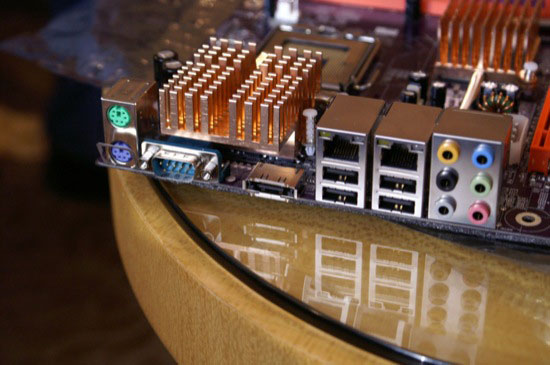 Final Words
We've got a lot more coming tomorrow, so check back later for even more from Taiwan. You may just be treated to a bit of a surprise...