Netgear has been at the forefront in supporting Intel's WiDi initiative on the receiver side. In fact, they had an exclusive on the first WiDi receiver (Push2TV 1000) for close to a year back in 2010. In June, we covered the launch of Netgear's NeoTV Pro NTV200S WiDi / Media Streamer combo. Using Broadcom's BCM7615, it had all the features of the NTV 200 media streamer and also added support for WiDi 2.1 (1080p / HDCP2 / DVD & Blu-ray / 5.1 channel audio etc.) Today, Netgear is pushing out a number of products targeting the same market at various price points. These include the Push2TV 3000 WiDi receiver and three members of the NeoTV 300 series, the NTV300, NTV300S and the NTV300SL. Push2TV 3000 Anand recently...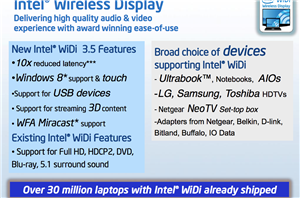 Two years ago Intel introduced its wireless display technology (Intel WiDi) that uses the host CPU to encode a stream of whatever is on your screen and send it...
16
by Anand Lal Shimpi on 9/19/2012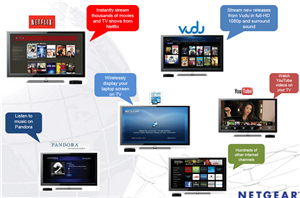 We have been closely following Netgear's efforts in the media streaming space since the NTV550 / NTV350 was launched almost two years ago. Around that timeframe, online media streaming...
5
by Ganesh T S on 6/7/2012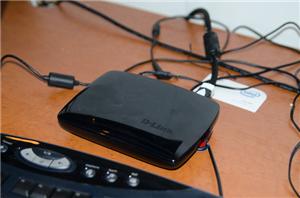 One major feature of mobile Sandy Bridge is support for Intel WiDi 2.0. For those of you who aren't familiar with it, WiDi 2.0 uses SNB's Quick Sync engine...
15
by Anand Lal Shimpi on 1/10/2011