Quick Sync
The latest version of Intel's Media SDK open sourced a key component of the QuickSync pipeline that would allow the open source community to begin to integrate QuickSync into their applications (if you're not familiar with QS, it's Intel's hardware accelerated video transcode engine included in most modern Core processors). I mentioned this open source victory back at CES this year, and today the HandBrake team is officially announcing support for QuickSync. The support has been in testing for a while, but the HandBrake folks say that they expect to get comparable speedups to other QuickSync enabled applications. No word on exactly when we'll see an official build of HandBrake with QuickSync support, although I fully expect Intel to want to have something neat to...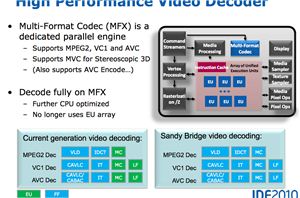 Intel's hardware accelerated video transcode engine, Quick Sync, was introduced two years ago with Sandy Bridge. When it was introduced, I was immediately sold. With proper software support you...
46
by Anand Lal Shimpi on 1/14/2013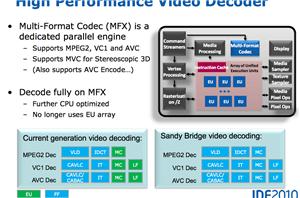 An Intel engineer by the name of Eric Gur started an AVSForum thread indicating he had begun work on enabling Quick Sync support in FFDShow's video decoder. Quick Sync...
23
by Anand Lal Shimpi on 9/28/2011