Pegasus
Promise was the first to get us a Thunderbolt chassis with the Pegasus R4/R6. Not only was the Pegasus the first shipping Thunderbolt storage chassis, but it continues to be among the fastest on the market. If you've never seen one, the Pegasus R4/R6 is a 4 or 6 bay 3.5" external storage array with built in RAID and Thunderbolt controllers. Promise doesn't ship a chassis without drives, so you get to choose from between 4TB in the lightest configuration (4 x 1TB drives) at $1050 all the way up to 18TB (6 x 3TB) in the beefiest $3000 config. Sequential IO performance is great, generally hitting around 700MB/s for a 6-drive RAID-5 array. There's room for improvement, but running several drives in RAID-0...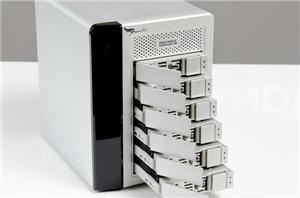 One by one the barriers to mobile computing have been falling. In the early days you could move to a notebook but you'd give up a lot of CPU...
94
by Anand Lal Shimpi on 7/8/2011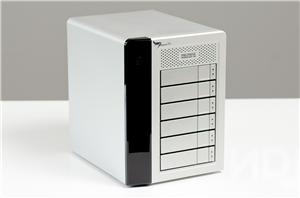 This morning Apple finally announced availability of its first Thunderbolt cable alongside Promise's Pegasus external RAID solution. We've previewed the Pegasus in the past but today we received a...
50
by Anand Lal Shimpi on 6/28/2011