Hot on the heels of the AMD announcement regarding socketed Kabini systems, ASUS has released information on two of their main contenders in this segment. While AMD are expecting most motherboards to be in the micro-ATX form factor, at least a few mini-ITX will appear, and ASUS today are announcing at least one of each in the AM1I-A and AM1M-A. AM1I-A The mini-ITX model uses the FS1b socket (notice only two holes for a CPU cooler), with two DDR3-DIMM slots and two SATA 6 Gbps ports. The 4-pin CPU power connector is near the edge of the motherboard (to stop cables being passed over components), and similar to other ASUS mini-ITX motherboards the 24-pin ATX power connector is also on the edge. Although...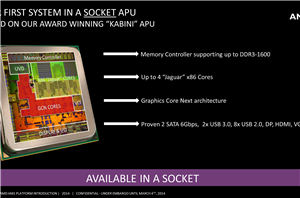 From the Consumer Electronics Show at the turn of the year, images were coming out of motherboards supporting the FS1b socket. This socket was a pin-grid-array, rather than...
35
by Ian Cutress on 3/4/2014
We saw some socketed Kabini motherboards at CES this year from MSI, and Chinese VR-Zone has published some interesting numbers regarding processors that are predicted to be on sale...
7
by Ian Cutress on 1/29/2014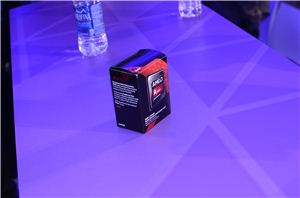 Ian has already written up most of the information AMD covered in their press conference tonight, so if you haven't already I suggest you start there. Kaveri is the...
13
by Jarred Walton on 1/7/2014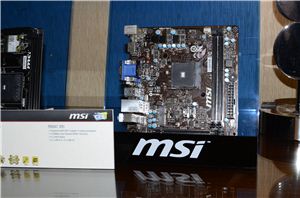 Wrapping up our visit with MSI, we've already seen many of their already-launched motherboards (e.g. series 8 chipsets), but MSI did have some upcoming Kaveri motherboards on display with...
1
by Jarred Walton on 1/6/2014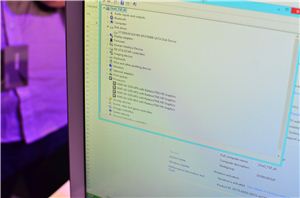 Samsung was curiously quiet on talking about specs with a couple of its newly announced PCs, and now we know why. Both the ATIV Book 9 Lite (affordable ultraportable...
28
by Anand Lal Shimpi on 6/20/2013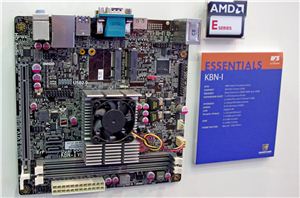 One of the things on my watch-list for Computex this year was to try and find Kabini desktop parts. Where it sits in AMD's product stack puts in...
12
by Ian Cutress on 6/7/2013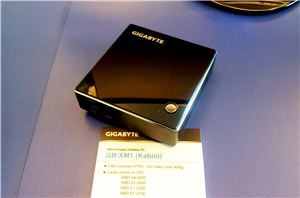 Despite Computex not officially starting yet, I am spending most of today in the Gigabyte suite. Before my booth tour I took a quick look around and a...
23
by Ian Cutress on 6/3/2013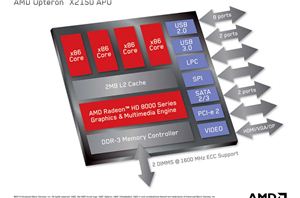 Last week AMD launched its Kabini APU for clients, a quad-core Jaguar based SoC with GCN graphics aimed at entry-level and mainstream ultraportable notebooks. In our review we found...
26
by Anand Lal Shimpi on 5/29/2013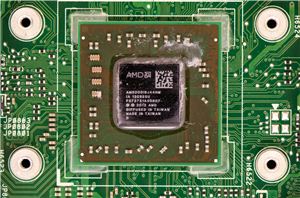 There are two non-negotiables in building a PC these days: the cost of Intel silicon and the cost of the Windows license. You can play with everything else but...
109
by Anand Lal Shimpi on 5/24/2013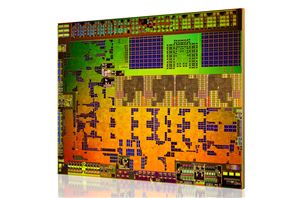 AMD has a three-pronged assault going out today: at the bottom (in terms of performance) is their 2013 AMD Elite Mobility Platform, formerly codenamed Temash. Next up is the...
1
by Jarred Walton on 5/23/2013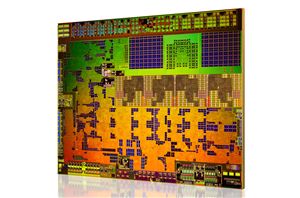 How does Kabini perform compared to existing hardware? Armed with a prototype laptop sporting AMD's latest APU, we put it through an extensive suite of benchmarks and see what's...
131
by Jarred Walton on 5/23/2013