So far Thunderbolt accessory offerings have been fairly limited and conventional. There are several external storage solutions with Thunderbolt support but the only advantage they provide over USB 3.0 or eSATA solutions is higher bandwidth. What's more, to achieve such bandwidth you either need a multi-bay enclosure with several hard drives in RAID mode or an SSD based setup. Apple's Thunderbolt Display (ATD) is certainly one of the more unique Thunderbolt peripherals as it functions as a dock as well, but at $999 it's quite expensive unless you're already looking for a gorgeous 27" 2560x1440 display. There has not been a simple dock-like product with the most frequently used ports--basically like the ATD but without the display. We have some good news in this...
Belkin's product portfolio stretches across a huge range from A/V and networking solutions to iPod and Kindle cases. Their CES both focused primarily on their home electronics products with...
4
by Jason Inofuentes on 1/12/2012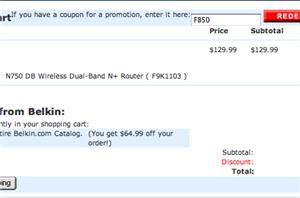 Starting today, Belkin has begun offering a sale of 50% off of all products on Belkin.com. Yes, that means you will be getting everything for half the normal price...
14
by Kristian Vättö on 9/16/2011