While smartphones have always had a strong need for quality voice processing, on the PC side such concerns have generally fallen to the wayside as voice was generally ignored, with only a few niche applications. However, as tablets and other formfactors have become more common on Windows x86, there is increasing demand for voice control and other features for a similar experience to Android and iOS tablets. To enable this, in conjunction with the eS800 Audience is announcing their S1.0 voice software, which delivers eS700-series voice and audio algorithms over Windows' audio interface. There are a few key features that this enables, namely wideband noise suppression for VOIP, omnidirectional noise cancellation, key-click removal, and improved speech recognition. In the case of wideband noise suppression, this...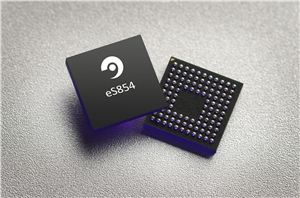 While voice calls have decreased in importance in the past few years, we've seen an increased need for voice processors that can properly isolate voice to enable features such...
1
by Joshua Ho on 11/5/2014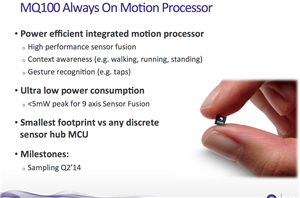 Just a few weeks ago, Audience announced its fourth generation of voice processors at CES, which added an always-on voice activation feature called VoiceQ designed to enable experiences similar...
2
by Brian Klug on 2/24/2014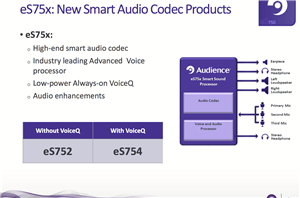 We've been covering and tracking ambient noise reduction technologies in smartphones for a while now, and one of the players in that space, Audience, is announcing its fourth generation...
1
by Brian Klug on 1/6/2014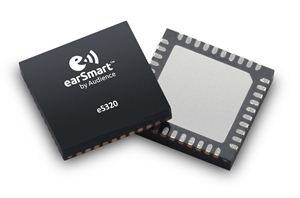 One of the interesting trends of late has been the slow trickle of features which originated in the mobile space over to the more traditional notebook and desktop PC...
8
by Brian Klug on 9/9/2013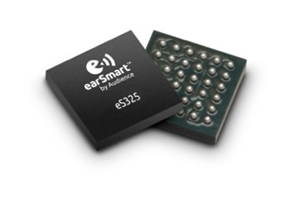 Earlier this year Audience announced the eS515, a combination new-generation voice processor and audio codec. The eS515 brought three-microphone noise suppression along with improved noise suppression for reverb, more...
2
by Brian Klug on 2/25/2013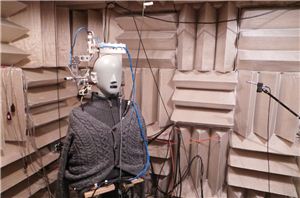 About a month ago, Audience flew me out to their office in California to talk about a number of things. First, they offered the chance to check out anecohic...
3
by Brian Klug on 1/7/2013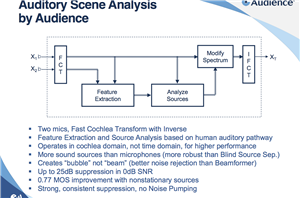 Since the iPhone 4, Apple has been including Audience earSmart voice processors in devices to improve both receive and transmit audio for handsets. The iPhone 4 started the trend...
11
by Brian Klug on 9/7/2012