CPU and Motherboard Alternatives
CPU: Intel Pentium 4 3.4C (512K L2 cache) Northwood
Motherboard: DFI (875P chipset)
Price: CPU - $415 shipped (retail heatsink and fan). Motherboard - $170 shipped
The new Intel 925X/915 chipsets and Socket 775 processors were finally launched last week. There are many exciting new features that are available with the new 925X/915 chipsets, but performance is really no faster than the current 875P chipset, especially when combined with a Northwood processor. There is also a new Pentium 4 560 processor that runs at 3.6GHz and is based on the Prescott core, but we have yet to see the 560 available for sale. There is no compelling reason to move to Socket 775 at this point, although we may find more reasons to move to a new 925X/915 system once we have tested more Socket 775 motherboards. For now, we are staying with our 875P/Northwood 3.4C recommended alternate until we see more test results. The 3.4C performs at least as well as the LGA 775 350 (3.4Ghz) that you can currently buy. In next month's High End Buyer's Guide, we expect to have a better idea of which products stand out among all the new introductions for Socket 775.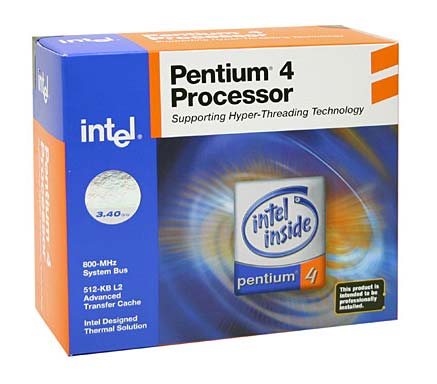 Despite the fact that cost is a secondary concern in recommendations for a High End system, it is still difficult to recommend the $1000 3.4GHz Pentium4 EE when the 3.4GHz P4C (Northwood) is 60% less with the same core and 512KB cache instead of 2.5MB. 250% seems a hefty premium for the extra cache when the impact on performance is fairly small. If you want the bragging rights that come with the top Intel CPU, then get the P4EE or build a system with the new LGA 775 560, but the 3.4C is our recommendation until LGA 775 components become more readily available. For Desktop Applications, the 3.4C and Athlon 3400+ are virtually equal, though neither is the performer that we find in the FX53. If you do a lot of encoding, then the pendulum tilts a bit toward the 3.4C, although we are finding this often depends on the benchmark used for encoding tests. If you're a gamer, an Athlon 64 3400+ is a better performer in most games. If 64-bit capabilities matter to you, then the AMD Athlon 64 is your only option. We suggest that you research for yourself which processor fits you best. A good place to start is AnandTech's latest CPU article on the
LGA 775 launch
.
One advantage of a Pentium 4 is Hyper Threading, which makes a single processor behave like two multiple processors in some ways. Hyper Threading can increase performance in some multi-tasking situations, but the impact is less noticeable as clock speed increases. In today's applications, HT does not offer much benefit, though this may change in some future applications.
Intel seemed to design their labeling system to utterly confuse the buyer, so it is worth some efforts to clear the misunderstandings. An Intel Pentium 4 labeled with a "C" after its core clock speed (3.4C in this case) is based on the Northwood core, has 512K of L2 cache, and is built on (mostly) 0.13-micron technology. A Pentium 4 labeled with an "E" after its core clock speed (3.4E for example) is based on the Prescott core, has 1MB of L2 cache, and is built on (mostly) 0.09-micron technology. Finally, a Pentium 4 labeled with an "EE" after its core clock speed (3.4EE for example) is based on the Northwood core, has 512K of L2 cache
plus
2MB of L3 cache, and is built on (mostly) 0.13-micron technology. The C, E, and EE Pentium 4 processors all run at 800MHz FSB and are dual channel DDR capable. While the future for Intel is slated to be the Prescott CPU, the slower speed and heat make the Prescott a difficult choice over the Northwood at current speeds. Performance becomes less an issue as speed increases and the heat issue is also improving. This month's introduction of the LGA 775 CPU from Intel is Prescott based, but performance with the new 925x/915 chipsets is about the same as the 875P chipset. Intel is constantly refining the Prescott, as they did with the original Pentium 4, so Prescott must be considered a work in progress that is getting better every day.
One of the most amazing turnarounds in the computer industry has been DFI. The large OEM partner decided to go after the enthusiast market with their own brand and transformed themselves from "Diamond Flower International" into "Designed For Innovation". It takes real performance to achieve this kind of transition and DFI has delivered this in spades in their LAN Party motherboard series.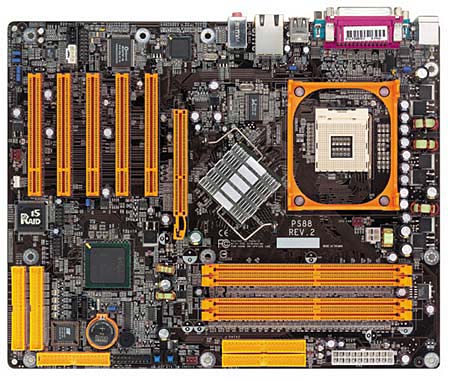 The LAN Party 875B is an excellent and flexible home for a 3.4C, particularly in the latest Rev. B version. The Asus P4C800-E and DFI 875B LAN Party seems to make every recommended list as the top two motherboards for Intel enthusiasts because they are both solid performers at stock speeds and they both are capable of incredible performance with the fastest memory and Intel processors on the market. Our nod for top end system goes to the DFI because high end systems should stand out in some way, like incredible performance or incredible looks. The DFI has both and you certainly will notice this motherboard, since it is also unique to look at - particularly under black light. The 875B LAN Party also does the eye-candy trick without giving up anything in performance or flexibility.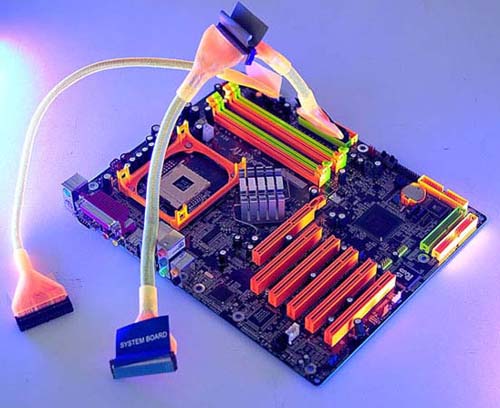 While the price of the DFI is toward the high end, it includes matching glowing cables, a Front-X box for front ports, and a PC Transport to carry your PC. All these features would cost quite a bit extra if you had to buy them separately, so there is definitely value in the DFI 875B. If the extras don't matter much to you, the same basic board is available as the DFI 875P Infinity for about $40 less. Revision B of the DFI has a greater range of adjustments than the original LAN Party and it also sports CMOS reloaded, a unique feature allowing several custom BIOS setups to be saved and selected in CMOS. All the top-end features are here with the notable exception of Firewire, so if you require Firewire, choose another board or add a Firewire PCI card. In addition to all the high end goodies in the LAN Party box, there is an impressive feature list that includes Intel SATA RAID, Intel Gigabit CSA LAN, High Point 4-device IDE RAID supporting RIAD 0, 1, 0+1, and 1.5 (a method to stripe and mirror using just 2 drives), 6-channel audio featuring the CMedia CMI9739A chip and a SPDIF IO bracket, and 8 USB 2.0 ports. End users who own the 875 LAN Party say that it is bullet-proof and one of the most stable motherboards that they have ever owned - always a great recommendation for a high end motherboard.
Listed below is part of our RealTime pricing engine, which lists the lowest prices available on the Intel CPUs and motherboards from many different reputable vendors:
If you cannot find the lowest prices on the products that we've recommended on this page, it's because we don't list some of them in our RealTime pricing engine. Until we do, we suggest that you do an independent search online at the various vendors' web sites. Just pick and choose where you want to buy your products by looking for a vendor located under the "Vendor" heading.