Case Fans
A total of 4 case fans are included with the TJ03. Two 80mm fans sit vertically at the back of the case above the add-on card slots to exhaust warm air from a video card and the CPU. Another 80mm fan is placed at the top of the case at mid-depth while a large 120mm fan is placed at the front of the case behind the bottom door as an intake. Since this larger fan is the one and only intake, SilverStone has added an air filter behind the bottom door to prevent buildup of dust and lint inside the case. The filter can be removed easily and cleaned to reuse over again, which is also a cost effective solution. All included fans are dual ball bearing 2000rpm and are noise rated at 21dBA.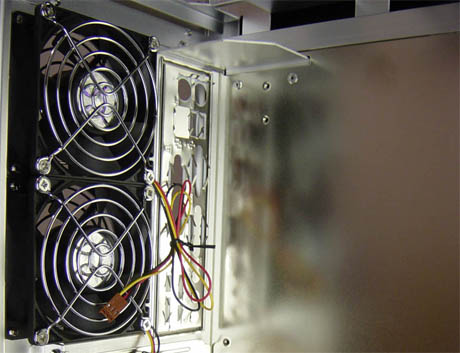 Click to enlarge.
One small setback with the fans is that only the top and front 120mm fans have 4-pin power pass-through adapters while the two 80mm fans at the back have only the 3-pin DC adapter for motherboards. This could pose a problem for older motherboards, since most have only one or no system fan (3-pin) power connections onboard. The 120mm exhaust, on the other hand, has both the 4-pin power supply pass-through adapter as well as the 3-pin motherboard adapter.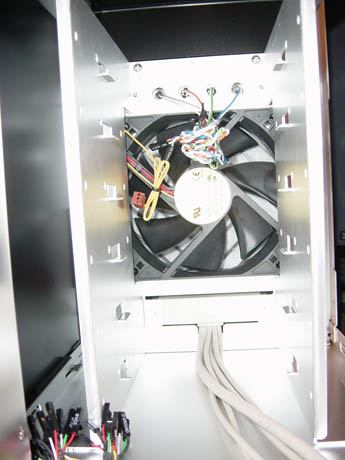 Click to enlarge.
When all fans are operational, the airflow seems to make complete sense. Air is pulled in to the case from the front by the 120mm fan. Since the hard drives sit directly behind that fan, the temperature of the drives remains low. The air then flows throughout the entire case before it is exhausted at the back with the two strategically placed 80mm fans and also at the top of the case with another 80mm fan. The end result is a more efficient air flow system, which helps keep components running at lower temperatures.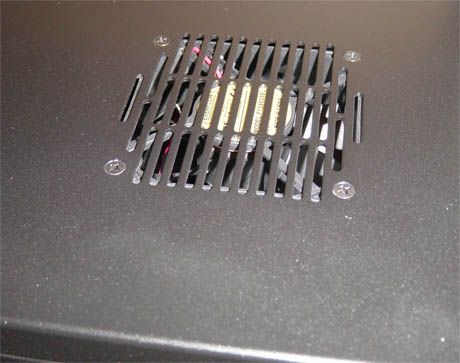 Click to enlarge.