MSI K9A Platinum: Basic Features & Board Layout
MSI K9A Platinum
CPU Interface
Socket AM2
Chipset
ATI RD580 (Crossfire Xpress 3200)
ATI SB600
Bus Speeds
200 to 400 in 1MHz Increments
Memory Speeds
DDR2 at 400, 533, 667, 800
PCIe Speeds
100 to 200 in 1MHz Increments
(Separate Adjustments for x16 and x1 PCIe slots)
AI Tuning
Manual, Auto, Standard, AI Overclock, AI N.O.S.
Core Voltage
Auto, 1.20V to 1.450V in 0.0025V increments
PLUS
3.3% to 23.3% BOOST over Voltage setting
(3.3% increments, Maximum Voltage 1.788V)
PEG Link Mode
Auto, Disabled, Normal, Fast, Faster
CPU Clock Multiplier
Auto, 5x-25x in 1X increments
DRAM Voltage
1.8V to 2.3V in .05v to .1v increments
NB Voltage
1.80v to 2.15v in 0.5v increments
DDR2 Termination Voltage
1.5v, 1.6v
HyperTransport Voltage
1.20v to 1.50v in 0.5v increments
1T/2T Memory
Auto, 1T, 2T
Advanced Memory Timings
8 Options
DRAM Timing Control
4 Options
HyperTransport Frequency
1000MHz (1GHz)
HyperTransport Multiplier
Normal, "For Overclocking"
AMD Cool'n'Quiet
Disabled, Enabled
Memory Slots
Four 184-pin DDR2 DIMM Slots
Dual-Channel Configuration
Regular Unbuffered ECC/non ECC Memory to 16GB Total
Expansion Slots
2 PCIe X16
2 PCIe X1
2 PCI Slots
Onboard SATA/RAID
4 SATA2 3Gb/s Drives by SB600
(RAID 0,1,1+0,JBOD)
Onboard IDE/IDE RAID
One Standard ATA133/100/66 (2 drives)
Onboard USB 2.0/IEEE-1394
10 USB 2.0 ports supported by SB600
2 1394a Firewire by VIA VT6307
Onboard LAN
DUAL PCIe Gigabit by Realtek RTL8111B and RTL8110SC
Onboard Audio
Azalia HD Audio by Realtek ALC883
8 channel codec
BIOS Revision
AMI 504 - June 14, 2006
It's unusual to find an AMI BIOS on an MSI motherboard, but it is an indication that MSI has listened to ATI in designing their K9A Platinum. ATI shipped their Reference board with an AMI BIOS, and while an Award BIOS was also available we found the AMI was generally the better overclocker. It is a little surprising then to find the BIOS options for overclocking much more limited than those found on the ATI RD580 Reference board.
The strangest option of all is the inability to set specific HyperTransport speeds or multipliers. There are only two choices here. "Normal" works fine in most situations, including moderate overclocking. "For Overclocking" is the choice for extreme overclocking. As you will see, despite the lack of more refined HT options, the K9A is still a great overclocker.
Another limitation is the range of memory voltages available on the MSI. Where the ASUS M2N32-SLI Deluxe provides a range to 2.5V with very fine adjustments, the MSI only extends to 2.3V in big jumps. With new high-performance DDR2 memory now supporting up to 2.5V under warranty, and most of the best memory needing 2.2 to 2.4V for best performance, 2.3V is just not enough.
MSI does not add additional SATA ports to the four already provided by SB600. It also has, in general, a more mainstream feature set than the high-end ASUS M2N32-SLI or the Foxconn C51XEM2AA. You won't find an 8-phase or 12-phase design here. This suggests the K9A may actually sell for up to $50 to $70 less than the top-of-the-line ASUS when it ships later this week. If this lower price does prove a reality it will be easier to forgive a less robust set of adjustments on the K9A.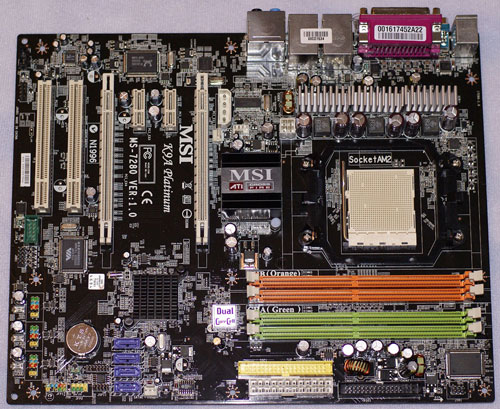 Click to enlarge
The first thing you will notice about the K9A is the passive cooling. Both the RD580 North Bridge and SB600 South Bridge are cooled with heat sinks. Since the ATI chipset runs very cool there is not even the need for elaborate heat pipes or larger heatsinks like ASUS uses on the nForce 590SLI based ASUS M2N32-SLI Deluxe. Power transistors are also cooled with large passive heatsinks. Despite the fact that no active cooling is used, the chipset ran cool in our testing - even when pushed to overclocks above 300.
Layout of the slots still allows, in the worst case of two double width video cards, room for both a PCIe X1 device and a PCI device. With three slot spacing between X16 slots, there is plenty of room for exotic GPU cooling. Dual-Channel DDR2 mounts in different-colored slots with two sticks - one DIMM each in Orange and Green DIMM slots. This "spaced dimm" arrangement is best for keeping the memory cool, though we prefer the logic of both dimms in a dual channel occupying the same color dimm slots.
The 24-pin ATX connector is at the upper right edge of the board, which is the preferred location. The 4-pin 12V connector, however, is between the AM2 Socket and the rear I/O panel near the center of the board. This is not the best location for cabling, but it is one used by many boards. A board-edge location is always better to keep cables out of the way. Probably the worst location of all the cables is the 4-pin Molex next to the upper X16 PCIe slot. You only need to connect this when using CrossFire, but it is an awkward location.
SATA ports are often an issue on recent boards, but MSI has given careful thought to their SATA connectors. The location at the extreme right edge of the board at the bottom of a normally short PCIe slot seems ideal. SATA ports can be a real hassle when they are at the back of a video slot, since many top-line video cards are very long and get in the way of SATA ports too near an X16 slot.
SB600 only supports one floppy connector and one IDE connector. Both ports are well-located at the upper-right edge. MSI does not provide a secondary JMicron chip with an additional IDE like many competing boards. The additional six USB headers and Firewire header are all easily accessible connections in most cases with their lower right edge location.

Rear I/O connectors include PS2 mouse and keyboard ports, parallel and serial, 5 programmable mini-jacks for high-definition audio, 2 Gigabit Ethernet connectors, one IEEE1394a Firewire port, and both optical and coaxial S/PDIF out.
Overall the K9A Platinum is not loaded with extra bells and whistles like many top-end boards, but it does support all of the important options most enthusiasts demand. The SATA ports are now 3Gb/s SATA 2 thanks to SB600.