Database Tests
MySQL 4.0.20d has been a staple of our Linux tests since its inception. Even though it does not carry high relevance for a workstation test, we still regard it as the
de facto
free, open sourced benchmark for Linux. Below, you can see our results for
sql-bench
on both the 32-bit kernel for SuSE 9.1.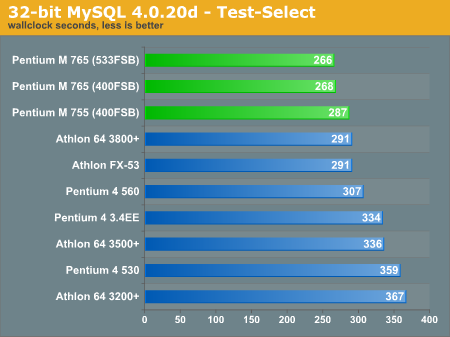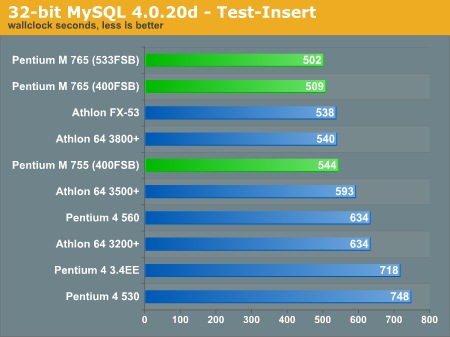 Our first benchmark with Pentium M seems almost too good to be true. Just to verify that our results are sane, we re-ran the same tests with several different multipliers set on the Dothan 2.1GHz.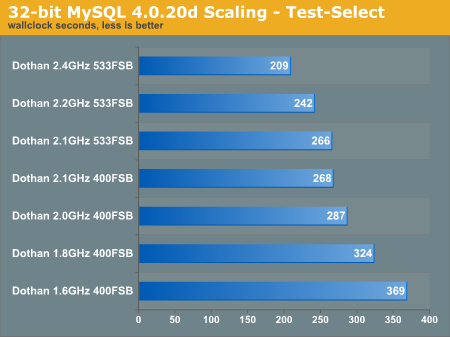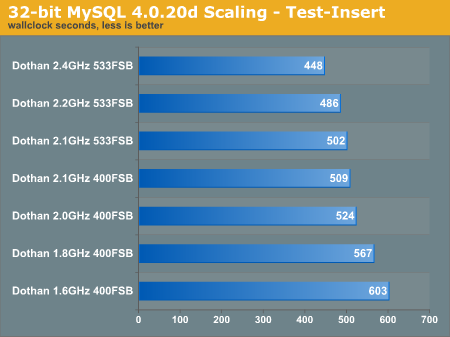 Surprisingly, things look very favorable for Pentium M thus far. However, this is a mildly synthetic benchmark and it may not represent real world use as closely as many of our other benchmarks do. As you can see, we overclocked and underclocked the processor a little bit just to get a feel of what our Pentium M is capable of. Many of our database performance tests in the past have shown that Xeons with additional L3 cache out-perform Xeons without extra cache. So, we might be safe to assume that the 2MB L2 cache on the Pentium M is what gives the Dothan the additional boost. To date, the Dothan has more L2 cache than any other processor that we have seen.