Radeon Instinct
One element to the recent pandemic has been the number of organizations banding together to unite for specific research into SARS-CoV-2 and COVID-19. We are in an era now where masses of computing power can help direct physical research into potential vaccines, or help analyse interesting molecular active sites to spur further research. The COVID-19 High Performance Computing Consortium is one example of this, with 25 active products, 31 members, and approximately 418 PetaFLOPs of compute power – this is compared to the world #1 supercomputer, Summit, which has only around a third to a half of this processing power. The latest news is that AMD is setting up a unique COVID-19 fund to provide additional computing resources where they are needed most. The fund...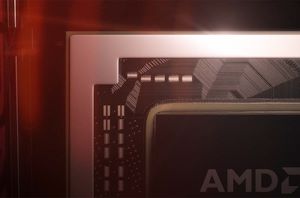 AMD's 2nd Generation EPYC processors have gained a strong recognition among cloud computing companies, and today numerous instances are powered by AMD's latest server CPUs. By contrast, however, the...
19
by Anton Shilov on 3/18/2020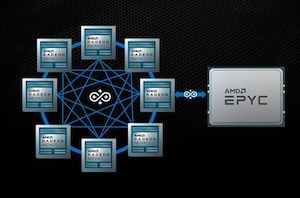 Another element to AMD's Financial Analyst Day 2020 was the disclosure of how the company intends to evolve its interconnect strategy with its Infinity Fabric (IF). The plan over...
18
by Dr. Ian Cutress on 3/5/2020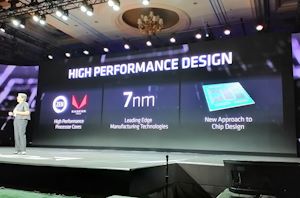 Today AMD is announcing some realignment of its executive team along with some promotions. The idea behind the changes boils down to AMD wanting to focus its efforts on...
85
by Ian Cutress on 1/25/2019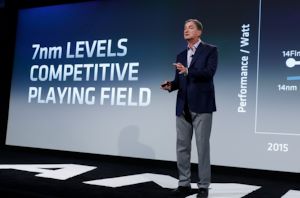 At AMD's Next Horizon event this week, the company disclosed for the first time the layout of its next generation EPYC processor, the new Vega Radeon Instinct datacenter compute...
59
by Ian Cutress on 11/12/2018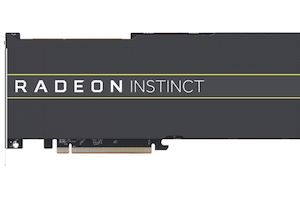 As part of this morning's Next Horizon event, AMD formally announced the first two accelerator cards based on the company's previously revealed 7nm Vega GPU. Dubbed the Radeon Instinct...
26
by Ryan Smith on 11/6/2018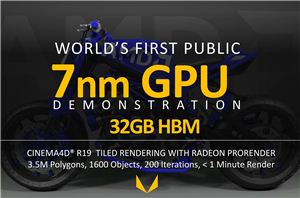 In a fairly unexpected move, AMD formally demonstrated at Computex its previously-roadmapped 7nm-built Vega GPU. As per AMD's roadmaps on the subject, the chip will be used for AMD's...
29
by Anton Shilov on 6/6/2018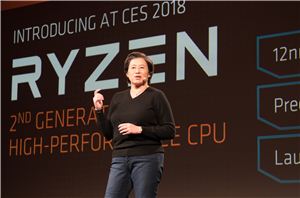 In what is becoming an annual tradition, during AMD's Tech Day here at CES we were given the opportunity to spend some time with Dr. Lisa Su, AMD's CEO...
65
by Ian Cutress on 1/24/2018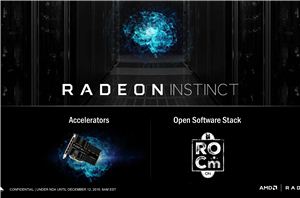 With the launch of their Polaris family of GPUs earlier this year, much of AMD's public focus in this space has been on the consumer side of matters. However...
39
by Ryan Smith on 12/12/2016