Drones
At CES 2018 in Las Vegas we had the pleasure to attend Ambarella's booth tour demonstrating the newest products in camera SoC solutions. Ambarella to date is most widely known as being the silicon provider powering the camera capabilities of products from GoPro and DJI. As the traditional customers are looking for more vertical integration and other silicon alternatives, Ambarella is also looking to diversify its product lines and customer base. The CV1 is a major effort towards gaining track in the EVA (Embedded vehicle autonomy) space. The CV1 is the first of a new family of computer vision processors which implement Ambarella's "CVflow" architecture. CVflow is a new convolutional neural network (CNN) inference acceleration IP developed in-house by the Santa Clara company. Over...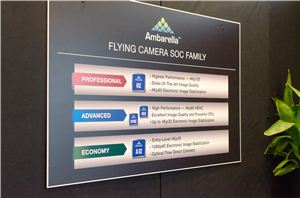 As usual, this year Ambarella had a number of interesting announcements and demos to show off. At a high level, the important announcements for this year are the H3...
1
by Joshua Ho on 1/6/2017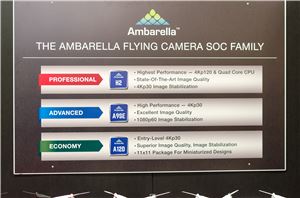 Yesterday Josh and I met with Ambarella and went on a tour of their exhibits. The main topic was their new line of SoCs, along with the various products...
6
by Brandon Chester on 1/7/2016