Final Words
Ultimately, the Pixel C ends up being a strange mix of things that may have worked together in a much more cohesive manner had it shipped with Chrome OS like it was clearly intended to. Unfortunately, Android just doesn't provide an acceptable tablet experience, and Google's own applications are some of the biggest offenders. Before discussing that, it is worth going over the Pixel C's hardware, as Google did a great job executing many of those aspects.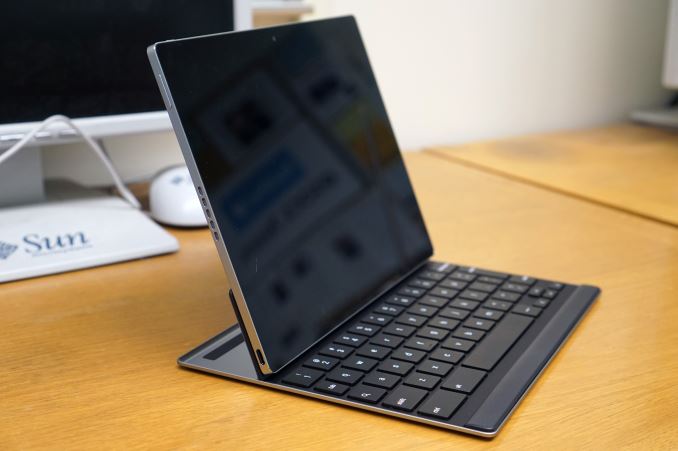 The Pixel C's construction is solid. The build quality is superb, and it fits in well with the existing Chromebook Pixel. I definitely think the body is too heavy though, and the keyboard is far too heavy. I don't think building tablet keyboards out of aluminum is the right way to go, even though it makes them feel very sturdy and fits well with an aluminum chassis. The mass ends up being too high compared to fabric and polymer keyboard covers, and keeping down the mass of the total package is essential to making a tablet highly portable.
As for the hardware, the first thing to talk about is the SoC. Tegra X1 is very fast on both the CPU and GPU sides, and as far as Android tablets go it offers the best graphics performance that you can get. The display on the Pixel C is also very good, with accurate color rendering and a high brightness as well as deep blacks. The greyscale accuracy could use some work, and Google needs to improve on hiding their digitizer and cutting down reflections in general, but for the most part it's a very good panel.
Battery life on the Pixel C appears to be very good. It topped the charts in our web browsing, video playback, and BaseMark OS II battery tests. However software problems prevent me from investigating how long the battery lasts in a GPU-bound workload and a mixed workload, but for anything that primarily taxes the CPU or display it appears that the Pixel C provides best-in-class battery life.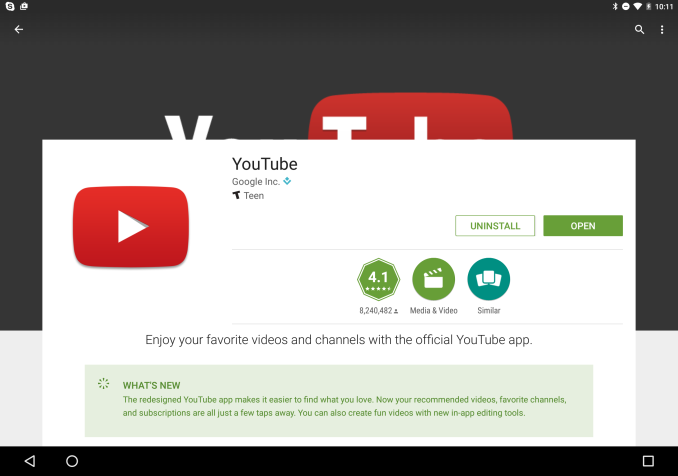 Why does this UI show the exact same amount of info as the UI on a 4.5" phone?
Unfortunately, once you start looking at some of the other aspects of hardware and software, the problems with the Pixel C start appearing in great numbers. I've said this time and time again, but Android simply doesn't offer a compelling tablet experience in any regard. With the Pixel C in particular you get a plethora of stability issues and bugs as well. Connectivity issues with Wi-Fi and Bluetooth impact the usability of the keyboard, and the entire software experience is simply unfinished. I can't use it for very long without encountering touch input issues, freezes, and complete OS crashes. I really don't know how Pixel C shipped with the software in the state that it's in, and it's just not acceptable. The fact that Josh also received a sample and encountered the same issues that I have confirms that they're not specific to a single unit, and any single one of the major issues that we've noticed should have been enough to delay the Pixel C's launch.
By this point I think people should know what they're getting into when buying an Android tablet as far as the application situation goes, but the Pixel C's problems go far deeper than that. I have been told that Google plans to issue an update that fixes the connectivity problems, touch input issues, and stability. Google has shipped me with a new unit that runs a pre-release version of this update, and Josh will be receiving his soon as well. Once that occurs, I'll be taking another look at it. That being said, the amount of time it has taken to address such show stopping bugs has been far longer than I would have expected, and if I was someone who purchased it I wouldn't be happy at all with the current situation.
At the very least, I think existing buyers should be given some public timeline of when Google plans to issue the much needed bug fixing updates. In its current state, I honestly can't give the Pixel C any sort of recommendation, even to the biggest fans of Google products. Its software needs a lot of work, and I hope that Google's upcoming patch fixes the major problems. The Pixel C may improve with future updates, but for now it's best to hold off and see how things change going forward.