ASUS Maximus VIII Impact Z170 ROG Software
The software tools from ASUS, similar to the BIOS, come in two flavors. A base blue contains the majority of features that a wide portion of users might decide suits their needs, but the ROG platform adds in a few specific extras (some of which are externally licensed with an ROG theme). The main interface is still AI Suite featuring 'Dual Intelligent Processors 5', with a few more satellite software programs to complement the standard functionality.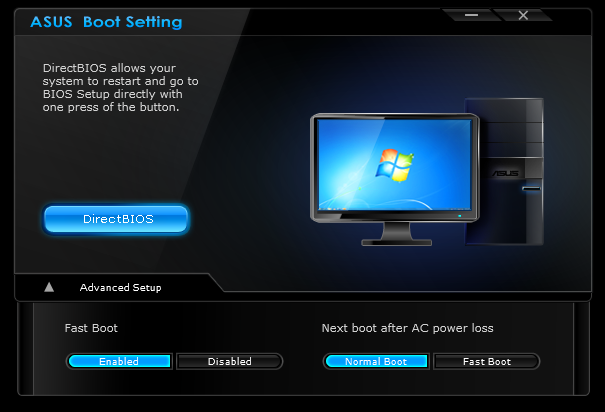 First up is Boot Setting, a small app I use quite a lot for one main reason – the DirectBIOS button. For any users taking advantage of AHCI fast booting, this button is how you instantly reset the machine and reboot into the BIOS to make changes. As a hardware reviewer, I tend to fiddle with the BIOS a fair bit, especially when overclock testing, to a tool like this is great. That being said, once a system is up and running, it rarely gets used again.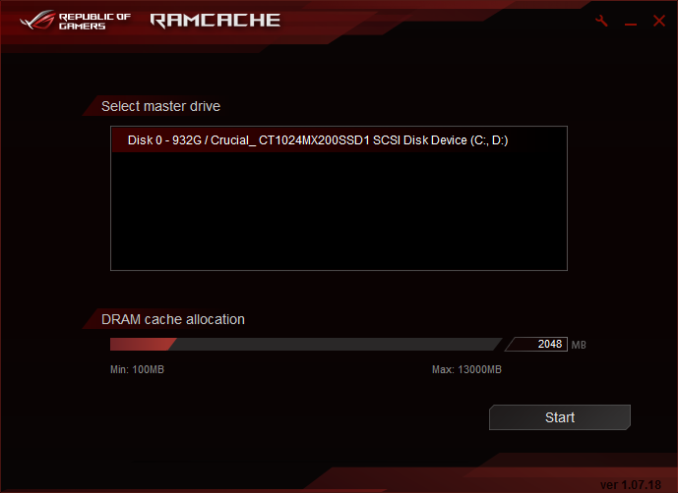 New on the scene for ROG is RAMCache, which is different to RAMDisk (see below). The RAMCache tool is similar to the tools we've seen on certain brands of SSD software – earmark up to a quarter of the DRAM to act as a fast storage cache which then flushes out to the SSD in a non-time critical manner. In theory, great – it worked fine in our little test scenario, although the benefits over a regular SSD are minimal so it is more aimed at HDDs. The downside is write commits if the system fails. If you have data in the cache and power is lost, or the system dumps garbage at you requiring a hard reset, the data in the cache may be lost - such as that save game you have been working on. The best way for ASUS to expand this is to offer more options – how long data should reside in the cache before being write committed to the drive, or for certain programs/files to bypass the cache completely and write immediately.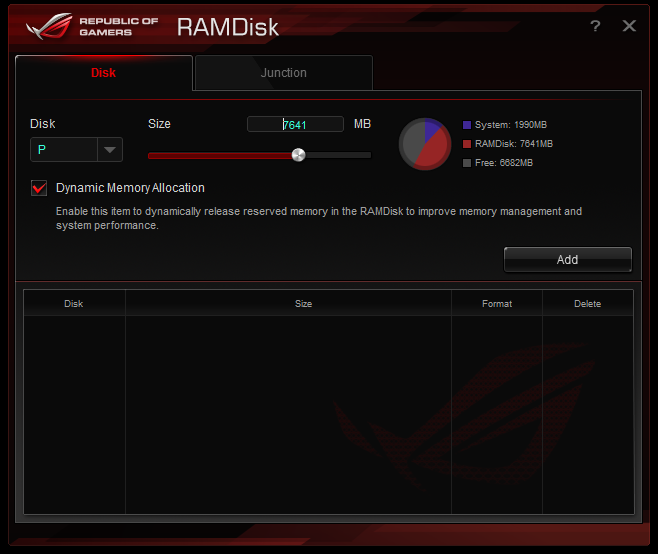 RAMDisk is the other side of the equation, especially if you have more RAM than you can shake a stick at (don't start shaking sticks at sheep, I'm not to be held liable for injuries obtained). Here we can allocate a portion of the memory available as a drive to use when the machine is in action. This is handy in some scenarios, such as migrating a non-critical virtual machine or batching media to be processed. Similarly with the RAMDisk, data is lost if the machine loses power.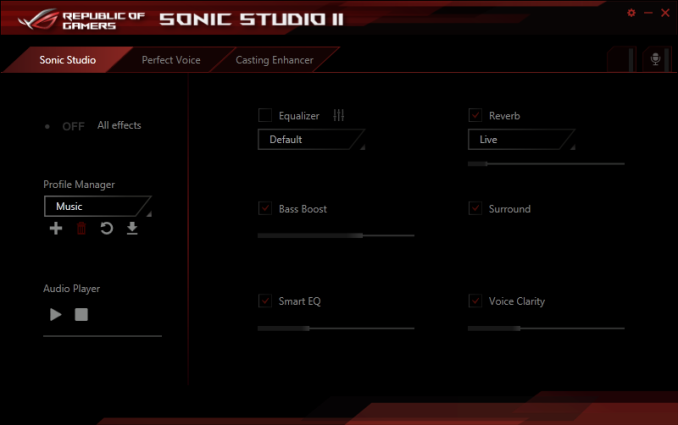 As part of the SupremeFX audio package, we also get Sonic Studio software, which acts as a 'smart EQ' for gaming that can focus on certain sounds for audio output. Similar to MSI's Nahimic, this is a glorified EQ adjuster, although without the song and dance (or licensing fees) and it still allows you to have manual EQ settings if you want.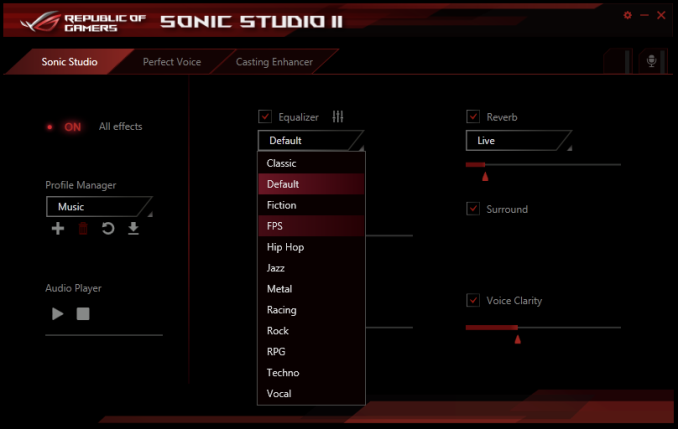 There are settings for different game types, as well as a microphone input/output adjuster and tools to help with audio when streaming.

As part of the ROG package, ASUS also licenses CPU-Z with a custom skin. This is a tool used by overclockers to verify what processor is being used in a system, as well as the speed, the memory, and other functionality. By using a ROG skin, the idea is that when overclocking world records are made and promoted using the ROG skinned CPU-Z, there's a subtle mental link in there between the brand and the performance.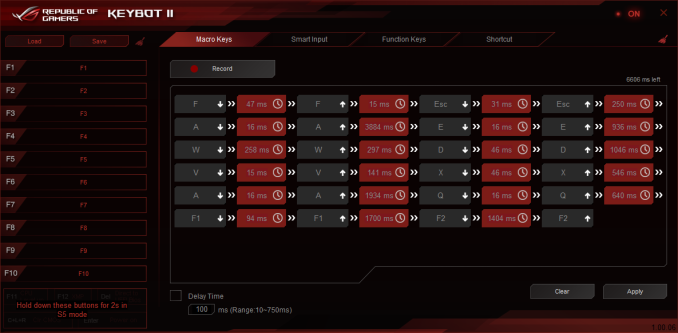 Keybot is ASUS' in-house macro tool to allow gamers to predefine a series of keyboard commands (with appropriate delays) to enhance their gaming performance and/or experience. The tool can also be used to map certain programs to keys, or other things such as volume/playback. As a macro tool, it falls under the simplistic heading, only because making a full-on macro tool such as AutoHotKey requires a team and a million more options/commands to choose from. But it works for the intended purpose.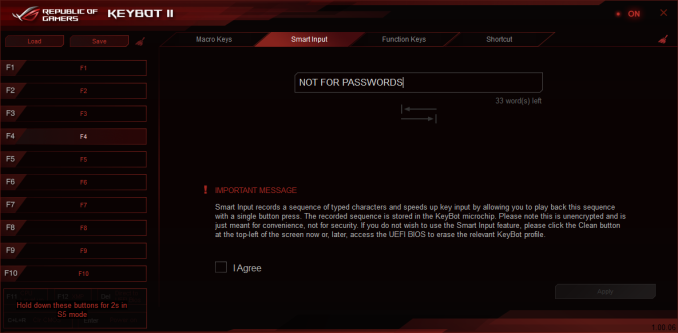 Keybot offers a hardware saved 'Smart Input' script, that can be called regardless of the OS or setting of the hardware. This can be interesting for users who want a quick string of characters that can be applied anywhere, although it is worth noting that the text is not stored encrypted, so ASUS recommends against using it for passwords.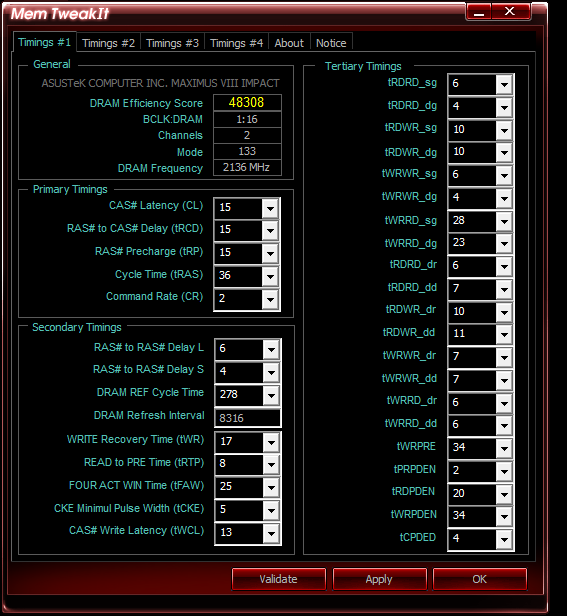 For memory sub-timing adjustments, the MemTweakIt tool from previous ROG generations is updated for Skylake and also included in the software suite.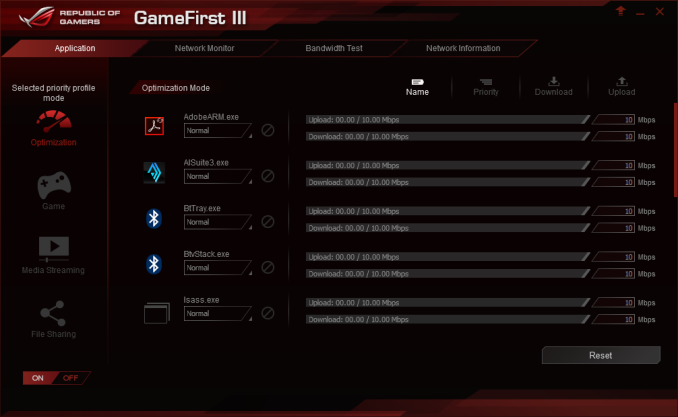 For networking, ASUS offers the ROG line with GameFirst III, an in-house custom networking tool for prioritization. This tool allows users to promote which data streams (such as gaming and VOIP) over others (such as windows updates or downloads) and maintain latency when multiple things are happening at once – at the expense of some CPU overhead and power. ASUS does this with the Intel networking, which provides some control similar to cFos seen on other motherboards, but arguably less control than something like Killer which also uses hardware controls to accelerate some features. Pretty much every networking software program has issues with user experience too, with little optimization in terms of style or handling except for those dedicated to network prioritization. There's also the extra problem if someone else on the network is chewing up the data, which cannot be solved by simple motherboard software.
AI Suite 3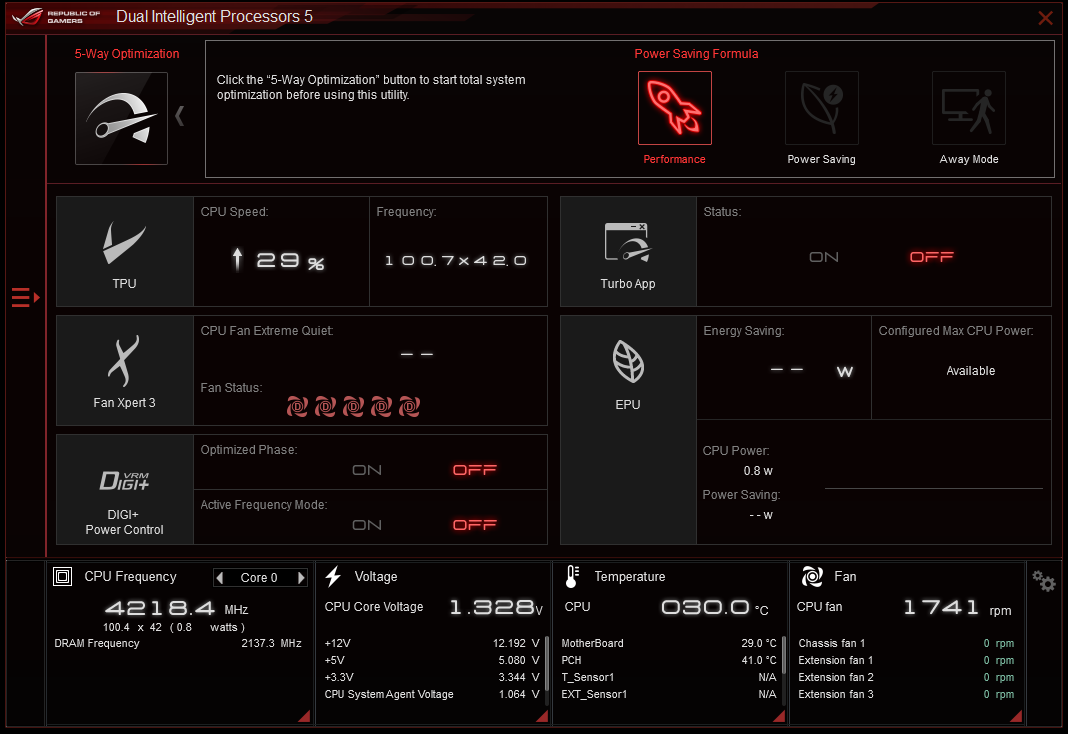 Finally we move on to AI Suite 3, which for the most part contains the software tools we've written about many times before. The front page is part of ASUS' Dual Intelligent Processor program, version five. The two intelligent processors are the TPU (Turbo Processing Unit) and the EPU (Energy Processing Unit) which are separate ICs on board to help control both overclocking and power use. These two options are mixed with three other modes (Fan Xpert 3, DIGI+ Power, and Turbo App) for the five apps listed above.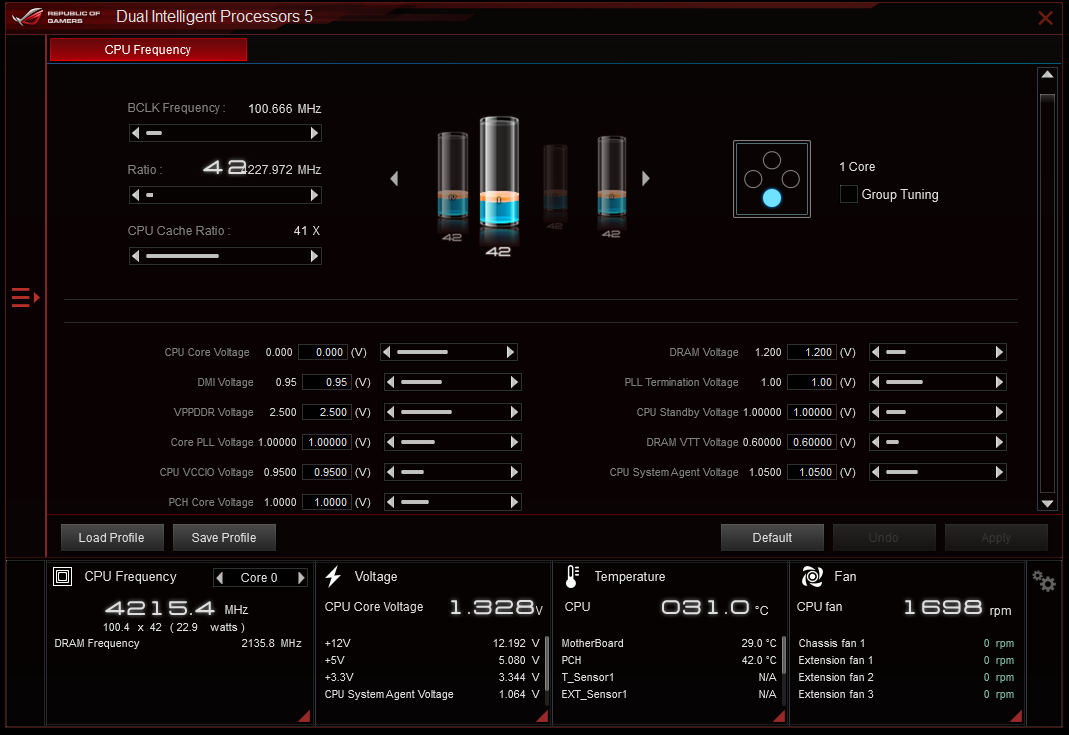 The TPU menu offers the usual array of voltages and per-core overclocking. In generations past we saw graphs showing how the voltage responded to load and could adjust the load-line calibration to compensate, but unfortunately this sems to have regressed here.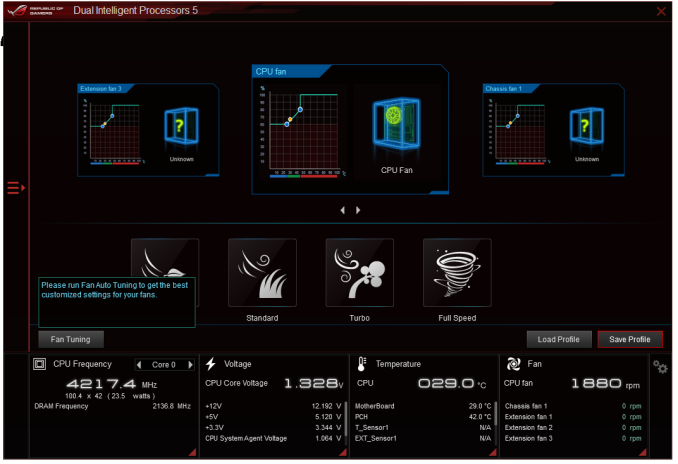 The Fan Expert tools are similar to those we saw in the BIOS under Q-Fan, with the fan tuning mode also present. One difference in the software here is the result screen when the tuning is finished: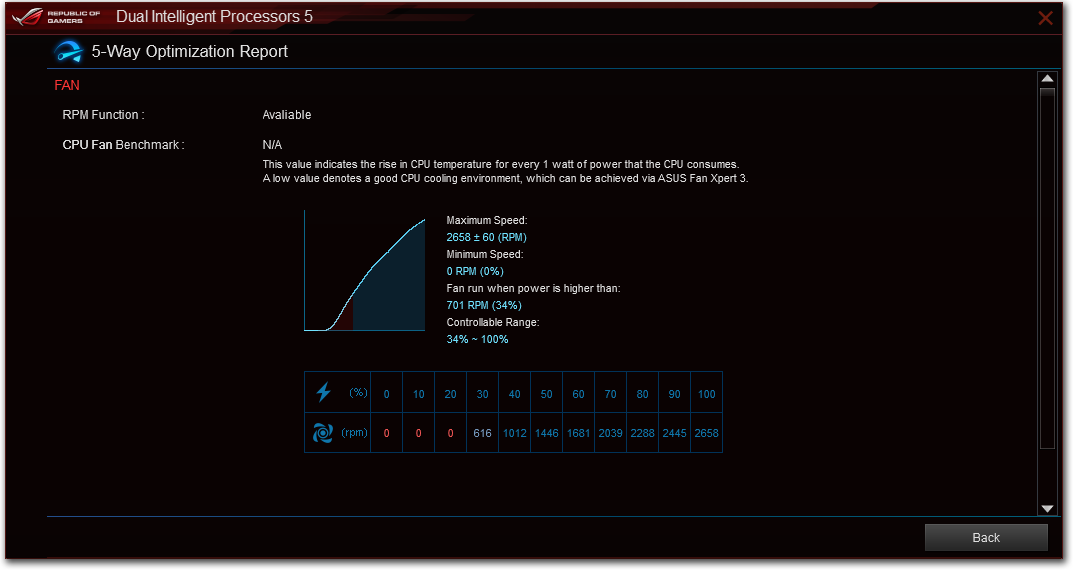 Here is the result of my CPU fan, showing a dead zone below 20% power and a non-linear response in the controllable range. This shows the disparity between fan speed and applied fan power which still needs to be addressed across the motherboard industry.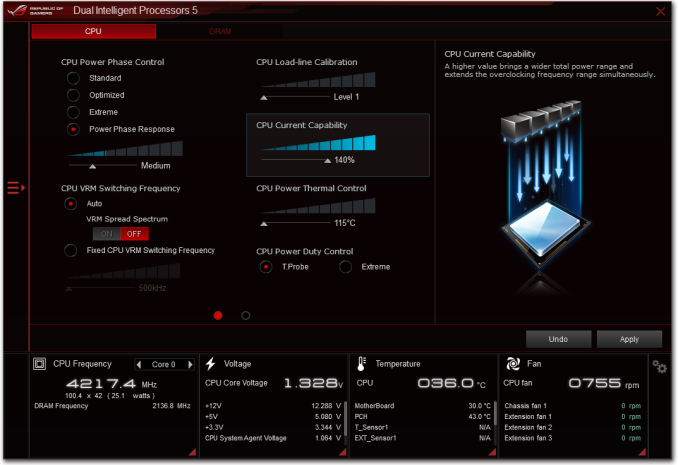 Also from the AI3 front page are the DIGI+ Power controls, giving options to extend power phase limits, response times, load line calibration and temperature limits. Most of these are usually untouched by the majority of users, but are given for those who might have an odd piece of silicon in the socket that behaves a little differently.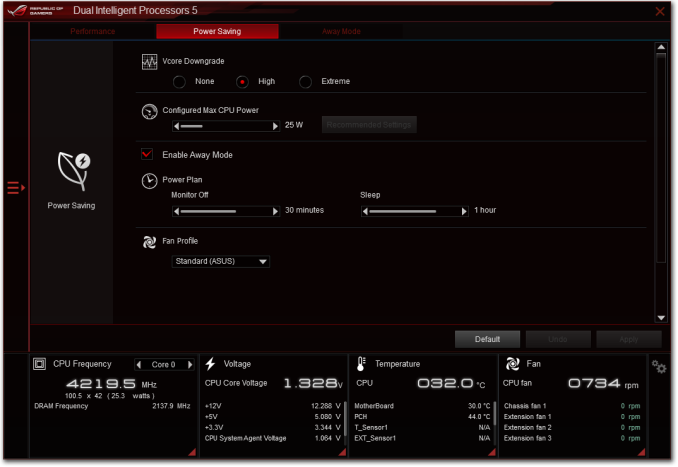 The EPU option is a way for the system to configure different power modes, with the idea of saving energy by running in a more efficient state when latency is not a factor. In this case, when the user is idle, the EPU will attempt to limit the CPU power to 25W and reduce the voltage/fan profiles to do so.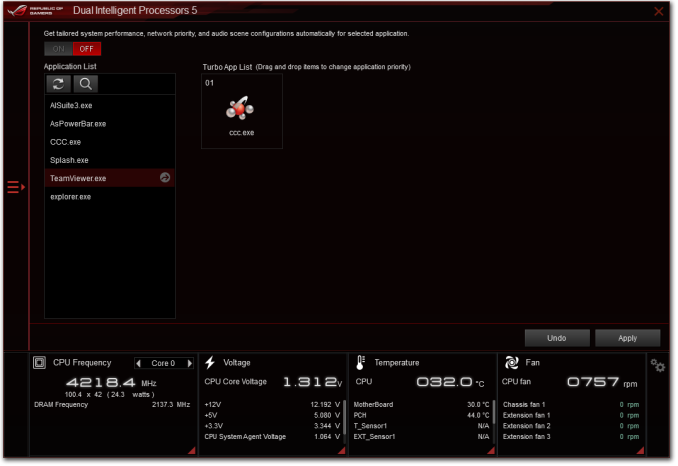 The last stage is Turbo App, which allows the user to configure certain overclocks or LAN prioritization modes to various applications and then rank them in a priority list.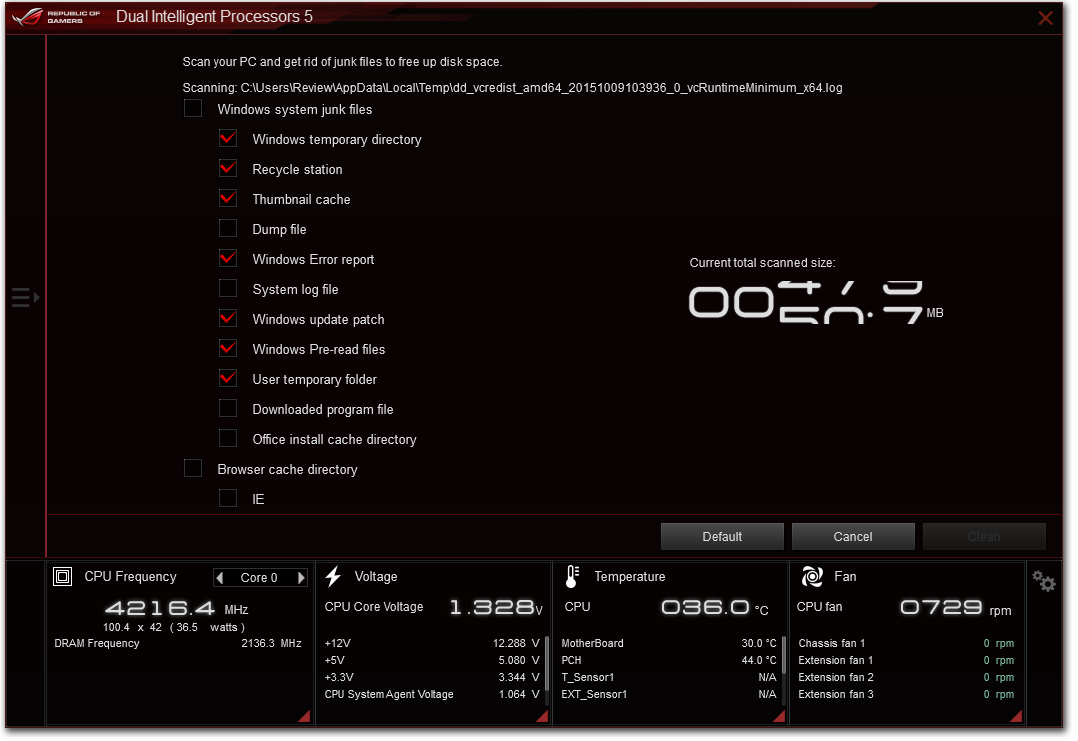 New to the ASUS software package is a temporary file remover called Free Space. With a preset list of directories that typically harbor temporary files or caches, the system will look through the ones selected and let the user know how much space can be saved. The software can then delete these files to save space. This is similar to freeware software I already use on most of my rigs called CCleaner, which has been in the industry for many years and works quite well, as it also probes the registry, offers a mass uninstall feature, and also has a data security overwrite mode (overwrite a drive seven times to ensure data is destroyed). I'd suggest motherboard manufacturers organize a licensing deal with CCleaner if they really want to pursue this line of software.
Other software in AI Suite we have covered in previous reviews:
USB Boost: For suitable devices, implements a newer USB protocol to improve USB 3.0 and USB 3.1 speed.
System Information: Breakdown of the hardware specifications for motherboard, CPU and DRAM.
USB BIOS Flashback: Prepare a USB with a BIOS for updating, or save the current BIOS.