Value SOHO
Processor - AMD Athlon XP 1600+ (1.40GHz) - $53

Last value SOHO buyer's guide we recommended a Duron processor to power our business system on a budget. We cited the processor's fairly good performance along with its excellent price. Thanks to price cuts this time around, however, we are pleased to find a more more capable Athlon XP processor at the helm.
Making the move from the Duron 1.3GHz to the Athlon XP 1600+ only brought the processor price up by $3 compared to the Duron prices seven weeks ago. This week's CPU price guide puts the Athlon XP 1600+ at only $12 more than the Duron 1.3GHz: $12 well spent. There is no question that our business machine will benefit from the extra cache offered by the Athlon XP. The 100MHz speed bump doesn't hurt much either.
At this price, it really only makes sense to go with the Athlon XP in our value SOHO machine. Sure, we could have outfitted the system with a new Celeron processor but it would have increased system price a significant amount and not offered all that much of a performance boost. In fact, the majority of our benchmarks show the Athlon XP 1600+ out performing the Celeron 1.7GHz in business tasks.
Read up on the Athlon XP processor in our Athlon XP review.
Motherboard - ASUS A7N266-VM - $70
Our motherboard selection remains the same as it was last time around. Let's look at what we said about this system in our last value SOHO buyer's guide:
Perhaps the most difficult decision in configuring our value SOHO machine was what chipset to go with. We knew that an integrated chipset is a must but deciding what integrated solution to choose was was bit harder. Initially we suspected that the SiS 740 chipset would provide a good mix of speed and price but we were disappointed to find that there are only a few SiS 740 based motherboards out on the market. We did not feel comfortable recommending the limited number of SiS 740 solutions we encountered on the web so we were forced to look elsewhere.
We knew that a DDR setup would be a huge plus for the value SOHO market since it would increase application speed a noticeable amount. For this reason we had to rule out the previous chipset selection, the SiS 730. The only other option available to us was the NVDIA nForce chipset and the more we looked at it, the more we liked it.
nForce motherboard prices have been falling rapidly since its release and at the $70 price point it makes perfect sense for a value system solution. First off, we were able to go with a brand we can trust, ASUS, as opposed to turning to a manufacturer of lesser reputation. This was important, especially in the SOHO market where stability is a must. Secondly, the nForce integrates a good number of features into its chipset. Not only does the nForce integrate GeForce2 MX graphics, it also offers integrated LAN and integrated audio. Finally, the performance of the nForce should not disappoint.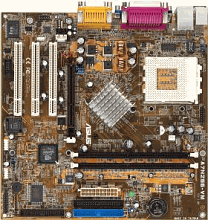 We chose to go with an nForce 220-D solution because, as our NVIDIA nForce 420/220 review showed, the additional memory bandwidth provided by the TwinBank 128-bit memory controller made little to no difference in 2D applications. The speed of the nForce 420 does increase over the nForce 420 while in gaming situations using the integrated GeForce2 MX video solution (because of the shared memory solution) so if you are looking to game on your value SOHO system the extra $15 that the 420 will cost you may be worth it. Just make sure your boss isn't watching.
Read more about the nForce chipset in our NVIDIA nForce 420/220 review.
Memory - 256MB Mushkin BASIC PC2100 SDRAM - $61
Again, we find this buyer's guide stick with the same recommendation made seven weeks ago. We did find that memory prices increased slightly since last time we configured a value SOHO system, adding one more dollar to the total price of the system. Our recommendation of 256MB also remains the same, being that modern operating systems love as much memory as they can get. If you plan on doing some serious multitasking or know that the programs you will be using are very memory hungry, it may be worth the extra money to go with 512MB of total system memory. If you are primarily working in Word and Excel, however, 256MB should be more than enough.

When it comes to memory selection, we have said it once and we will say it again: it is much better to spend a few extra dollars and go with a name you can trust than save a few bucks and get no-name memory that may or may not work properly.
Video Card - Integrated GeForce2 MX Video - "free"
Same motherboard, same integrated video card. Not much more we can say here that we didn't say the first time around:
The integrated GeForce2 MX video processor in the NVIDIA nForce platform is unquestionably the most powerful integrated graphics solution on the market. Not only is the graphics core able to provide good quality 2D output and DVD playback, it is also to do much more gaming than, say, the integrated SiS solutions. The ASUS A7N266-VM also includes an external AGP 4X slot making a video upgrade down the road very simple.
For more information, see our NVIDIA nForce 420/220 review.
Monitor - Samsung 955DF - $200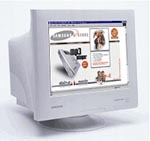 A 19" monitor should be fairly standard in office setups where increased desktop space can mean increased productivity. We still find ourselves recommending the Samsung 955DF as the ideal 19" monitor for our value systems. Our time with the 955DF proved that the monitor performs well and provides quite the bang for the buck. It performed superbly in our tests and even fell $15 in price since last time around. At the $200 price point this is one sweet monitor.
Truthfully, you are fairly safe with any name-brand 19" monitor, be it from Samsung, MAG, Sony, ect. We chose to go with the 955DF simply because we have had personal experience with it.
Sadly, LCD monitors are not reasonable enough in price yet to make them a good recommendation for value systems, although these monitors are most at home in the SOHO environment.
Be sure to check out our Samsung 955DF 19" Monitor review for more information.