GPU Performance
While general performance on the OnePlus 2 ends up being quite disappointing, when focusing on GPU performance we can hope for a much more appealing outcome as Adreno 430 continues to be one of the best GPUs you can get in a mobile device. While I don't expect there to be a large deviation from the performance of other Snapdragon 810 devices, given the unexpected difference with JavaScript and general CPU performance it's worth running the OnePlus 2 through our standard GPU benchmarks to confirm that everything is performing as expected. As always, we start off with 3DMark, followed by BaseMark X and GFXBench.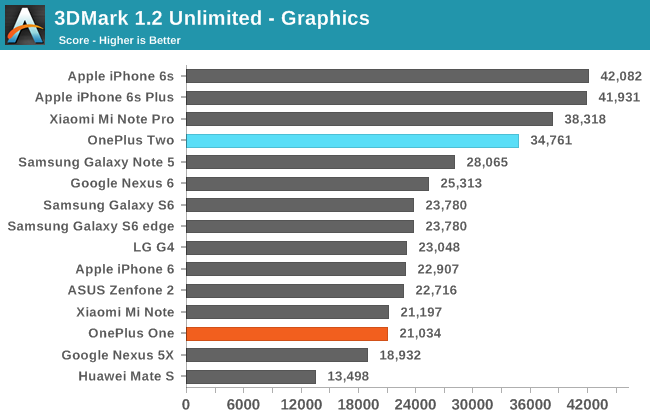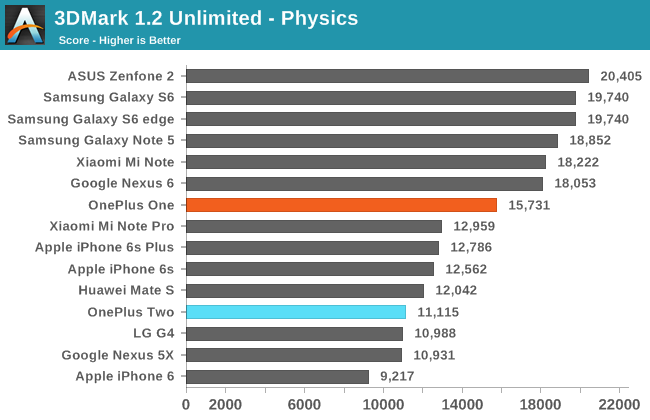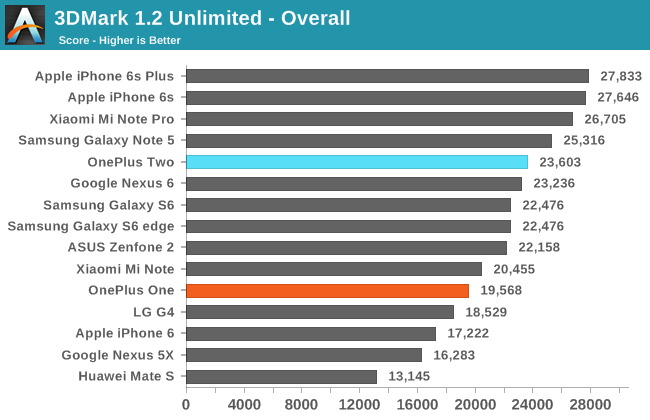 Snapdragon 810's Adreno 430 GPU is still very fast, and it achieves a very high score in 3DMark's graphics test. As usual, the physics test score basically just scales with frequency and number of cores in use, and with the big cores on the SoC throttling down we see a fairly low result there. I don't usually care much for the overall score, but since it's a weighted average we see the OnePlus 2 sitting near the Nexus 6, although in workloads that mainly stress the GPU you'll actually see a much larger gap between the two.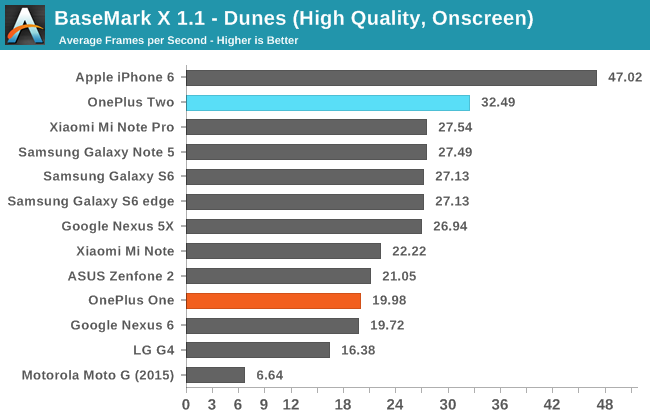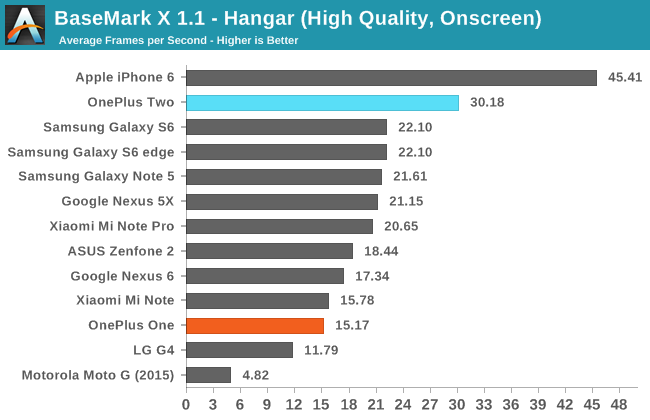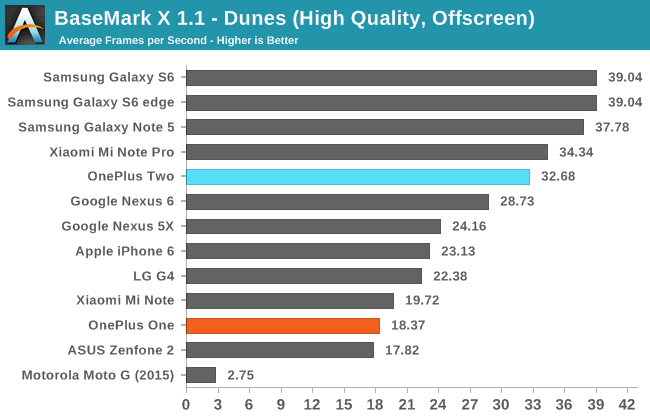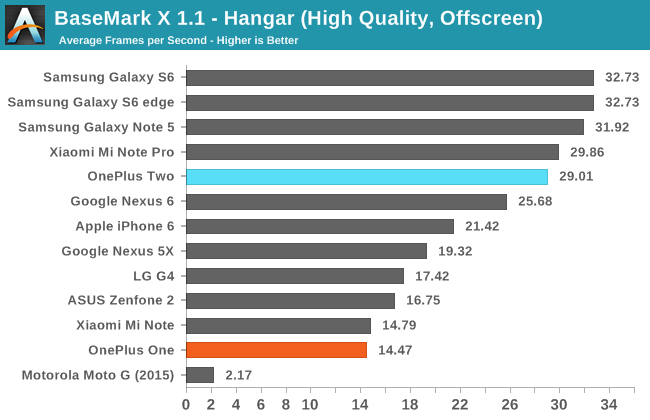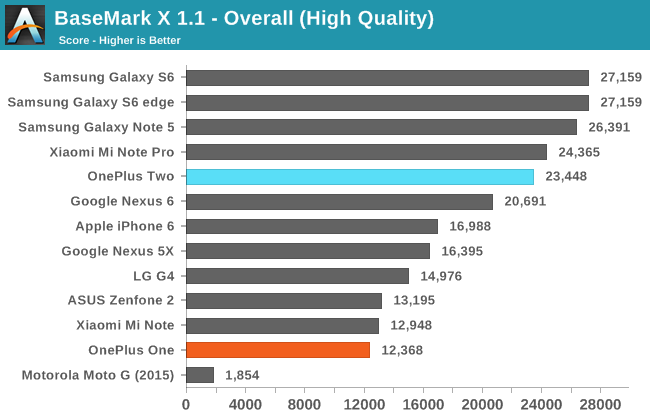 The OnePlus 2 performs very well in BaseMark X, tracking slightly behind the Mi Note Pro which we previously noted may have some level of additional optimizations at the driver level compared to the other Snapdragon 810 implementations. The improvement over the OnePlus One with its Adreno 330 GPU is quite large, with there being nearly a doubling in performance in the Hangar benchmark.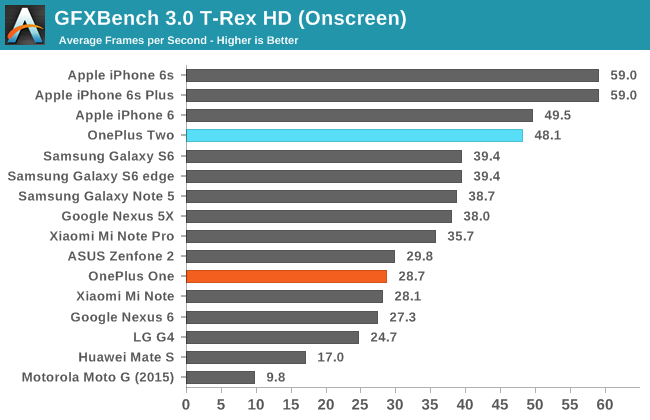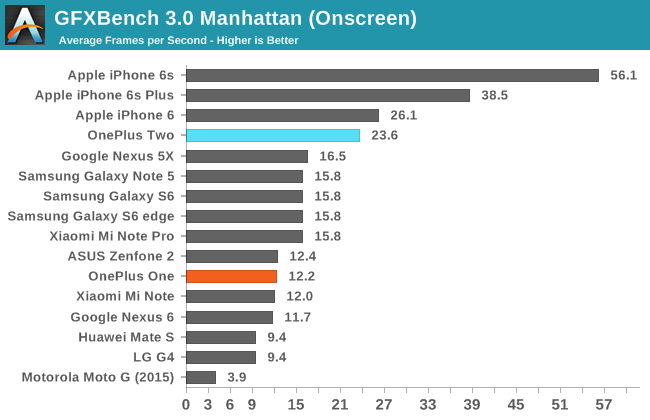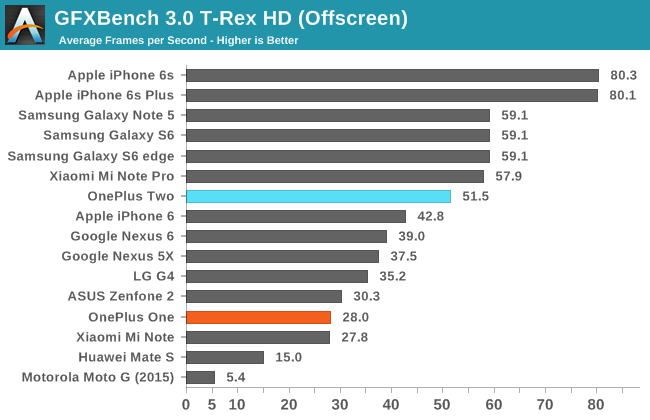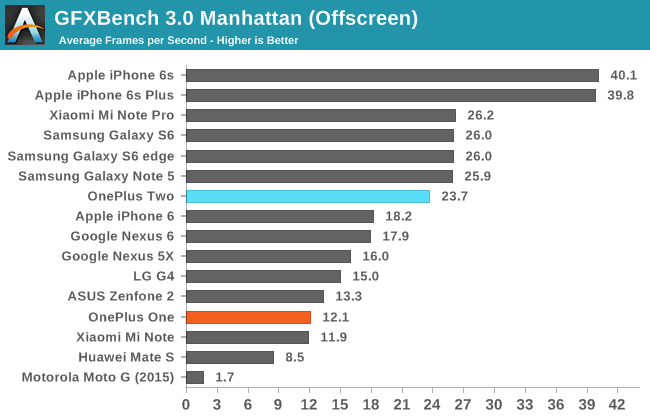 GFXBench's off screen performance results show that the OnePlus 2 is again a bit slower than the Mi Note Pro. In any case the performance is still very good and only really beaten by Samsung's Exynos 7420 devices, and the iPhone 6s. Since the display resolution is only 1080p you actually get better performance in games that run at native resolution than the Mi Note Pro and Galaxy Note5.
Adreno 430 has always been a good GPU, and in general the GPU performance of Snapdragon 808 and 810 hasn't really suffered in the same way the CPU performance has. At $400 the OnePlus 2 definitely gives you a lot of GPU power, and it's something that differentiates it from what's available at lower prices, and even other devices at the same price like the Nexus 5X.
NAND Performance
NAND performance is becoming a greater focus in mobile devices. To improve performance, vendors like Samsung and Apple have turned to solutions outside of the eMMC storage that is typically used in mobile devices. However, the vast majority of products still use eMMC NAND, and in some cases the performance of that NAND can be low enough to introduce noticeable performance issues when using a device. The OnePlus Two uses a Samsung CGND3R eMMC 5.0 NAND solution, which is the same as the one used in the Mi Note Pro.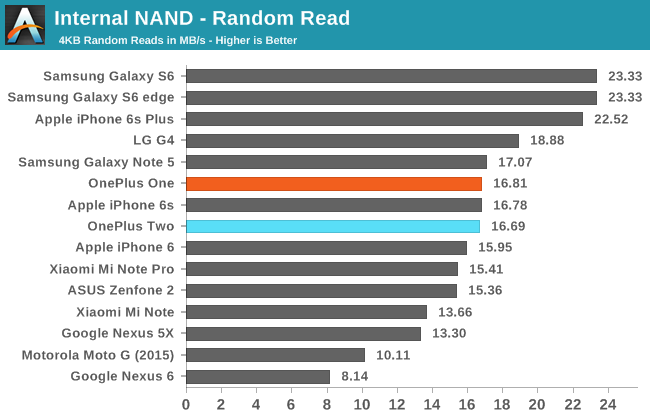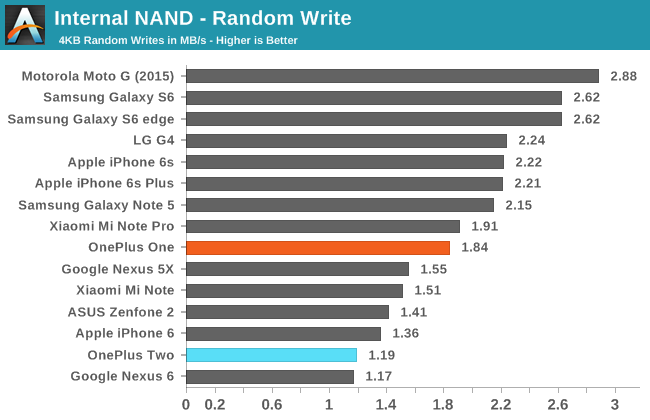 Random read speeds track closely with the Mi Note Pro. Random writes end up being quite a bit slower, and this occurs even with repeated tests so I'm not sure exactly what's causing it.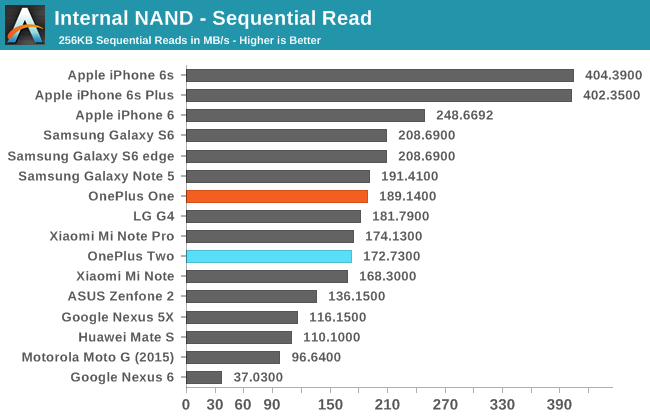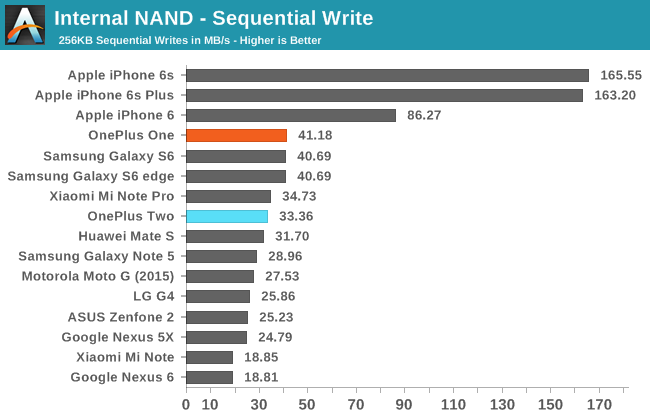 As expected, sequential read and write speeds track almost exactly with the Mi Note Pro. While the results are nothing ground-breaking, they're in line with what you get from an eMMC 5.0 NAND solution. In most cases another component of the phone will likely end up limiting performance before one runs into issues due to NAND speeds, but you won't see some of the benefits that you get with extremely fast NAND such as extremely quick app installation times, faster media transfers, etc.