Discussing Corporate Structure, Strategy and Kirin 950
As noted in the last few pages, Huawei's structure falls into multiple domains. As a result, the three main groups involved in research, design and product are the Consumer Business Group (Smartphones, Mobile Broadband), the Carrier Business Group (Core Networks, Wireless Networks) and the Enterprise Business Group (Infrastructure, Data Centers, Security). In discussing the handset division with Bruce Lee, VP of the Handset Line Division, we learned that Huawei invests 10% of its revenue for the CBG back into research and development, with around $20 billion revenue expected to 2015 resulting in $2 billion for R&D.
To put this into perspective for other fabless semiconductor businesses, MediaTek at their recent Analyst day quoted around 20-30% of the revenue for R&D (~ca $900-1200m). It was not indicated if the 10% value given to us was is a function of HiSilicon's investment, or if this was CBG, or Huawei as a whole - the Mediatek number as also broad and encompasses the company compared to the number from Huawei which is most likely just one division of the company. This makes investment spending difficult to compare, given the different markets each of the two participate.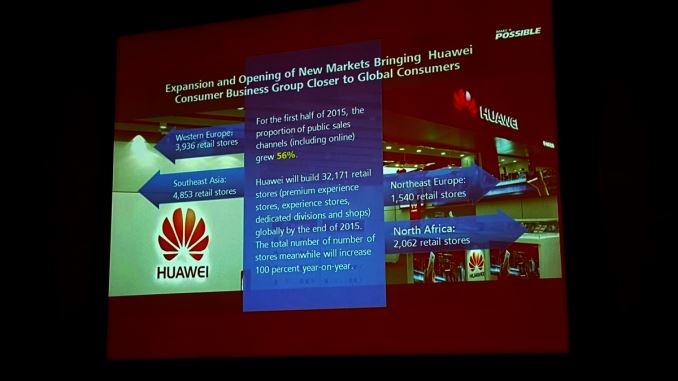 It was clear that Huawei is very conscious about their brand image, and on this media tour it was reiterated that both the pronunciation of Huawei and the perceived opinion purely of being from China might weigh heavily on that direct image. We were told that despite this, due to Huawei's long tenure as a global brand, they saw merit in pursuing (at least in the handset market) the brand recognition that comes with tying their enterprises together. Constant year-on-year talks internally on potential branding issues are being held, but despite any perceived conflict of utility or nationality 'Huawei' as a noun to associate with mobile devices is here to stay for brand combination. To that extent, Huawei was happy to promote their places in Forbes' lists and the Brandz 'Top 100 Most Valuable Brands' list at #70, valued at $15.35 billion.
Part of that mantra is a large push from Huawei for their presence in stores globally, either as segments in a general smartphone store or their own branded premises. As a result, as shown on the slide above, the number of sales channels for Huawei in 1H2015 has grown 56% with a total of ~32000 new sales outlets being built in 2015 alone. This is a heavy contributor to the sales figures in smartphones, which for 1H2015 is around 48.2 million (+39% year-on-year), with end-year figures projected at 100 million. Huawei was keen to stress that 30% of these sales (so 30 million units) were mid-to-high end smartphones, which Huawei classifies as any handset over 400 Euros. In that regard, 30 million units at 400 euros gives 12 billion euros in revenue, at a minimum, on just 30% of sales. This according to Huawei leads to a CAGR of 45% since 2009, when they sold only 3 million units in a year.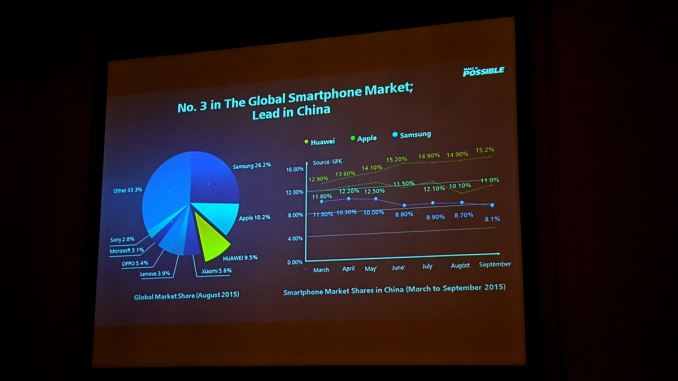 Huawei was keen to talk market share, which led to the chart using GfK data. They have put Huawei in at #1 for China with 15% of the market share, absorbing Samsung's market while Apple hovers around 11-12%, and Huawei at 9.5% globally. The other home grown provider, Xiaomi, sits at 5.6%. We asked specifically about Huawei's thoughts on Xiaomi as an important rival, but the interesting answer came back in that while Huawei sees Xiaomi as a significant player in the Asian markets, but at this current time on the global scale they only look towards Apple and Samsung as the major players.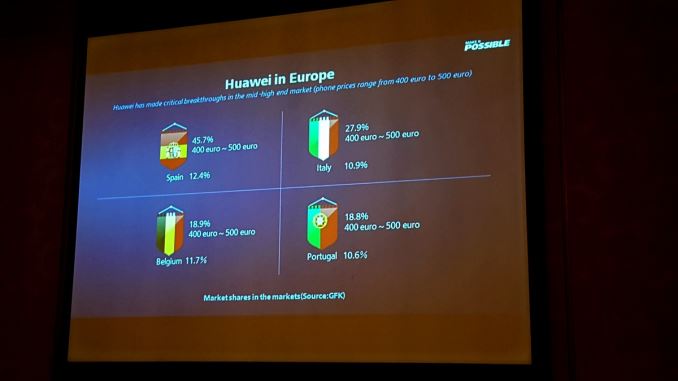 Because of the high-to-mid smartphone sales numbers, we were given a small glimpse into how Huawei is approaching some of the specific regional markets in Europe, with penetration figures. Now ultimately these figures are very cherry picked, but they show that out of the €400-€500 markets:
In Spain, Huawei has 12.4% (€400-€500 is 45.7% of total)
In Italy, Huawei has 10.9% (€400-€500 is 27.9% of total)
In Belgium, Huawei has 11.7% (€400-€500 is 18.9% of total)
In Portugal, Huawei has 10.6% (€400-€500 is 18.8% of total)
It's worth noting that for those Spain numbers, 12.4% of that one market, of which the market is 45.7% of the whole, means that Huawei's mid-to-high offerings account for 5.67% of the whole market for Spain. The reason why Huawei is quoting numbers like this is to show their presence in that high-end smartphone space where typical middle-class users with a bit of spare spending money are deciding to buy their devices.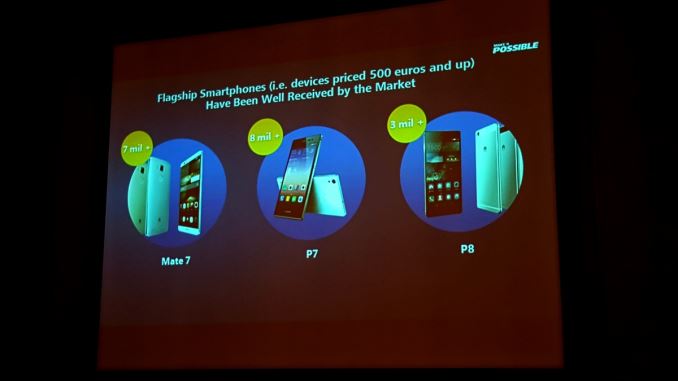 For high end devices, we were told that the Mate 7 has sold over seven million units, the P7 has sold over eight million units, and the P8 that was released back in April is already at three million units. We probed further and learned that the sales curves for the P8 are currently outclassing the P7 for the first few months after launch, but exact graphical representations were not on hand at the time. We asked for them, and our hosts promised to at least put in the request if these numbers can/will be made public.
Throughout all of this, it became clear that there was a elephant in the room. Because this media tour was for publications that have HQs were in the US, a lot of discussion around Huawei's presence in the United States was on the cards – or more specifically, the lack of Huawei's presence. While there has been a number of handsets that have made it none of them are Kirin powered but instead use Qualcomm platforms. Of course, a Kirin device could be sourced online, but Huawei has not yet put Kirin in the hands of the general public and initiated a big push beyond handing devices to smartphone reviews and launch events.
Historically we know this to be an issue surrounding the unique CDMA requirements for the US market, and we were informed that Huawei's approach is multilayered. At the top is their collaboration with Qualcomm's SoCs which they feel fit in very nicely with the current North American desire and distribution – for the tech press it's a known quantity, a known company, and there can be straightforward comparisons between other handsets allowing Huawei's design philosophy to show through. The next layer surrounds having the right IP to enable CDMA, let alone have it certified on a Kirin chipset. Huawei said that while the 950 is currently not part of this program, and they are working on licensing the relevant technologies (from Qualcomm) in order to do so, which may or may not be in future roadmaps but there are plenty of variables to this equation and it is not as straightforward as one might imagine. The third is time, as CDMA certification on a new chipset (regardless of the licensed IP) is both expensive and long, and Huawei needs to decide if it is the right thing to do within their strategy.
At this time it presents a difficult situation for Huawei – the desire to be as vertically integrated as possible and yet still penetrate one of the largest markets in the world, despite the fact that there are no guarantees of success. It was remarked on several occasions that firms based in China such as Huawei are often seen as conservative and won't rush certain aspects of their design without a guaranteed payoff, although that attitude is changing somewhat with Huawei given their push with TSMC's 16nm FinFET+ node on the Kirin 950 chipset, and being the first to build a fully integrated mobile SoC on this process. Along with custom IP efforts such as a hybrid LPDDR3/LPDDR4 memory controller, Huawei's was able to build up a new Imaging R&D division allowing it to build a custom image signal processor, offering another point of differentiation and potential.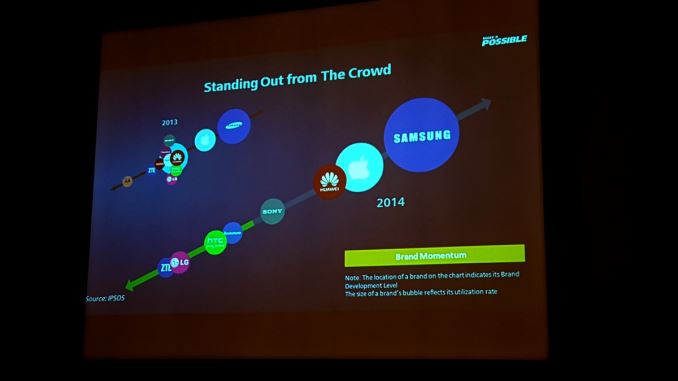 Huawei currently sees itself on the up, there is no doubt about that, and their willingness to open up further to journalists outside of China is a very pleasing step. For the smartphone market, Huawei sees itself in a quite comfortable third position worldwide, sitting behind the big two and constantly growing. There are barriers to overcome, both with design implementations and local market applications.