Power, Temperature, & Noise
As always, last but not least is our look at power, temperature, and noise. Next to price and performance of course, these are some of the most important aspects of a GPU, due in large part to the impact of noise. All things considered, a loud card is undesirable unless there's a sufficiently good reason – or sufficiently good performance – to ignore the noise.
Unfortunately we don't have any tools that can read the GPU voltage on the ASUS card, so we'll jump right into average clockspeeds.
Radeon R9 380X Average Clockspees
Game
ASUS R9 380X (OC)
ASUS R9 380X (Ref)
Max Boost Clock
1030MHz
970MHz
Battlefield 4

1030MHz

970MHz

Crysis 3

1030MHz

970MHz

Mordor

1030MHz

970MHz

Dragon Age

1030MHz

970MHz

Talos Principle

1030MHz

970MHz

Total War: Attila

1030MHz

970MHz

GRID Autosport

1030MHz

970MHz

Grand Theft Auto V

1030MHz

970MHz
The ASUS R9 380X has no problem holding its full boost clockspeed in games, both at its stock speed of 1030MHz and when downclocked to 970MHz.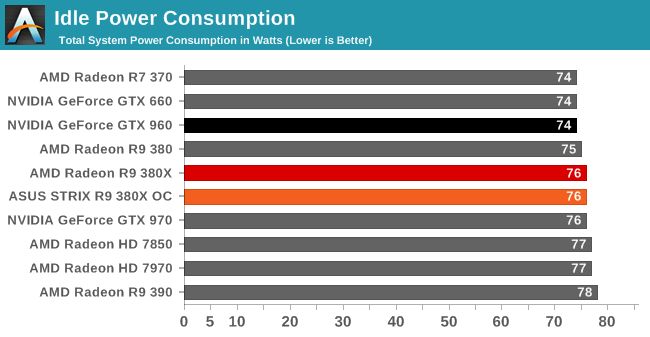 Starting with idle power consumption, the ASUS card comes in right where we'd expect it. 75-76W is typical for a Tonga card on our GPU testbed.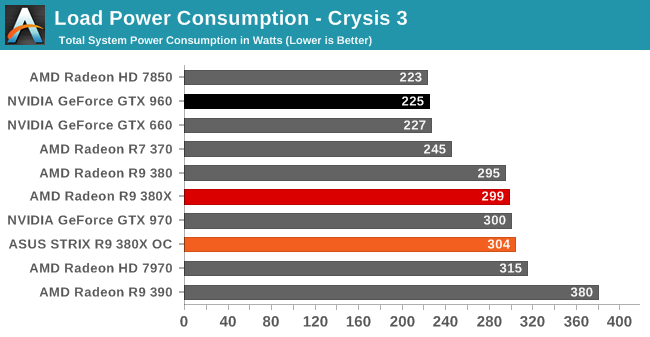 Moving on to power consumption under Crysis 3, like so many other aspects of R9 380X, its performance here is very close to the original R9 380. Power consumption is up slightly thanks to the additional CUs and the additional CPU load from the higher framerate, with the reference clocked R9 380X coming in at 299W, while ASUS's factory overclock pushes that to 304W.
The problem for AMD is that this is smack-dab in GTX 970 territory. Meanwhile the GTX 960, though slightly slower, is drawing 74W less at the wall. R9 380 just wasn't very competitive on power consumption compared to Maxwell, and R9 380X doesn't do anything to change this. AMD's power draw under games is essentially one class worse than NVIDIA's – the R9 380X draws power like a GTX 970, but delivers performance only slightly ahead of a GTX 960.
The one bit of good news here for AMD is that while the power consumption of the R9 380X isn't great, it's still better balanced than the R9 390. With AMD opting to push the envelope there to maintain price/performance parity with the GTX 970, while the R9 380X is a fair bit slower than the R9 390, it saves a lot of power in the process. And for that matter the R9 380X shows a slight edge over the 7970, delivering similar gaming performance for around 16W less at the wall.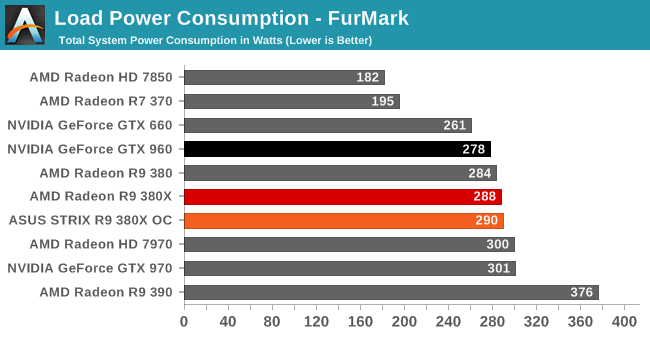 Moving over to FurMark our results get compressed by quite a bit (we're using a GTX 960 with a fairly high power limit), but even then the R9 380X's power consumption isn't in AMD's favor. At best we can say it's between the GTX 960 and GTX 970, with the former offering performance not too far off for less power.
Otherwise as was the case with Crysis 3, the R9 380X holds a slight edge over the 7970 on power consumption. This despite the fact that the R9 380X uses AMD's newer throttling technology, and consequently it gets closer to its true board limit than the 7970 ever did.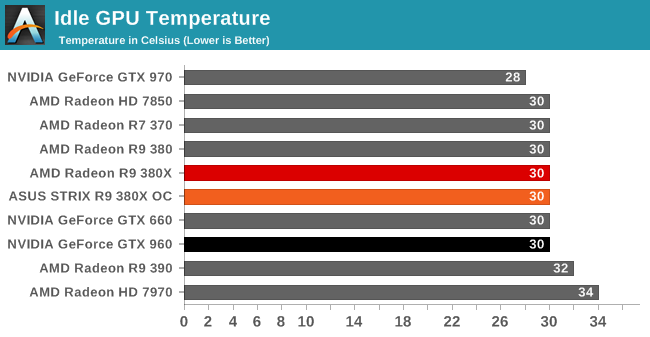 With idle temperatures ASUS's 0db Fan technology doesn't hamper the R9 380X at all. Even without any direct fan airflow the STRIX R9 380X holds at 30C.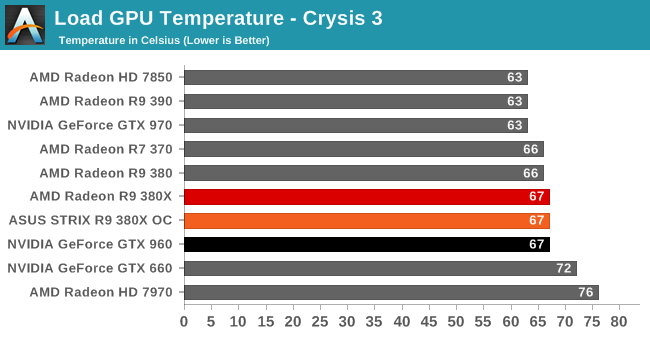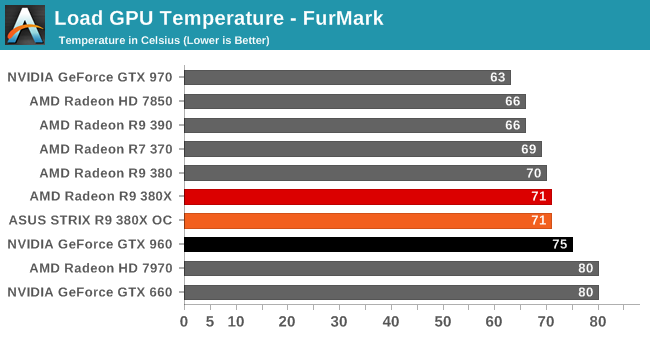 Load temperatures also look good. ASUS's sweet spot seems to be around 70C – right where we like to see it for an open air cooled card – with the R9 380X reaching equilibrium at 67C for Crysis 3 and 71C for FurMark.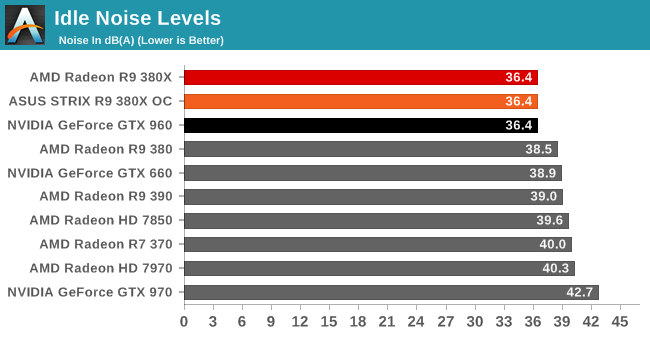 Finally with idle noise, the zero fan speed idle technology on the STRIX lineup means that the STRIX R9 380X gets top marks here. At 36.4dB the only noise coming from our system is closed loop liquid cooler for the CPU. The video card is completely silent.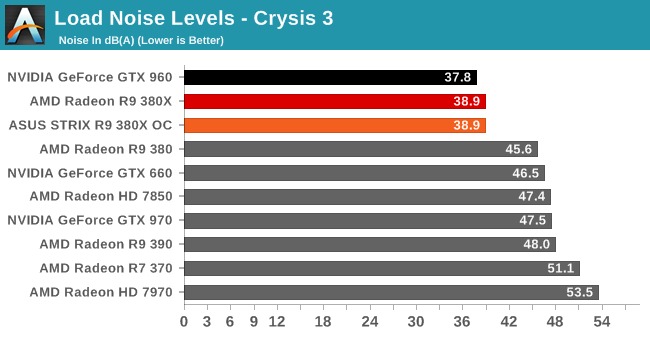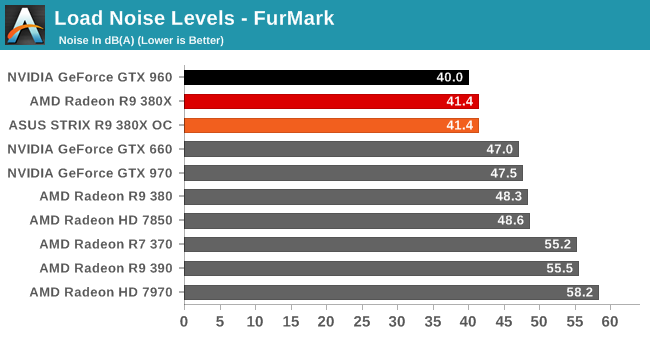 Shifting over to load noise levels then, the STRIX R9 380X continues to impress. With Crysis 3 the card tops out at 38.9dB – less then 3dB off of our noise floor – and that goes for both when the card is operating at AMD's reference clocks and ASUS's factory overclock. At this point the STRIX R9 380X is next-to-silent; it would be hard to do too much better without using an entirely passive cooling setup. So for ASUS to dissipate what we estimate to be 175W or so of heat while making this little noise is nothing short of impressive.
Meanwhile with FurMark the ASUS card needs to work a bit harder, but it still offers very good results. Even with the card maxed out we're looking at just 41.4dB. The STRIX R9 380X isn't silent, but it gets surprisingly close for such a powerful card.