Camera Architecture
While there have been some notable exceptions, the trend with smartphone camera sensors has been toward smaller pixels for quite some time now. HTC tried to combat this with their 2.0 micron pixel 4MP UltraPixel sensor, but the lack of spatial resolution ultimately made it difficult to market and less than optimal in the daytime. Apple went for a different balance with an 8MP sensor with 1.5 micron pixels in the iPhone 5s and 6. However, to add functionality like 4K recording while also being unable to increase sensor size without thickening their phones, they had to step down to 1.22 micron pixels in the iPhone 6s. Moving to smaller pixels has the unfortunate side effect of reducing your signal to noise ratio (SNR), and ultimately even if you push a larger sensor size with 1.1 micron pixels you're likely to run into more issues with noise than a sensor of the same size with larger pixels.
Google Nexus 5
Google Nexus 6
Google Nexus 5X
Front Camera Resolution

1.2MP




(1280 x 960)

2.1MP
(1920 x 1080)
5MP
(2592 x 1944)
Front Camera Sensor
Aptina MT9M114B
(1/6", 1.9µm)
Aptina AR0261
(1/6", 1.4µm)
Omnivision OV5693
(1/4", 1.4µm)
Front Camera Aperture
f/2.4
f/2.2
f/2.0
Rear Camera Resolution
8MP
(3264 x 2448)
13MP
(4160 x 3120)
12.3MP
(4032 x 3024)
Rear Camera Sensor
Sony IMX179
Sony IMX214
Sony IMX377
Rear Camera Focal Length
30mm eff
28mm eff
26mm eff
Rear Camera Aperture
f/2.4
f/2.0
f/2.0
OIS
Yes
Yes
No
In the end everything is a trade off, but the idea that at a certain point it's more important to improve sensitivity than to push spatial resolution is what has driven the design of the camera sensor in the Nexus 5X and 6P. To my knowledge these are the first devices shipping with Sony's IMX377, which is a 1/2.3" format sensor with a resolution of 12.3MP. That works out to 1.55 micron pixels, which puts it ahead of the iPhone 6's 1.5 micron pixels, and with a significantly higher spatial resolution as well. Relative to Android flagships, we're looking at a sensor that is generally larger than the competition, with Samsung and LG both shipping flagships with 1/2.6 format sensors. Resolution isn't as high, but that's obviously the entire point, and if it pays off it could be a significant advantage that the Nexus phones will hold over other devices.
On paper the Nexus 5X seems like an improvement over the Nexus 5 across the board. Compared to the Nexus 6 you do lose a bit of spatial resolution, but it's not going to pose any issue as far as image quality goes. What is interesting is the fact that both the Nexus 5X and 6P ship without OIS. The Nexus 5 was actually notable for having OIS despite that being a relatively new feature of flagship smartphones at the time, and the Nexus 6 had it as well. Google's justification is that the larger sensors with large pixels eliminate the need for OIS. However, being able to use OIS to push longer exposures in the dark could have reduced noise even further, and while I think the omission is acceptable on the Nexus 5X, I think it would have been a way to differentiate the 6P and justify its higher price tag. However, if Google can deliver a solid camera for both well-lit and dark scenes at a price of $379 they'll already been in a very good position, and OIS will just be something that would have been nice to have rather than a deal-breaker.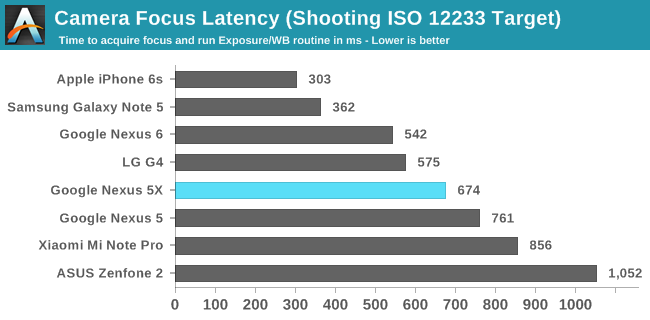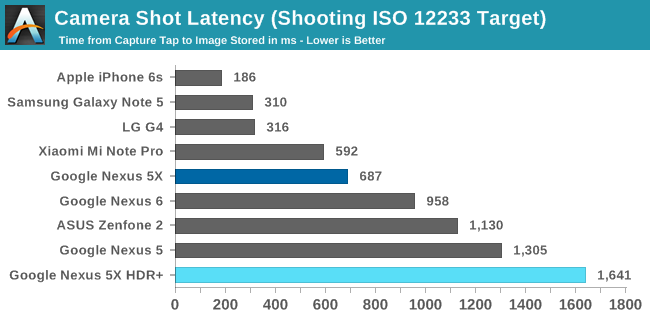 Like the LG G4 the Nexus 5X makes use of an IR laser to allow for faster autofocus than contrast detection AF. This has the advantage of working even in low light, but when there is sufficient lighting available it's not as fast as the PDAF that you see in devices like the Galaxy Note 5 and the iPhone 6s. Capture latency is an interesting case. While the normal shooting mode captures and saves photos in just under 700ms, shooting in the HDR+ mode has the unfortunate side effect of increasing this to over 1.6 seconds. This is very important to keep in mind going forward, as you'll see on the next page that you're going to have to make use of the HDR+ mode to get the best image quality out of the camera.
Camera UX
A big part of the smartphone camera experience is the camera application itself. I have actually used Android devices that I cannot get good photos from because of issues with the preview quality, and low preview frame rates making it difficult to see when the device is steady. Google has attempted to resolve these issues over the years with improvements to Android camera API, but many OEMs continue to use their own proprietary APIs. Google's own devices like the Nexus 6 have been prone to issues like a low preview frame rate, and their app has had some less than stellar design choices for quite some time now. On the Nexus 5X we get a new camera app with a revamped UI.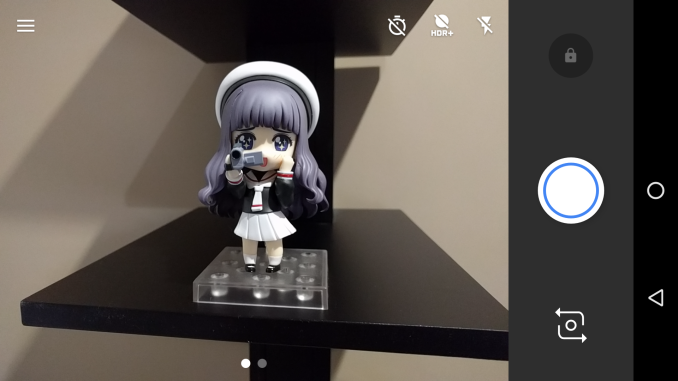 At first glance, the UI doesn't look heavily changed from the last version of Google's camera app. Closer examination reveals that the changes go deeper than what you can see on the first screen. There are some obvious aesthetic differences, but more important is the reorganization of the menus. For example, Google has added a hamburger menu button on the left side, which you can use to access the different camera modes like lens blur, panorama, and photo sphere. This removes the "mystery menu" interface from the old app, where you had to swipe in from the left side to access these features despite there being no constant indicator that any menu is located there. I honestly think this would still be better implemented in some sort of radial menu like the iOS camera app so it doesn't require accessing a menu to switch the camera modes, but obviously Google is trying to conform to their established design guidelines, even if they're not very good ones.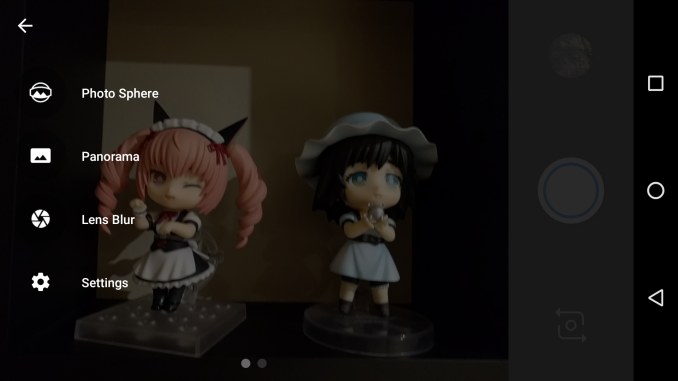 What is good is that the video mode has been implemented in such a way that you don't need to use the hamburger menu. Simply swiping left and right in the camera preview switches you between video and photo modes, and the current mode is indicated by the page dots at the bottom of the preview. A nice touch is the ability to switch between normal and slow-mo recording just by tapping an icon in the video preview, which is a further step toward taking the options out of menus. The previous overflow menu for HDR+, the flash, and the timer have also been moved into the frame as well. At this point all the options in the hamburger menu are the more niche camera modes, and I'm not too bothered by having to go through a menu interface to access them.
Beyond the features I already mentioned, the app doesn't have much else. You can go to the settings portion and change your recording between either 1080p30 or 2160p30, and you can also alter the resolution used when taking photos if you need to reduce the size for whatever reason. The thing about Google's camera app is that it has always just tried to act as an automatic point and shoot, and so you don't get lots of settings like manual focus, ISO, shutter speed, etc. I'm honestly fine with this, as I believe a smartphone camera should offer a great automatic experience, with any work relating to manual controls simply being there for the users that desire them. With the Nexus 5X they've improved upon the issues with the interface that existed in previous iterations, and increased the preview frame rate compared to the Nexus 5 and Nexus 6 which improves the shooting experience greatly.