Ashes GPU Performance: Single & Mixed 2012 GPUs
While Ashes' mutli-GPU support sees solid performance gains with current-generation high-end GPUs, we wanted to see if those gains would extend to older DirectX 12 GPUs. To that end we've put the GeForce GTX 680 and the Radeon HD 7970 through a similar test, running the Ashes' benchmark at 2560x1440 with Medium image quality and no MSAA.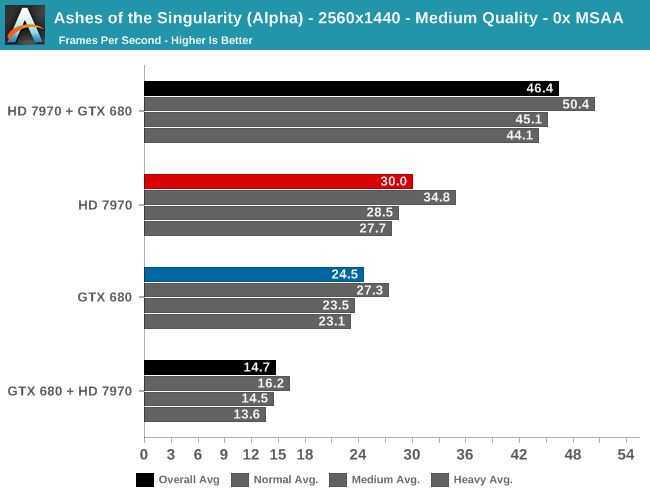 First off, unlike our high-end GPUs there's a distinct performance difference between our AMD and NVIDIA cards. The Radeon HD 7970 performs 22% better here, just averaging 30fps to the GTX 680's 24.5fps. So right off the bat we're entering an AFR setup with a moderately unbalanced set of cards.
Once we do turn on AFR, two very different things happen. The GTX 680 + HD 7970 setup is an outright performance regression, with performance 40% from the single GTX 680 Ti. On the other hand the HD 7970 + GTX 680 setup sees an unexpectedly good performance gain from AFR, picking up a further 55% to 46.4fps.
As this test is a smaller number of combinations it's not clear where the bottlenecks are, but it's none the less very interesting how we get such widely different results depending on which card is in the lead. In the GTX 680 + HD 7970 setup, either the GTX 680 is a bad leader or the HD 7970 is a bad follower, and this leads to this setup spinning its proverbial wheels. Otherwise letting the HD 7970 lead and GTX 680 follow sees a bigger performance gain than we would have expected for a moderately unbalanced setup with a pair of cards that were never known for their efficient PCIe data transfers. So long as you let the HD 7970 lead, at least in this case you could absolutely get away with a mixed GPU pairing of older GPUs.