Idle Power Consumption
The idle power consumption I'm reporting here and in the Bench database is what's achievable on our 2015 testbed with PCIe ASPM disabled for the sake of system stability. Samsung's initial announcement of the 950 Pro specified an idle power consumption of 1.7W, which these drives manage to stay under. Samsung's later specs mention 70mW idle and 2.5mW DevSlp power draw. The former figure is something we hope to be able to verify in the future, but our power meter isn't sensitive enough for measuring DevSlp power.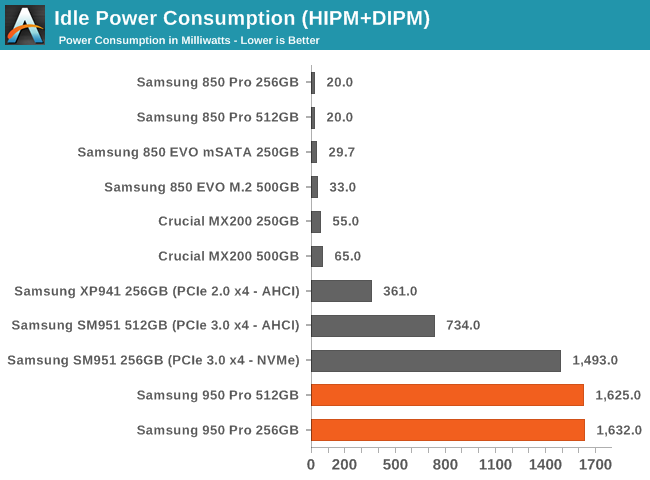 As stated earlier, the power numbers for the PCIe drives are more of a worst-case scenario, due to our testbed being unable to enable their power saving modes. These active idle power levels have nevetheless been growing with each new PCIe drive from Samsung.
Trim Validation
Strictly speaking, NVMe doesn't have the TRIM command. The NVMe Deallocate command is the equivalent to the ATA Trim command, and since the trimcheck tool relies on the OS and filesystem to issue the command, it works without modification on NVMe drives.