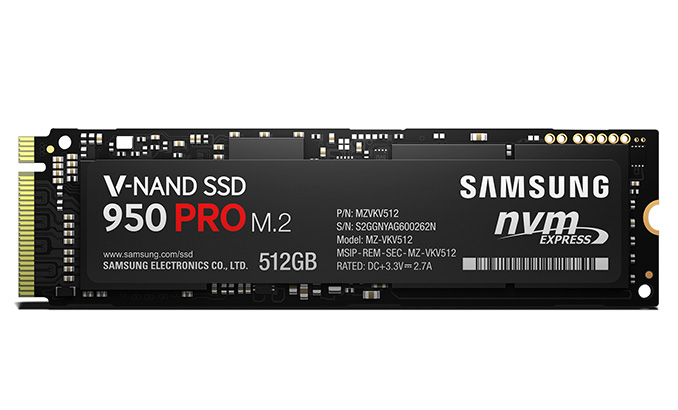 After shipping two generations of M.2 drives with PCIe interfaces for OEM customers, Samsung is releasing a PCIe drive to the retail market which has the added benefit of including the latest features Samsung offers. The Samsung 950 Pro is the new flagship consumer drive and it eschews the backwards compatibility and the 2.5" SATA form factor of the three previous iterations of the 8xx Pro family in favor of a PCI Express 3.0 x4 connection in the M.2 2280 form factor coupled with the NVMe protocol. Those changes allow for one of the biggest generational performance jumps in the history of the SSD industry and should help the transition of SSDs shedding the last vestiges and limited feature sets of their mechanical hard drive predecessors.
The M.2 2280 form factor has the potential to unify the consumer SSD market, with a physical size small enough for ultrabooks but a large enough capacity for all users. M.2, depending on the exact implementation used by the OEM, has the ability to provide SATA or high-performance PCIe connectivity, easing the transition. By supporting up to four lanes of PCIe 3.0, M.2 has helped make the two-lane SATA Express standard dead on arrival and ensures that drives won't be starving for bandwidth again for quite some time.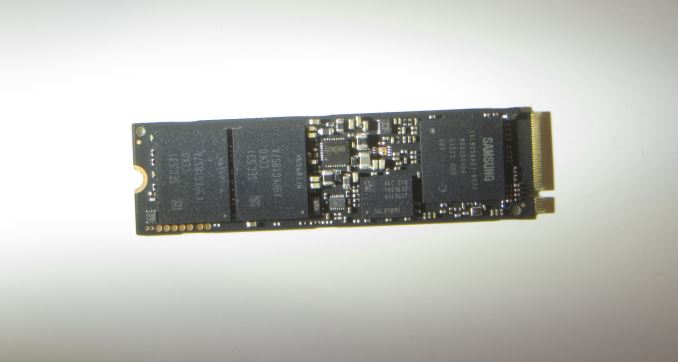 Meanwhile, high-end SSDs have been struggling to squeeze every last drop of performance out of the 6Gb/s SATA III interface. While some vendors have put out M.2 PCIe devices that support two lanes of PCIe, Samsung went straight for four lanes with the XP941 drive for OEMs to start. This was then upgraded to PCIe 3.0 speeds with the SM951. Earlier this year, they implemented the NVMe protocol which allows the SM951 to make use of the available bandwidth of the PCIe 3.0 x4 link. With Intel's Skylake platform bringing plentiful I/O bandwidth to support multiple lanes of PCIe 3.0 to more than just the graphics card, a good number of external bottlenecks are bypassed and Samsung can stretch the true capabilities of the hardware. This is a main focus of the 950 Pro.
Samsung SSD Comparison
950 Pro
512GB
950 Pro
256GB
SM951-NVMe 512GB (OEM)
850 Pro
512GB
Form Factor
M.2 2280
2.5" SATA
Controller
Samsung UBX
Samsung MEX
Interface
PCIe 3.0 x4
SATA III
Protocol
NVMe
AHCI
DRAM
512MB
512MB
512MB
NAND
Samsung V-NAND 32-layer 128Gbit MLC
Samsung 16nm 64Gbit MLC
Samsung V-NAND 32-layer 86Gbit MLC
Sequential Read
2,500MB/s
2,200MB/s
2,150MB/s
550MB/s
Sequential Write
1500MB/s
900MB/s
1,550MB/s
520MB/s
4KB Random Read (QD32)
300K IOPS
270K IOPS
300K IOPS
100K IOPS
4KB Random Write (QD32)
110K IOPS
85K IOPS
100K IOPS
90K IOPS
Power
7.0W (burst)
5.7W (average)
1.7W (idle)
6.4W (burst)
5.1 (average)
1.7W (idle)
8.9W (peak)
3.3W (read)
3.0W (write)
0.4W (idle)
Encryption
AES-256, TCG Opal 2.0
N/A
AES-256, TCG Opal 2.0
Endurance
400TB
200TB
N/A
300TB
Warranty
5 Year
N/A
10 Year
Launch Date
October 2015
~June 2015
July 2014
The 950 Pro is using the same UBX controller as the SM951, but pairs it for the first time with 3D NAND. We first saw Samsung's 128Gb 32-layer V-NAND in the 2TB 850 Pro, introduced about a year after the original 850 Pro. None of the major components of the 950 Pro are entirely new, but this is the first consumer level product to combine them. The 950 Pro is an aggressive push forward; it's a bit risky to be bringing so much new tech in one product to the unforgiving retail market. Samsung will bear the brunt of any immaturity or incompatibilities, but they are hoping to lead the way for a much broader shift in the market.
PCI Express has been around for a long time and offers forward and backward compatibility, but until very recently most systems only offered 16 lanes from the processor, mainly for graphics cards, and one-lane slots for anything else from the chipset. With Intel's Haswell generation of processors the SATA Express connector and M.2 slot started appearing, but systems with a four-lane PCIe 3.0 connection available (and with enough overall bandwidth to fully feed it) are still quite rare. As a result, most consumers could only get that much bandwidth from one of their graphics card slots, moving any discrete graphics card to half PCIe bandwidth. This changes with Skylake and the 100-series chipsets that can support 20 PCIe 3.0 lanes of connectivity through the chipset, and up to three PCIe 3.0 x4 drives in Intel's RST mode for RAID combinations.
The 950 Pro is the new flagship, but it is certainly not a replacement for the 850 Pro. The pricing reflects that: $200 MSRP for the 256GB and $350 for the 512GB is about 50% higher than current retail prices for the 850 Pro, which is still one of the top performing consumer SSDs. Samsung is betting that the market is ready for a new premium category that's meant to be a part of the newest and fastest machines.
The 850 Pro will be sticking around in its current role, and as it's refreshed to use the 128Gb V-NAND the range of capacities will expand further, with a 4TB model of the 2.5-inch drive due in early 2016. The switch to 128Gb V-NAND may also allow prices to drop and widen the gap between the 850 Pro and the 950 Pro.
AnandTech 2015 SSD Test System
CPU
Intel Core i7-4770K running at 3.5GHz (Turbo & EIST enabled, C-states disabled)
Motherboard
ASUS Z97 Deluxe (BIOS 2501)
Chipset
Intel Z97
Chipset Drivers
Intel 10.0.24+ Intel RST 13.2.4.1000
Memory
Corsair Vengeance DDR3-1866 2x8GB (9-10-9-27 2T)
Graphics
Intel HD Graphics 4600
Graphics Drivers
15.33.8.64.3345
Desktop Resolution
1920 x 1200
OS
Windows 8.1 x64