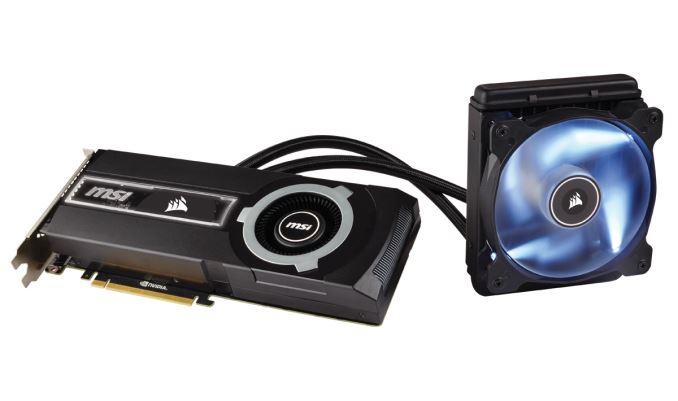 Closed loop liquid cooled (CLLC) video cards have become an increasingly important part of the video card industry over the past couple of years. Though liquid cooling isn't by any means new, it has until very recently been a true niche in the market, typically limited to aftermarket alterations of reference cards. More recently however we have seen the GPU vendors and their board partners embracing first and second party solutions, with companies like EVGA shipping complete liquid cooled solutions, and AMD going so far as to using liquid cooling on their reference cards such as the Radeon R9 Fury X. At the end of the day liquid cooling has allowed customers and system builders alike to put together denser and quieter systems, particularly when it comes to accommodating video cards over 250W.
Not surprisingly then, high-end CLLC-equipped video cards is a bright spot in an otherwise tepid video card market, offering an avenue of growth when other areas of the market are in decline. The potential for growth in turn attracts new competitors to the market, and that is particularly the case today for Corsair.
This evening the venerable PC components and cooling company is announcing that they are entering the high-end video card market. However rather than going into full video card manufacturing ala the traditional board partners, Corsair will be entering just the high-end segment of the market, and will be partnering with MSI to do so. The two companies will be combining their strengths – MSI's board development expertise and Corsair's cooler expertise – to develop high-end closed loop liquid cooled video cards to be sold under the Corsair brand.
GeForce GTX 980 Ti Specifications
Corsair Hydro GFX
Reference GTX 980 Ti
CUDA Cores
2816
2816
Core Clock
1190MHz
1000MHz
Boost Clock
1291MHz
1075MHz
Memory Clock
7.096GHz GDDR5
7.01GHz GDDR5
Memory Bus Width
384-bit
384-bit
VRAM
6GB
6GB
TDP
250W
250W
GPU
GM200
GM200
Length
10.5 Inches
10.5 Inches
Width
Double-Slot +
120mm Radiator
Double-Slot
Warranty
3 Years
Varies
Launch Date
10/2015
06/01/2015
Launch Price
$739
$649
The first video card developed under this partnership is the simply named Corsair Hydro GFX. The card is a CLLC-equipped GeForce GTX 980 Ti, combining an MSI card design with Corsair's Hydro series 120mm H55 CLLC. Along with the integrated CLLC Corsair will also be shipping the card with a factory overclock – running the GPU at 1190MHz base clock and 1291MHz boost clock – in order to further boost the performance of the card. Overall Corsair estimates that the Hydro GFX should outperform the reference GTX 980 Ti by 15% by virtue of the CLLC eliminating thermal throttling combined with their factory overclock.
Meanwhile judging from the pictures and the specifications provided to us by Corsair, it looks like this card is a reference or near-reference board supplied by MSI, with the H55 and accompanying video card shroud taking the place of a normal cooler. This is notable since it means the card retains NVIDIA's standard 250W power limit. Out of the box performance then is going to be limited to what Corsair and MSI can squeeze out of 250W – which is where the 15% number comes from – however with a CLLC attached there is clearly of potential for significant unofficial overclocking through BIOS modifications. I suspect having MSI handle the board will be helpful in that respect.
For Corsair getting into the high-end video card market is an interesting and initially unexpected move, though one that makes sense looking at their product portfolio. The company sells cases, coolers, and PSUs; everything needed to house and power a video card. And with the company increasingly focusing on small footprint cases such as the Bulldog, ensuring that there are suitable high-performance video cards to install in their cases makes all the more sense. Ultimately this move allows Corsair to dip their toes into a profitable segment of the video card market while ensuring that there is a supply of suitable cards for their small footprint cases, and of course that customers can buy it from Corsair along with their case and CPU cooler.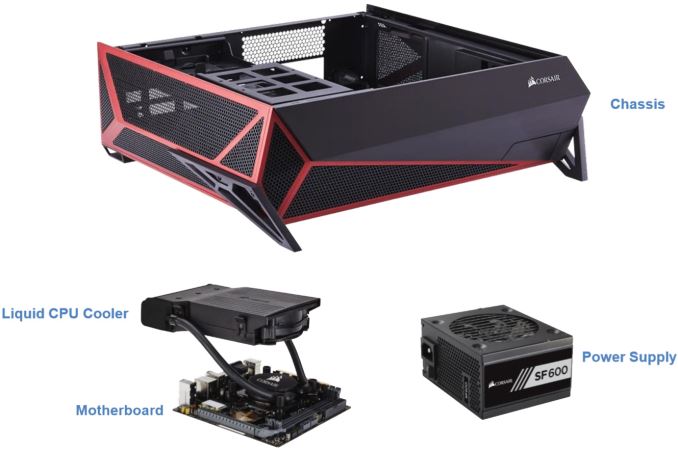 Meanwhile in the long term while the Hydro GFX is so far Corsair's first and only card, the deal does leave the door open to further products from Corsair. I suspect that if the Hydro GFX is successful we'll see further cards from Corsair and MSI once the next generation of cards lands later next year.
Finally, as for the Hydro GFX, Corsair will be releasing the card in October through their website. The MSRP will be $739, which is essentially a $90 mark up over a reference GTX 980 Ti in exchange for the factory overclock and integrated CLLC. Meanwhile Corsair is not the first vendor to get into selling CLLC-equipped GeForce cards, so the Hydro GFX will be going up against cards from vendors such as EVGA who are already shipping similar products.
Update: While this announcement originally came from Corsair, who only mentioned that they'd be selling the card as the Hydro GFX, we're now hearing that MSI will be selling the card as well. In MSI's lineup it will be known as the Sea Hawk, with the same specification and price.